FOX NEWS FIRST: Trump extends hand to stone-faced Dems at State of the Union; Trump supports releasing FISA memo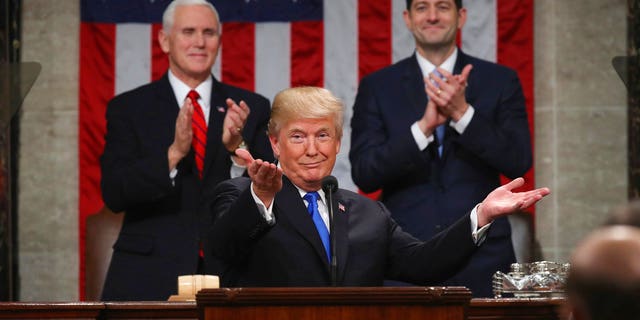 NEWYou can now listen to Fox News articles!
Welcome to Fox News First. Not signed up yet? Click here.
Developing now, Wednesday, Jan. 31, 2018
In his first State of the Union address, President Trump extends an 'open hand' to Democrats on immigration, touts tax cuts and issues warning on North Korea
Many Democrats show frustration during Trump's speech, refusing to applaud economic achievements, veterans and parents of MS-13 victims
Trump overheard saying he backs '100 percent' releasing a controversial classified GOP memo that details alleged FISA surveillance abuses
Hillary Clinton explains why she didn't fire a 2008 campaign adviser after he was accused of sexually harassing a female staffer
Did former FBI Deputy Director Andrew McCabe delayed the Hillary Clinton email probe? The Justice Department is investigating
A rare phenomenon known as a 'Super Blue Blood Moon' is taking place early Wednesday morning
THE LEAD STORY - A 'NEW AMERICAN MOMENT' UNDER TRUMP: President Trump appealed for common ground in the immigration debate at his first State of the Union address Tuesday night, while holding firm on his demands for border security and using the grand setting to tout his economic accomplishments and declare, "there's never been a better time to start living the American dream" ... At a critical time when the political divide over immigration has held up essential government funding, the president called to put politics aside and "get the job done." "Tonight, I am extending an open hand to work with members of both parties -- Democrats and Republicans -- to protect our citizens of every background, color, religion, and creed," he said. It remains unclear whether Democrats are ready to make a deal on immigration, but the issue could hang over a looming Feb. 8 deadline to pass a new spending bill.
RESISTING THE 'RESISTANCE': Democrats on Tuesday night took their "resistance" to President Trump to new depths, with many refusing to even applaud or stand during his State of the Union address to acknowledge economic gains or to honor veterans ... This included during Trump's reference to record-low African-American unemployment and a promise to fix the country's crippled infrastructure. "It was amazing to watch," Donald Trump Jr. told Fox News' Sean Hannity after the speech, saying it looked like Democrats wanted to stand but felt obligated to oppose his father. Several pundits pointed out the striking response on Twitter, noting these are the kind of non-controversial items that usually merit applause.
'RELEASE THE MEMO': President Trump was overheard telling a GOP lawmaker Tuesday night that he's "100 percent" behind releasing a classified Republican intelligence memo detailing alleged surveillance abuses ... "Don't worry," the president reportedly told U.S. Rep. Jeff Duncan, R-S.C., on the House floor after delivering his first State of the Union address. "One hundred percent." Duncan asked Trump to "release the memo," a controversial document drafted by Rep. Devin Nunes, R-Calif., chairman of the House Intelligence Committee. The House panel voted Monday along party lines to release the memo, triggering a political fight between Republicans and Democrats and pitting the Congress against the FBI and the Department of Justice that object to the release of the four-page document.
HILLARY BELIEVES IN 'SECOND CHANCES' - AND APPARENTLY, TIMING: Minutes before President Trump's State of the Union address, Hillary Clinton issued a detailed explanation on why she didn't fire a senior adviser to her 2008 presidential campaign after he allegedly sexually harassed a female staffer ... In a lengthy Facebook post, Clinton said Tuesday she understands why she's being asked why she let the staffer "keep his job despite his inappropriate workplace behavior." "The short answer is this: If I had it to do again, I wouldn't," she said. But Clinton said she believes in "second chances" and didn't want to completely terminate his employment. Instead, Clinton said she demoted him and "put in place technical barriers to his emailing" his accuser.
WAS CLINTON EMAIL PROBE SLOW-WALKED?: The Justice Department's internal watchdog has been scrutinizing why former FBI Deputy Director Andrew McCabe seemingly delayed an investigation of emails related to Hillary Clinton's personal server in the final weeks of the 2016 campaign, the Washington Post reported Tuesday ... Justice Department Inspector General Michael Horowitz is attempting to determine whether McCabe or other FBI officials wanted to hold off on probing the emails found on the laptop of former Democratic Rep. Anthony Weiner. McCabe, a 22-year FBI veteran, left his position Monday ahead of his planned retirement, effective March 18. The Post reported that McCabe's departure was announced following a meeting with FBI Director Christopher Wray at which the inspector general's investigation was discussed.
THE SUPER BLUE BLOOD MOON RISES: Tuesday morning, a total lunar eclipse will occur with a blue moon, producing the rare phenomenon known as a Super Blue Blood Moon... By no stretch of the definition is a full moon rare. It happens approximately once a month, or every 29.5 days. Occasionally, it happens twice in one month, approximately every three years or so. This event is known as a Blue Moon, which last occurred in July 2015. A Blood Moon occurs when the Earth is passing between the Moon and the Sun, which gives the Moon a reddish tint. (This is caused by light bending around the Earth because of gravity passing around a portion of the atmosphere, more commonly known as a lunar eclipse.)
When a Blue Moon combines with a Supermoon (where the Moon is at its closest point to Earth and appears to be 14 percent bigger and 30 percent brighter than normal), a Super Blue Blood Moon happens. The last time all of these events occurred simultaneously in the Western hemisphere was 1866. Click here to see when and where to see the Super Blue Blood Moon.
AS SEEN ON FOX NEWS
'ANGEL MOM' TO DEMS - STAND UP FOR AMERICANS: "They do commit crimes, they don't [all] graduate from high school, they're not all contributing members of society. And to lie to the American public to promote an agenda is just not beneficial to this country at all." – Mary Ann Mendoza, whose police officer son was killed by a drunk-driving illegal immigrant in 2014, on "The Story," saying Democratic lawmakers need to stop importing, protecting and providing for illegal immigrants, and instead focus on the well-being of American citizens. WATCH
TRUMP DERANGEMENT SYNDROME ON DISPLAY: "You could see them all wanting to stand. You could see them all almost looking around like, 'We almost have to stand for this.' But the derangement is real." – Donald Trump, Jr., on Hannity, sounding off on the muted reaction from Democrats during his father's State of the Union address. WATCH

ACROSS THE NATION
Legislation prompted by Olympic sports doctor scandal heads to Trump.
'Person of interest' in Las Vegas massacre identified from court records.
Texas authorities release photo of dead boy in hopes of aiding investigation.
COUNTDOWN TO SUPER BOWL LII
Super Bowl events take steps to fight flu as estimated 1 million to attend.
Eagles fans expected to outnumber Pats fans 3 to 1.
Super Bowl betting total to top $4.7 billion, with 97 percent betting illegally.
MINDING YOUR BUSINESS
Amazon, Berkshire and JPMorgan grapple with US health care | Dow tumbles 362 points
Fed expected to keep interest rates steady as Yellen era ends.
Auto sales may eke out gains in January: analysts.
NEW IN FOX NEWS OPINION
Ego much? Obama talked about himself nearly four times as often as Trump in first State of Union speech.
Trump's State of the Union spoke to America's innovative, entrepreneurial spirit.
John Stossel: Is America the world's freest country?
HOLLYWOOD SQUARED
Stephen Colbert rips Trump after State of the Union speech.
Sequel to 'The Passion of the Christ' will be biggest film in history: actor
Former 'Glee' star Mark Salling dead, was facing prison for child porn possession.
DID YOU HEAR ABOUT THIS?
Jack the Ripper letter mystery solved?
PHOTO: Bar introduces gruesome 'black margarita' with feral pig eye.
School-bus sized 'Holy Grail' dinosaur discovered in Sahara desert.
STAY TUNED
On Fox News:
Fox & Friends, 6 a.m. ET: Eric Trump will size up his father's State of the Union address; we'll have all the fallout and behind-the-scenes tidbits from President Trump's closely watched speech from Jason Chaffetz, Sen. Joe Manchin, Sen. Marco Rubio, Corey Lewandowski and David Bossie.
The Story with Martha MacCallum, 7 p.m. ET: The USA Gymnastics scandal shocked the nation. Three of Larry Nassar's victims speak out.
Tucker Carlson Tonight, 8 p.m. ET: From the speech to where we stand as a nation, Tucker breaks down Trump's State of the Union address.
Fox News @ Night, 11 p.m. ET: Inside the latest developments in the fight over the infamous surveillance memo and what it could mean for America.
On Fox Business:
Stay with Fox Business for analysis of President Trump's State of the Union address throughout the day with all the guests below!
Mornings with Maria, 6 a.m. ET: Guests include: Sean Spicer, former White House press secretary; Sen. David Perdue ; Richard Trumka, AFL-CIO president; Mercedes Schlapp, White House senior adviser for strategic communications; House Majority Whip Steve Scalise.
Varney & Company, 9 a.m. ET: Treasury Secretary Steven Mnuchin; La. Sen. John Kennedy.
Risk & Reward, 5 p.m. ET: Rep. Marsha Blackburn.
On Fox News Radio:
The Fox News Rundown podcast: President Trump delivered his first State of the Union address Tuesday night. Fox News' Jared Halpern in Washington will be joined by Jon Decker who was in the House Chamber for the speech. Democratic strategist Jehmu Greene and GOP strategist Brad Blakeman will also share their insight. The House Intelligence Committee voted to release a classified memo revealing alleged government surveillance abuses, and President Trump is expected to decide by the end of the week whether the memo should be made public. Washington Examiner chief political correspondent Byron York weighs in. Plus, commentary by Fox News Radio host Tom Shillue.
Want the Fox News Rundown sent straight to your mobile device? Subscribe through Apple Podcasts, Google Play, and Stitcher.
The Brian Kilmeade Show, 9 a.m. ET: The latest fallout from Trump's first State of the Union address with the Wall Street Journal's Bill McGurn; White House Chief of Staff John Kelly; Linda McMahon, administrator of Small Business Administration; Secretary of the Interior Ryan Zinke; Mick Mulvaney, director of the Office of Management and Budget; Mercedes Schlapp, White House senior adviser for strategic communications; Health and Human Services Secretary Alex Azar.
The Tom Shillue Show, 3 p.m. ET: A breakdown of the mainstream media's reaction to Trump's State of the Union address with columnist Anthony L. Fisher, podcaster Hitha Herzog and comedian Stephen Kruiser.
#OnThisDay
1990: McDonald's Corp. opens its first fast-food restaurant in Moscow.
1958: United States enters the Space Age with its first successful launch of a satellite, Explorer 1, from Cape Canaveral.
1865: The U.S. House of Representatives joins the Senate in passing the 13th Amendment to the United States Constitution abolishing slavery, sending it to states for ratification. (The amendment would be adopted in December 1865.)
Fox News First is compiled by Fox News' Bryan Robinson. Thank you for joining us! Enjoy your day, and we'll see you in your inbox first thing Thursday morning.