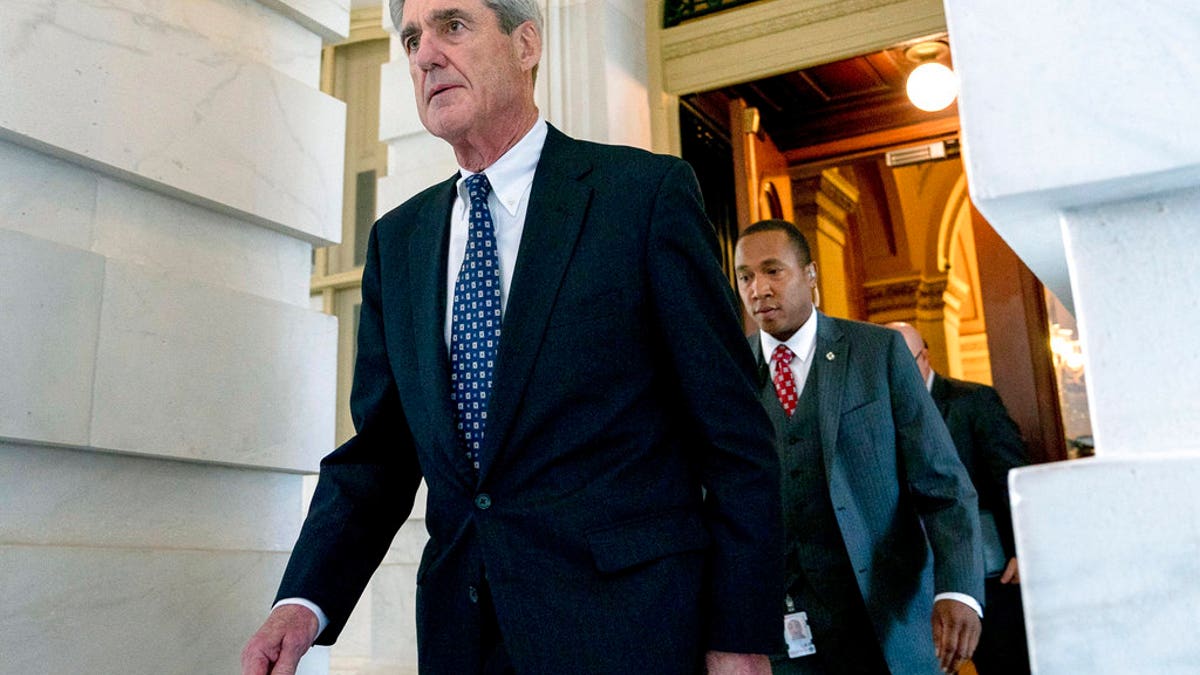 Welcome to Fox News First. Not signed up yet? Click here.
Developing now, Friday, Jan. 26, 2018
President Trump denies reports that he wanted to fire Special Counsel Robert Mueller last year
Two FBI officials were concerned about being too tough on Hillary Clinton during the bureau's investigation into her private email server, texts indicate
The White House proposes a path to citizenship to millions of "Dreamers" while investing $25 billion in border security, including Trump's border wall
Trump to address World Economic Forum in Davos, Switzerland, on Friday
At the urging of the Congressional Black Caucus, a photographer withheld a photo of Barack Obama and Louis Farrakhan for more than a decade
THE LEAD STORY - TRUMP SLAMS REPORTS HE WANTED TO FIRE MUELLER AS 'FAKE NEWS': President Trump on Friday denied reports that he ordered the firing of Special Counsel Robert Mueller in June and only backed down after his White House counsel refused to carry out the instruction and threatened to resign ... Trump, who is in Davos for the World Economic Forum, was asked directly about The New York Times' story and said it was "fake news, folks, fake news. Typical New York Times fake stories." The Times' report said that White House lawyer Don McGahn said he would not deliver the order to the Justice Department, according to The Times, which cites four people familiar with the request by the president.
FEARING HILLARY'S WRATH? - Two lovebird FBI officials were concerned about being too tough on then-Democratic presidential candidate Hillary Clinton during the bureau's investigation into her email practices because she might hold it against them as president, recovered text messages indicate ... Senate Judiciary Committee Chairman Chuck Grassley released new messages between FBI agents Lisa Page and Peter Strzok, who were having an affair and exchanged more than 50,000 texts with each other during the election. "One more thing: she might be our next president," Page texted Strzok on Feb. 25, 2016, in reference to Clinton. "The last thing you need [is] going in there loaded for bear," she continued. "You think she's going to remember or care that it was more [DOJ] than [FBI]?" Strzok replied that he "agreed" and he had relayed their discussion to someone named "Bill."
In addition to the Clinton case, Strzok assigned to the Special Counsel Muller's probe into Russia and the Trump campaign. Page also briefly worked on the special counsel investigation.
TRUMP'S IMMIGRATION PITCH: The White House Thursday released an immigration plan that would offer a path to citizenship for approximately 1.8 million of the so-called "Dreamers," along with a $25 billion investment in border security -- including for President Trump's long-promised wall ... The White House was expected to provide more details of the president's proposal early next week. But the proposal represents a reversal for Trump and could provoke resistance among his conservative allies.
TOUGH CROWD AT DAVOS?: President Trump's recent decision to enact new tariffs, boosting American manufacturers, and lingering anger over his alleged "s---hole" comments controversy have sparked buzz that some Davos attendees may walk out on his speech, scheduled for Friday at the World Economic Forum in Davos, Switzerland ...
PICTURE THEM TOGETHER: A photo released this week shows former President Barack Obama with Nation of Islam leader Louis Farrakhan during Obama's years as an Illinois state senator -- The photographer revealed Thursday that the Congressional Black Caucus had pressured him for more than a decade to keep it hidden ... Askia Muhammad told the Trice Edney News Wire last week that he believed that the image "absolutely would have made a difference" in the 2008 presidential campaign had it been made public.
AS SEEN ON FOX NEWS
'THE FIX WAS IN': "It's clear that they did not want her charged, they wanted her to be the president of the United States, they really, really didn't want Donald Trump to be the president of the United States, and they concede throughout these texts that they did things in this investigation differently from any other investigation that they were part of." – Rep. Trey Gowdy, on "Tucker Carlson Tonight," saying the newly recovered text messages between FBI officials Peter Strzok and Lisa Page show "manifest bias" for Hillary Clinton and against President Trump. WATCH
A BIG BROTHER PROBLEM?: "But when the people of America see the four pages and then the additional documents, what they're going to see is we have a problem in the FISA courts. We have to fix the institution that allows your Fourth Amendment, your privacy right, to be circumvented using these technique." – Rep. Darrell Issa, on "The Story with Martha MacCallum," making the case for all Americans to see the "damning" memo details alleged FISA surveillance abuses. WATCH
ACROSS THE NATION
Symptoms of deadly flu strain spreading across US tend to 'escalate rapidly,' doctor says.
U.S. Olympic Committee demands USA Gymnastics board members resign in wake of Nassar scandal.
Harvard's Hasty Pudding theater troupe to allow women to join for first time in 223 years.
MAINSTREAM MEDIA MADNESS
Inside Matt Lauer's whirlwind final days at NBC.
CNN mocked after declaring cuckolding can be a positive for certain couples.
Debacle at CNN as $20 million digital star Casey Neistat abruptly leaves company.
MINDING YOUR BUSINESS
Consumers, businesses seen buoying U.S. economic growth in fourth-quarter.
Wage growth, tax-bonuses spark shopping in retail stocks.
Stocks, taxes and profits: What you need to know in 2018.
NEW IN FOX NEWS OPINION
Larry Nassar is a monster -- Why aren't the powerful organizations that enabled him being held accountable?
Palestinian leaders hurt their own people by giving Pence the cold shoulder and supporting anti-Israel boycott.
Todd Starnes: Court refuses to hear case of coach fired for taking knee to pray.
HOLLYWOOD SQUARED
Grammy Awards 2018: Everything you need to know.
Anne Heche says Harvey Weinstein exposed himself, then fired her.
Taylor Swift sued by real estate company over $1M commission.
DID YOU HEAR ABOUT THIS?
Doomsday Clock reaches 2 minutes to midnight - closest point to nuclear annihilation since Cold War.
Eating some sandwiches causes global warming, scientists say.
Jawbone discovered in Israel is the earliest modern human fossil outside of Africa.
STAY TUNED
On Fox News:
Fox & Friends, 6 a.m. ET: The National Border Patrol Council VP reacts to the White House's immigration proposal; Rep. Jim Jordan discusses latest developments on the FISA memo controversy and Mueller investigation; and reaction to New York Gov. Cuomo's proposal to give free tuition to "Dreamers."
The Story with Martha MacCallum, 7 p.m. ET: Inside the U.S. gymnastics scandal and the fight to clean up the sport. Dominique Moceanu speaks out.
Hannity, 9 p.m. ET: Get the full breakdown of Trump's Davos speech, plus powerful reaction from Lou Dobbs.
On Fox Business:
Stay with Fox Business all day for on-location, team coverage of the World Economic Forum in Davos, Switzerland!
Mornings with Maria, 6 a.m. ET: Live from the World Economic Summit … guests include: John Negroponte, former U.S. ambassador to the U.N.; Stephen Schwarzman, Blackstone Chairman, CEO and co-founder; Tom Hayes, Tyson Foods CEO; Ginni Rometty, IBM CEO; Queen Rania Al Abdullah and Sir Martin Sorrell, WPP CEO.
Varney & Company, 9 a.m. ET: Travis Allen, California gubernatorial candidate.
Cavuto: Coast to Coast, Noon ET: Former N.J. Gov. Christine Todd Whitman.
On Fox News Radio:
The Fox News Rundown podcast: President Trump is the first sitting president to attend the World Economic Forum in 18 years. Foreign correspondent Simon Owen and White House correspondent Jon Decker discuss the president's "America First" message and how it is being received by the international community. The Doomsday Clock hasn't been this close to midnight since the Cold War. We will hear from Laurence Krauss, who is part of the Bulletin of the Atomic Scientists who decide where to reset the clock each year. Plus, commentary from Fox News Sunday host Chris Wallace.
Want the Fox News Rundown sent straight to your mobile device? Subscribe through Apple Podcasts, Google Play, and Stitcher.
The Brian Kilmeade Show, 9 a.m. ET: Geraldo Rivera on the White House's latest immigration proposal and the revelation that President Trump wanted to fire Mueller; Larry Sabato on Trump at the World Economic Forum; Marie Harf on John Kerry's comments that sparked rumors of a possible presidential run in 2020.
#OnThisDay
2017: Tensions flare between President Trump and Mexico, with Mexican President Enrique Pena Nieto scrapping a planned visit to Washington and the White House threatening a 20 percent tax on imports to pay for Trump's proposed wall along the southern border.
1998: President Bill Clinton forcefully denies having an affair with a former White House intern, telling reporters, "I did not have sexual relations with that woman, Miss Lewinsky."
1988: "Phantom of the Opera" opens in New York City at Broadway's Majestic Theater.
Fox News First is compiled by Fox News' Bryan Robinson. Thank you for joining us! Enjoy your Friday and weekend! We'll see you in your inbox first thing Monday morning.