FOX NEWS FIRST: Trump claims vindication after release of Comey memos; Walkouts planned on Columbine anniversary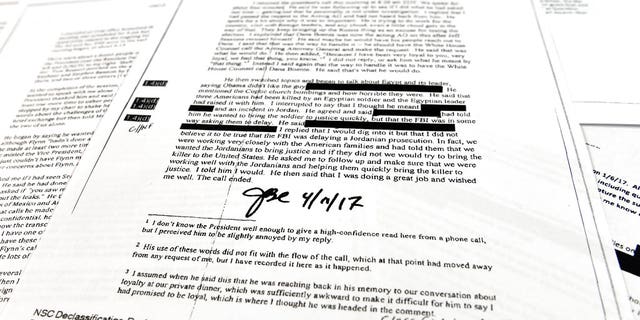 NEWYou can now listen to Fox News articles!
Welcome to Fox News First. Not signed up yet? Click here.
Developing now, Friday, April 20, 2018
President Trump claims vindication after fired FBI Director James Comey's memos are released, tweeting that they show 'no collusion and no obstruction'
Comey's released memos detail doubts the former FBI director had about reports on Russia-Trump dossier, reveal that the president had concerns about former National Security Adviser Michael Flynn
The Justice Department's internal watchdog sends a criminal referral for fired FBI Deputy Director Andrew McCabe to the federal prosecutor's office in Washington, D.C.
Fresno State scrambles to keep donors after an English professor bashes Barbara Bush following the former first lady's death Tuesday
Hundreds of school walkouts are planned across the nation Friday on the 19th anniversary of the Columbine High School massacre
THE LEAD STORY - TRUMP'S GREAT EXPECTATIONS: President Trump late Thursday tweeted that the newly released memos written by former FBI Director James Comey "show clearly" no collusion with Russia in 2016 and no obstruction into the investigation ... "James Comey Memos just out show clearly that there was NO COLLUSION and NO OBSTRUCTION. Also, he leaked classified information. WOW! Will the Witch Hunt continue?" Trump tweeted. The memos, which were written by Comey about his interaction with Trump, prove that the fired FBI director never felt obstructed, GOP lawmakers said. Many Democrats claim that Trump tried to hold up the FBI's investigation into alleged collusion leading up to the 2016 election. House Judiciary Committee Chairman Bob Goodlatte, R-Va.; House Oversight Committee Chairman Trey Gowdy, R-S.C.; and House Intelligence Committee Chairman Devin Nunes, R-Calif., said in a joint statement that Comey's memos "show the President made clear he wanted allegations of collusion, coordination, and conspiracy between his campaign and Russia fully investigated. "The memos also made clear the 'cloud' President Trump wanted lifted was not the Russian interference in the 2016 election cloud, rather it was the salacious, unsubstantiated allegations related to personal conduct leveled in the dossier" compiled by ex-British spy Christopher Steele, they added. House Minority Leader Nancy Pelosi, D-Calif., disagreed, tweeting that the memos "are further proof of [Trump's] contempt for the rule of law.
'MIGHT BE TOTALLY MADE UP': Former FBI Director James Comey, in a memo recounting a meeting with President Trump at Trump Tower on Jan. 6, 2017, explained it was the first time he had informed the president about reports "involving him and prostitutes at the Presidential Suite at the Ritz Carlton in Moscow from about 2013" ... These reports focus on the controversial, but unverified and much-discredited dossier that contained numerous salacious allegations about Trump's connections to Russia. Comey said he wanted to tell the president about reports obtained by CNN and didn't want Trump to get "caught cold" by the details. "The Russians allegedly had tapes involving him and prostitutes at the Presidential Suite at the Ritz Carlton in Moscow from about 2013," Comey recalled in the memo. When informed, Comey said, Trump was surprised. If the media had the reports, he wondered why "they hadn't gone with it." Comey replied that they "would get killed for reporting straight up from the source reports." Comey then told Trump that "the stuff might be totally made up."
In that same memo, Comey mentioned that Trump spoke about the "serious reservations" he had about then-National Security Adviser Michael Flynn and his "judgment issues." Comey said Trump talked about an incident involving the redacted name of a leader from the redacted name of a country who called to congratulate him following the inauguration. Trump apparently claimed Flynn failed to inform him of the call.
POSSIBLE LEGAL PERIL FOR MCCABE: The Justice Department's internal watchdog has sent a criminal referral for fired FBI official Andrew McCabe to the U.S. attorney's office in Washington, Fox News has confirmed ... The move follows a recent DOJ inspector general report that found McCabe leaked a self-serving story to the press and later lied about it to then-Director James Comey and federal investigators, prompting Attorney General Jeff Sessions to fire him on March 16. The Washington Post reported earlier that the IG referred the finding that McCabe misled investigators "some time ago," asking the top federal prosecutor for D.C. to examine whether he should be charged. In a statement, McCabe's legal team said they were advised of the referral "within the past few weeks" and believe it is "unjustified."
FRESNO STATE DAMAGE CONTROL: A Fresno State professor who called the late Barbara Bush "racist" soon after her death Tuesday, and said she was glad "the witch is dead," continues to face fallout as donors mull ceasing donations to the institution ... Randa Jarrar, an English professor at the school (also known as California State University at Fresno), sparked outrage Tuesday just hours after the former first lady died at age 92, writing a number of tweets attacking Bush and the family. "Barbara Bush was a generous and smart and amazing racist who, along with her husband, raised a war criminal. F*** outta here with your nice words," the professor tweeted. Jarrar also reportedly may be in trouble at Arizona State, after claiming the school's student crisis hotline was her private phone number. The post resulted in a flood of calls to the crisis line.
ANTI-GUN WALKOUTS ON COLUMBINE ANNIVERSARY: Another wave of student walkouts is expected to disrupt classes Friday at hundreds of schools across the U.S. as young activists press for tougher gun laws ... The protests were chosen to line up with the 19th anniversary of the Columbine High School shooting, which left 13 people dead in Littleton, Colo., on April 20, 1999. At 10 a.m. ET, students plan to gather for moments of silence honoring the victims at Columbine and other shootings.
From there, some students will head to rallies at their statehouses. Others will stay at school to discuss gun violence while others will hold voting registration drives. Organizers say there will be walkouts in every state, with more than 2,600 registered on the event's website as of Thursday. Citywide protests are expected to attract thousands in New York City and Austin, Texas. Police in Richmond, Va., say they expect at least 10,000 at the state Capitol.
AS SEEN ON FOX NEWS
COMEY'S 'CULTURE OF CORRUPTION': "James Comey is an anti-Trump activist. He might as well be running the DNC, given his hatred for President Trump and his deference to Hillary Clinton." – Judicial Watch President Tom Fitton, on "Tucker Carlson Tonight," calling out the former FBI director for alleged political bias and establishing a "culture of corruption" at the bureau. WATCH
'WHAT ARE WE DOING?': "Dammit, he can't be a criminal target under the memoranda that have been written by the Justice Department! ... Mr. President, don't sit down with this special counsel. This special counsel doesn't have the power to indict you, and for good reason." – Mark Levin, on "Hannity," explaining why a sitting U.S. president cannot be indicted and uring President Trump not to agree to an interview with Special Counsel Robert Mueller's team. WATCH
TRENDING
New emails bolster GOP claims of FBI, DOJ 'coordination' on Clinton case response.
Taxpayers to spend $85G for Chris Christie's official portrait: report.
Andrew Cuomo claims he's 'undocumented,' challenges officials to deport him.
Kansas day care accused of 'tying down' infants, investigation underway.
THE SWAMP
Florida felons are latest point of contention in fight for battleground state's votes.
Federal court rules against Trump's sanctuary city crackdown efforts.
Illinois Dems push bill rewarding schools that replace armed officers with therapists.
ACROSS THE NATION
Two Florida deputies killed in apparent ambush at restaurant, suspect dead.
Fugitive grandma arrested in Texas after weeks-long search, authorities say.
Lance Armstrong settles $100M lawsuit with U.S. government.
Stephon Clark's brother arrested on suspicion of threats.
MINDING YOUR BUSINESS
Mattel CEO leaving a year after joining from Google.
Mnuchin touts 'meaningful impact' of tax cuts | Mnuchin: Trump-Amazon feud unrelated to postal audit
JPMorgan Chase to open up to 70 DC area branches, may hire 700.
Wells Fargo said near settlement of up to $1 billion with regulators.
FOX NEWS OPINION
Marc Thiessen: Pompeo is close to confirmation and 11 senators are close to making a colossal mistake.
Newt Gingrich and Audrey Bird: It's time to fix our broken prison system.
Henry I. Miller, Alex Berezow: March for Science was just an excuse to attack Trump and Republicans.
HOLLYWOOD SQUARED
'Late Show With Stephen Colbert' writer slammed for insensitive Barbara Bush tweet.
Carrie Underwood's scar visible as star details fall.
Magician David Copperfield forced to reveal illusion secret in court.
DID YOU HEAR ABOUT THIS?
VIRAL PHOTO: Baby owls born on California windowsill gawk at workers
New species of 'exploding ants' discovered.
Rare Titanic rescue letters surface.
STAY TUNED
On Fox News:
Fox & Friends, 6 a.m. ET: National Review columnist Andrew McCarthy on the release of James Comey's memos; the mayor of El Cajon, Calif., weighs in on the sanctuary law debate; insight on the day's top headlines from Mark Levin, Geraldo Rivera and Tomi Lahren.
On Fox Business:
Mornings with Maria, 6 a.m. ET: Guests include: Mary Kate Cary, former speechwriter George H.W. Bush; Alberto Gonzales, former U.S. Attorney General; Mark Penn, former senior adviser to the Clintons, Bob Nardelli, former Home Depot CEO.
Varney & Co., 9 a.m. ET: John Hofmeister, former Shell Oil president; Mike Huckabee; Gene Munster, managing partner at Loup Ventures; Idaho Gov. C.L. "Butch" Otter.
Cavuto: Coast to Coast, Noon ET: Bernie Marcus, Home Depot co-founder; Newt Gingrich.
The Intelligence Report, 2 p.m. ET: Rep. Dana Rohrabacher; David Bossie; Michael Block, chief strategist of Rhino Trading Partners; Heather Zumarraga, financial analyst; Ned Ryun, founder and CEO of American Majority.
On Fox News Radio:
The Fox News Rundown podcast: The National Transportation Safety Board continues to investigate Tuesday's engine explosion on a Southwest Airlines flight. Rob Mark, former supervisor at the FAA, discusses what investigators are looking for. For the first time in almost six decades, Cuba will no longer have a Castro as president. Fox News' Steve Harrigan has more from the ground in Havana. Plus, commentary by former Deputy Assistant Secretary of the U.S. Army Van Hipp.
Want the Fox News Rundown sent straight to your mobile device? Subscribe through Apple Podcasts, Google Play, and Stitcher.
On Fox News Weekend:
Cavuto Live, Saturday, 10 a.m. ET: House Judiciary Committee member Rep. Ron DeSantis on the Justice Department's inspector general's criminal referral of former FBI Deputy Director Andrew McCabe to federal prosecutors; Senate Foreign Relations Committee member Sen. Ben Cardin on why he is opposing Mike Pompeo for secretary of state ahead of Monday's key vote; former Vice President Dan Quayle on the life and legacy of Barbara Bush.
Fox News Live Coverage - The funeral of former first lady Barbara Bush, Saturday starting at Noon ET: Shepard Smith will anchor live coverage of Barbara Bush's funeral from Houston. He will be joined by Brit Hume and Dana Perino in Texas and Bret Baier in Washington, D.C..
Fox News Sunday, Sunday, 2 p.m. and 7 p.m. ET: Chris Wallace travels to Paris for an exclusive interview with French President Emmanuel Macron ahead of his state visit to the United States.
Legends & Lies: The Civil War, Sunday, 8 p.m. ET: "Stonewall Jackson: Friendly Fire" - In this episode, A Confederate victory at Chancellorsville comes at a high price when a Southern bullet accidentally mortally wounds Stonewall Jackson.
Life, Liberty & Levin, Sunday, 10 p.m. ET: Host Mark Levin talks to Peter Pry, executive director of the U.S. Nuclear Strategy Forum, about the United States' nuclear weapons capability, U.S. enemies around the world, protecting the future of the nation and how the Trump administration is handling these threats.
#OnThisDay
2010: An explosion on the Deepwater Horizon oil platform, leased by BP, kills 11 workers and causes a blowout that would spew an estimated 200 million gallons of crude into the Gulf of Mexico. (The well was finally capped nearly three months later.)
2008: Danica Patrick becomes the first female winner in IndyCar history, capturing the Indy Japan 300.
1999: The Columbine High School massacre takes place in Colorado as two students fatally shoot 12 classmates and one teacher before taking their own lives.
Fox News First is compiled by Fox News' Bryan Robinson. Thank you for joining us! Enjoy your day and weekend! We'll see you in your inbox first thing Monday morning.