FOX NEWS FIRST: Senate passes $1.3 trillion spending bill; Millions expected at weekend gun control marches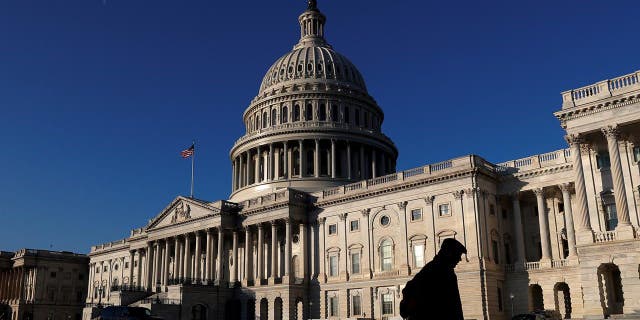 Welcome to Fox News First. Not signed up yet? Click here.
Developing now, Friday, March 23, 2018
The Senate approved a $1.3 trillion 'omnibus' spending bill early Friday morning, avoiding a potential government shutdown
President Trump named John Bolton – a former U.S. ambassador to the U.N. and a Fox News contributor – to replace H.R. McMaster as national security adviser; Democrats are outraged
Nearly 1 million worldwide could participate in 'March for Our Lives' gun control events this Saturday
Wall Street will be closely watched after the Dow dipped 724 points Thursday as Trump announced the U.S. would slap tariffs on China
Court documents obtained by Fox News give a preview of the deposition facing the ex-British spy who put together the much-discredited Trump-Russia dossier
THE LEAD STORY - SHUTDOWN AVERTED: In a vote just after midnight Friday, the Senate voted to pass a $1.3 trillion omnibus spending bill, averting a government shutdown while paving the way for the next funding fight ahead of the midterm elections ... The House had approved its version Thursday in a bipartisan tally of 256-167. The Senate passed its bill 65-32. The sweeping deal, which will fund the government until September, increases military and domestic programs, delivering federal funds throughout the country, but exceeds budget caps -- adding about a $1 trillion to the national debt. The bill will now head to President Donald Trump's desk for his signature or veto.
DEMS FRET OVER 'EXTREME' JOHN BOLTON AS TRUMP'S NEW SECURITY ADVISER: President Donald Trump announced Thursday that former United Nations Amb. John Bolton will replace Gen. H.R. McMaster as his national security adviser effective April 9 -- the latest in a growing list of White House staff shakeups over the past year ... The president's announcement came after months of speculation over whether McMaster would resign or be fired. Bolton told Fox News' "The Story" Thursday evening, "I didn't really expect that announcement this afternoon, but it's obviously a great honor. It's always an honor to serve our country and I think particularly in these times internationally, it's a particular honor." Democrats wasted no time criticizing Trump's hiring of Bolton, a strong supporter of the Iraq war and an advocate for aggressive use of American power in foreign policy. "Mr. Bolton's tendency to try to solve every geopolitical problem with the American military first is a troubling one," Senate Minority Leader Chuck Schumer said. "I hope he will temper his instinct to commit the men and women of our armed forces to conflicts around the globe, when we need to be focused on building the middle class here at home." Sen. Bernie Sanders, I-Vt., tweeted that Bolton "was too extreme to be confirmed as UN ambassador in 2005 and is absolutely the wrong person to be national security advisor now."
MASSIVE ANTI-GUN VIOLENCE PROTESTS EXPECTED THIS WEEKEND: Nearly 1 million people are expected in Washington Saturday for the "March for Our Lives" gun control rally and more than 800 sister marches from California to Japan ... In the wake of the Parkland, Fla., school massacre that killed 17, teen activists have pulled all-nighters, scheduling speakers, petitioning city councils, renting stages and walking march routes with police in a grass-roots movement that has raised more than $4 million. Students are expected to walk down Pennsylvania Avenue during the March for Our Lives on Saturday alongside pop stars Ariana Grande, Jennifer Hudson, Miley Cyrus and Demi Lovato. Several student organizers have become mainstays on national TV, promoting the marches, and they landed on the cover of Time magazine. Oprah Winfrey and George and Amal Clooney have each donated $500,000. The cast of "Modern Family" did a public service announcement, and Broadway stars Lin-Manuel Miranda and Ben Platt recorded a song for the march.
The Hollywood firepower behind these marches has prompted some critics to wonder whether liberals have taken advantage of the Parkland tragedy and vulnerable teens and are using them for their anti-gun agenda. "They like to believe we're puppets, they like to believe that we're being controlled by someone else because ... they don't want to believe that human beings have this power because if they have this power then they might not need a gun," Marjory Stoneman Douglas senior Ryan Deitsch told the Associated Press.
WALL STREET JITTERY OVER POTENTIAL U.S.-CHINA TRADE WAR: Wall Street will be watched closely Friday following U.S. stocks' heavy losses Thursday after President Trump announced he would impose tariffs on China ... The Dow lost 724.42 points, or 2.93 percent, slipping to 23,957.89. The S&P 500 dropped 68.24 points, or 2.52 percent, to 2,643.69. The Nasdaq Composite fell 178.61 points, or 2.43 percent, to 7,166.68. According to Trump, the tariffs on China could be as high as $60 billion, while United States Trade Representative Robert Lighthizer and the president's chief trade advisor, Peter Navarro, told reporters in a briefing that they will be $50 billion. In retaliation, China announced plans to impose tariffs on $3 billion in U.S. products such as steel, pork and wine. China also expects to take legal action against the U.S. through the World Trade Organization, the country's Commerce Ministry said.
EX-BRITISH SPY BEHIND TRUMP-RUSSIA DOSSIER FACING HOT SEAT: New details have emerged about questions that former British spy Christopher Steele may be asked regarding the unverified Trump-Russia dossier during his upcoming court-ordered deposition in London ... Fox News has obtained and reviewed British court records filed Wednesday in the ongoing multimillion-dollar civil suit brought by Russian tech guru Aleksej Gubarev against BuzzFeed and Steele that is underway in courtrooms on both sides of the Atlantic. Evan Fray-Witzer, a Boston-based attorney for Gubarev, told Fox News in an email, "We expect that Mr. Steele will confirm that the allegations concerning Mr. Gubarev were unsolicited and that he included them in the dossier despite having done nothing to verify whether the allegations were true or not."
In London, the Steele deposition could last up to seven hours, something he has gone to great lengths and legal expense to avoid. Meanwhile in Washington, D.C., Senate Judiciary Committee Chairman Chuck Grassley, R-Iowa, and Sen. Lindsey Graham, R-S.C., have recommended a criminal referral of Steele to the Justice Department.
AS SEEN ON FOX NEWS
'COLLUSION' BETWEEN THE LEFT AND BIG COMPANIES: "The ideological gap between the leaders of America's most powerful corporations and, say, the Democratic Party is basically nonexistent. They agree on everything. Now, having failed at the ballot box in 2016, the left is using other means to make the outcome of those elections irrelevant. Nowhere is this clearer than on the subject of the Second Amendment."– Tucker Carlson, in his opening monologue on "Tucker Carlson Tonight," arguing that the left is colluding with big tech and financial companies to roll back Americans' gun rights. WATCH
'ABSOLUTELY' NO SIGNS OF DARKNESS: "I saw him and I still see him as the little 5-year-old who moved in next door who I was so glad to see move in because it gave my grandson a playmate." – Nancy Reeb, longtime next door neighbor of Austin, Texas, serial bomber Mark Anthony Conditt, on "The Story with Martha MacCallum, saying she saw no signs that he would be capable of such destruction. WATCH
THE SWAMP
Ex-Playboy model describes alleged Trump affair | Toensing joins hubby diGenova on Trump's legal team
States take on welfare reform -- with nod from Trump.
Trump administration approves $1B arms sale to Saudi Arabia, including more than 6,500 missiles.
This famously liberal state is the only one to never send a woman to Congress.
ACROSS THE NATION
Austin bomber's chilling 'confession': 'I wish I were sorry but I am not.'
Las Vegas shooter's final days before killing spree seen in creepy new video.
Protest over fatal police shooting delays NBA game in Sacramento.
Tennessee public schools might be required to display 'In God We Trust' motto for all to see.
MINDING YOUR BUSINESS
Toys 'R' Us rescued? Billionaire's quest to save iconic retailer.
Citigroup sets gun rules for its retail clients.
Millionaire ranks grew in America the most since 2009.
'LIKING' THE GREAT FACEBOOK DEBATE
Facebook must be accountable to the American people -- Here's what needs to happen now.
Facebook controversy: Love it or hate it, big data is here to stay.
Here's why the Facebook-Cambridge Analytica controversy matters.
FOX NEWS OPINION
John R. Lott: Second Amendment rights of millions are at risk
Karl Rove: Here are 32 questions for Trump, Democrats and all of us.
Dr. Gina Loudon: Children with Down syndrome -- like my son -- have the right to be born and are a blessing.
HOLLYWOOD SQUARED
ABC's 'American Idol' reportedly blaming Ryan Seacrest scandal for low ratings.
Kim Cattrall responds to Cynthia Nixon's 'career choice' to run for governor with dismissive tweet.
'Star Trek' actor Anton Yelchin's family settles lawsuit with Fiat Chrysler over his death.
DID YOU HEAR ABOUT THIS?
Self-flying drones may be the next emergency responders
Great Pacific Garbage Patch, floating 'island' of trash in ocean, is now twice the size of Texas.
Bored by soccer game, girl digs in dirt, finds 65-million-year-old fossil.
STAY TUNED
On Fox News:
Fox & Friends, 6 a.m. ET: Sen. John Cornyn on the Senate passing the $1.3 trillion spending bill; Kellyanne Conway on Amb. John Bolton's appointment as Trump's new national security adviser and other recent administration shakeups; Charlie Kirk discusses moderating an interview with President Trump; the "Roaming Millennial" sounds off on Mount Holyoke College administrators urging teachers not to call students women. And a live performance from PAW Patrol.
Tucker Carlson Tonight, 8 p.m. ET: Tucker takes a closer look at the control Big Tech - especially Facebook - has over Americans' lives.
On Fox Business:
Mornings with Maria, 6 a.m. ET: Guests include: Rep. Claudia Tenney; Roger McNamee, former mentor of Mark Zuckerberg; Rep. Ron DeSantis; Sheila Bair, former FDIC chairman; Gordon Chang, author of "The Coming Collapse of China"; Cathy Engelbert, Deloitte CEO; Harvey Mason Jr, record producer.
Varney & Co., 9 a.m. ET: Mike Huckabee, former Arkansas governor; Nick Johnson, Axios editor-in-chief; Kayleigh McEnany, RNC spokeswoman; Beth Lindstrom, Massachusetts Senate candidate.
Cavuto: Coast to Coast, Noon ET: Ken Fisher, billionaire investor.
The Intelligence Report, 2 p.m. ET: Heather Zumarraga, Vision 4 Fund Distributors vice president; Chris Versace, Tematica Research chief investment officer and co-founder; Capri Cafaro, Washington Examiner contributor.
On Fox News Radio:
The Fox News Rundown podcast: On Tuesday, an armed school resource officer in Maryland stopped a school shooter, furthering the debate on school security. Andrew Pollack discusses his new mission after his daughter, Meadow, was killed in the Parkland massacre last month. President Trump's lead attorney in the Russia probe resigned Thursday. Judge Andrew Napolitano weighs in on what this could mean. Plus, commentary by Fox News senior meteorologist Janice Dean.
Want the Fox News Rundown sent straight to your mobile device? Subscribe through Apple Podcasts, Google Play, and Stitcher.
The Tom Shillue Show, 3 p.m. ET: Tom Shillue spoke with former United States ambassador to the United Nations John Bolton just hours after President Trump named him as the new national security adviser. Tom will replay and break down his hard-hitting interview with Bolton.
Fox News Weekend:
Fox & Friends Weekend, 6 a.m. ET: Abby Huntsman returns to the curvy couch with Ed Henry and Pete Hegseth. Guests include: Sean Spicer, Mike Huckabee, and much more!
Cavuto Live, Saturday, 10 a.m. ET: Amb. John Bolton on his appointment as Trump's new national security adviser; Sen. Chris Coons on Bolton's appointment and the anti-gun violence "March for Our Lives" events Saturday; Ryan Petty, whose daughter Alaina was killed in Parkland, Fla. school massacre, sounds off on the "March for Our Lives" rallies planned nationwide; Aliso Viejo, Calif., Mayor Dave Harrington on his push to reject and opt out of the state's sanctuary law.
Fox News Sunday, Sunday, 2 p.m. ET and 7 p.m. ET: Guests include: Cameron Kasky, "March for Our Lives" organizer and Delaney Tarr, Parkland massacre survivor.
#OnThisDay
1998: "Titanic" ties an Academy Awards record by winning 11 Oscars, including best picture, director (James Cameron) and song ("My Heart Will Go On").
1983: Dr. Barney Clark, recipient of a Jarvik permanent artificial heart, dies at the University of Utah Medical Center after 112 days with the device.
1775: Patrick Henry delivers an address to the Virginia Provincial Convention in which he is said to have declared, "Give me liberty, or give me death!"
Fox News First is compiled by Fox News' Bryan Robinson. Thank you for joining us! Enjoy your day and weekend! We'll see you in your inbox first thing Monday morning.