FOX NEWS FIRST: NYC terror attack sparks new calls for immigration reform, Trump says suspect deserves death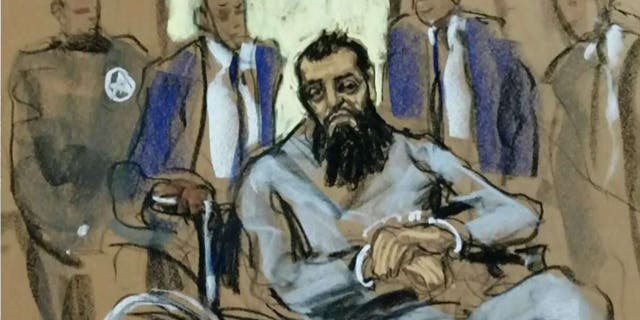 Welcome to Fox News First. Not signed up yet? Click here.
Developing now, Thursday, Nov. 2, 2017:
Trump says New York terror suspect should get death penalty, wants diversity visa program ended
House Republicans to roll out tax reform plan
Trump to nominate pick to succeed Fed boss Yellen
Tucker Carlson Exclusive: New details on Podesta Group's ties to Russia
Houston Astros win World Series, defeating L.A. Dodgers in Game 7
TUNE IN: Don't miss Laura Ingraham's exclusive interview with President Trump on "The Ingraham Angle" tonight at 10 ET. The commander-in-chief addresses the New York terror attack, diversity visa program, Mueller indictment, tax reform, his upcoming trip to Asia and so much more!
THE LEAD STORY: Tuesday's terror attack in New York City has renewed calls for comprehensive immigration reform as President Trump vowed to end the federal program that allowed a suspect from Uzbekistan into the United States ... Trump on Wednesday promised to end the State Department's Diversity Immigrant Visa Program, which is how suspect Sayfullo Saipov came into the United States in 2010. Under the program, a maximum of 50,000 people are allowed into the U.S. every year in a "lottery system" that tilts toward "countries with historically low rates of immigration." Trump has called for a "merit-based" system. Saipov, 29, was charged with several acts of terrorism after driving a rented pickup truck into pedestrians on a bike path along Manhattan's West Side Highway on Tuesday, killing eight people and injuring 12. Trump said Saipov should get the death penalty.
TAX REFORM ROLLOUT: House Republicans are expected to release their much-anticipated tax bill today after a one-day delay ... Republicans, who control both chambers of Congress, are looking to tax reform for their first legislative victory since Trump took office in January. Democrats say the Trump tax plan is a giveaway to corporations and the rich. Two sources said the bill, which had been expected Wednesday, was delayed to give lawmakers additional time to address differences over the tax treatment of retirement savings accounts and a deduction for state and local tax payments.
TRUMP'S PICK FOR NEXT FEDERAL RESERVE CHAIR: The president said he'll announce his nominee to succeed Fed boss Janet Yellen this afternoon ... "I think you will be extremely impressed by this person," Trump told reporters before a Cabinet meeting Wednesday. Trump's leading choice is said to be Jerome "Jay" Powell, who until recently was the only Republican on the Fed board.
TUCKER CARLSON EXCLUSIVE: Citing unnamed sources, Tucker Carlson reported on his show Wednesday that the Podesta group, run by Clinton allies John and Tony Podesta, lobbied several members of Congress on behalf of pro-Russia agents ... Tony Podesta, a source told Carlson, set up several meetings between pro-Russian Ukrainians and then-Senate Foreign Relations Committee Chairman Bob Menendez, who is on trial for bribery. The Podesta group consistently arranged meetings between American lawmakers and pro-Russian officials seeking influence in Washington. Carlson's report came days after he said he received a "snarling legal threat" from a lawyer for Tony Podesta over his reporting that Podesta, his brother and Paul Manafort were the "central figures" in the federal investigation led by Special Counsel Robert Mueller.
ASTROS ARE CHAMPS: The Houston Astros have won baseball's World Series, defeating the Los Angeles Dodgers 5-1 in Game 7 on Wednesday night ... It was the first World Series title for a franchise that started in 1962 as the Houston Colt .45s of the National League. The team became the Astros a few years later when it moved into the Astrodome, and then joined the American League in 2013. Houston's George Springer was named MVP, smacking five home runs during the Series.
AS SEEN ON FOX NEWS
RARE INTERVIEW WITH JUSTICE THOMAS: "I think we're getting quite comfortable in our society limiting ideas and exposure to ideas. And maybe that's a symptom of it. I don't know." – Associate Supreme Court Justice Clarence Thomas on "The Ingraham Angle," reflecting on the wave of Confederate monuments and statues being torn down across the country. WATCH
NEW YORK STRONG: "New York City was strong and solid and impressive. This city does not bend, not to anyone." – Shepard Smith, saluting New York spirit and resilience, following Tuesday's terror attack. WATCH
ACROSS THE NATION
3 dead, manhunt for suspect in Colorado Walmart shooting.
Michelle Obama says men are 'entitled,' 'self-righteous' because women protect them too much.
NBC story on 'backlash' against 'American Muslims' stirs outrage.
MINDING YOUR BUSINESS
A bear market that will 'make its mark' looms ahead: Economist Robert Prechter.
Papa John's blames NFL for sales decline, rips 'poor leadership.'
Apple market value: We may need a bigger chart.
NEW IN FOX NEWS OPINION
Ed Rollins: Get used to conservative outsiders, America.
Seven House Representatives: Opioid addiction and abuse is not partisan, it's about saving lives.
Tammy Bruce: Kevin Spacey scandal just another Hollywood case of 'everyone knows.'
HOLLYWOOD SQUARED
Playboy movie with Brett Ratner put 'on hold' following sexual assault claims.
House of Cards sent sexual harassment memo to staff weeks before Spacey allegations.
Chuck Norris sues claiming MRI chemical poisoned his wife.
DID YOU HEAR ABOUT THIS?
Iceland's biggest 'doomsday volcano' could soon erupt, wreaking mass chaos on travelers.
Student sues government after school forced her to dye her hair black, she claims.
Baby named Frankenstein born on Halloween.
STAY TUNED
On Fox News:
Fox & Friends, 6 a.m. ET: We'll have the latest on the New York City terror attack and the debate over immigration it has sparked. Guests will include: former Boston Police Department commissioner Ed Davis, NRA spokeswoman Dana Loesch and Judge Andrew Napolitano. Plus, House Majority Whip Steve Scalise talks tax reform and former special prosecutor Ken Starr gives his perspective on the Robert Mueller investigation.
Your World with Neil Cavuto, 4 p.m. ET: House Ways and Means Chairman Kevin Brady will join Neil for his first interview following the release of the tax reform bill.

TRUMP'S ASIA TRIP:
The Story with Martha MacCallum, 7 p.m. ET: Martha will be live in Hawaii with a preview and analysis of the president's trip.
The Ingraham Angle, 10 p.m. ET: Don't miss Laura's exclusive interview President Trump before he jets across the Pacific.
On Fox Business:
Mornings with Maria, 6 a.m. ET: House Republicans' tax reform bill rollout and Trump's nominee to head the Federal Reserve will be the hot topics of the day. Guests include: Dennis Muilenburg, Boeing; CEO Douglas Holtz-Eakin, former Congressional Budget Office director; Reggie Fils-Aime, Nintendo president and Rep. Roger Williams, Financial Services Committee.
Varney & Co., 9 a.m. ET: House Budget Committee Chair Diane Black previews the release of the tax reform bill
On Fox News Radio:
The Brian Kilmeade Show, 9 a.m. to Noon ET: Don't miss Brian's exclusive interview with Vice President Mike Pence on the New York terror attack, tax reform, President Trump's trip to Asia and more.
CHECK IT OUT - Fox News Radio has launched The Fox News Rundown! This daily long-form podcast goes beyond the headlines and features insights from top newsmakers, reporters and contributors from across all Fox News Channel platforms. All episodes can be found at: www.foxnewsrundown.com.
Want it sent straight to your mobile device? Subscribe through Apple Podcasts, Google Play, and Stitcher.
#OnThisDay
2000: American astronaut Bill Shepherd and Russian cosmonauts Yuri Gidzenko and Sergei Krikalev become the first residents of the International Space Station.
1976: Jimmy Carter is elected president, defeating incumbent President Gerald Ford.
1948: President Harry S. Truman surprises the experts by winning a narrow victory over Republican challenger Thomas E. Dewey -- leading to the infamous "Dewey Defeats Truman" headline error in the Chicago Daily Tribune.
Thank you for joining us on Fox News First! Enjoy your day and we'll see you in your inbox first thing Friday morning.