FOX NEWS FIRST: New hope for Trump-Kim summit; Bloody Chi-town weekend; Starbucks closed for racial bias training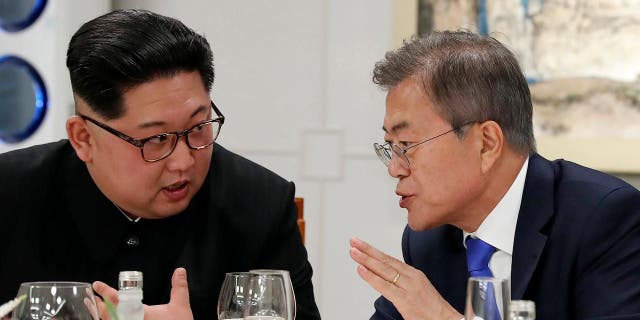 Welcome to Fox News First. Not signed up yet? Click here.
Developing now, Tuesday, May 29, 2018
The U.S. reportedly held off on slapping new sanctions on North Korea as negotiations for a still-possible summit between President Trump and Kim Jong Un continue
Gaza militants fire more than 25 mortar shells toward communities in southern Israel, the Israeli military says, in apparently the largest single barrage since the 2014 Israel-Hamas war
A South Carolina news anchor and photographer were killed while reporting on Subtropical Storm Alberto in North Carolina
It was bloody Memorial Day weekend in Chicago as at least eight people were killed and 30 were wounded in shootings across the city
Starbucks will close more than 8,000 company-owned stores across the U.S. Tuesday afternoon for employees to undergo 'racial bias training'
A Utah man released from a Venezuela jail after two years of captivity receives a warm welcome in his home state Monday night
THE LEAD STORY - SANCTIONS AS A SUMMIT BARGAINING CHIP: The White House reportedly halted new sanctions against N as representatives from the U.S. and North Korea met in Singapore Monday night ... A top aide to North Korean leader Kim Jong Un arrived in Singapore Monday evening to meet with U.S. government officials, an indication that the fragile June 12 summit with President Donald Trump could proceed, Reuters reported. The Wall Street Journal reported the White House was poised to announce additional sanctions on North Korea as early as Tuesday but decided to hold off on doing so. Trump said Sunday that a U.S. delegation was in North Korea to plan for a potential meeting with Kim. Trump called off the summit last week following increasingly harsh rhetoric from North Korea. The Treasury Department had come up with new sanctions to levy on almost three dozen targets, including Chinese and Russian entities, according to The Wall Street Journal.
MORTAR ATTACK: More than 25 mortar shells were fired Tuesday from the Gaza Strip in the direction of communities in southern Israel, the Israeli military said ... There were no reports of injuries, but the reported attack would be the largest fired in a single incident since 2014 Israel-Hamas war. Most mortars were intercepted by the Iron Dome defense system, the military said. One shell landed near a kindergarten shortly before it opened, according to media reports.
TRAGEDY ON THE JOB: A South Carolina anchor and photographer died on Monday after a large tree fell on their SUV while they were covering Subtropical Storm Alberto ... WYFF news anchor Mike McCormick and photojournalist Aaron Smeltzer were covering "rain impact" in Polk County, North Carolina, when a tree fell on their SUV, killing both of them, their home station said Monday night. "All of us at WYFF News 4 are grieving. We are a family and we thank you, our extended family, for your comfort as we mourn and as we seek to comfort the families of Mike and Aaron," the station said.
BLOODY HOLIDAY WEEKEND IN CHI-TOWN: At least eight people were killed and 30 others wounded in shootings across Chicago since midnight Friday during Memorial Day weekend, police told WLS ... Last year, over the entire weekend of the unofficial start of summer, seven people were killed and 45 others were hurt. To try and reduce the grim statistics, police had been trying to curb gun violence by employing 1,300 extra officers on patrol with help from state and federal partners.
STARBUCKS CLOSED FOR BUSINESS, OPEN FOR RACE TRAINING: Starbucks will close more than 8,000 company-owned stores across the U.S. Tuesday to conduct "racial bias training" for its employees ... The move by Starbucks comes following an outcry over the arrest of two black men at one of its stores in Philadelphia last month. The coffee chain's leaders have since apologized and met with the two men and reached out to activists and experts in bias training to put together a curriculum for its 175,000 workers. That has put a spotlight on the little-known world of "unconscious bias training," which is used by many corporations, police departments and other organizations to help address racism in the workplace.
HOMECOMING FOR FREED AMERICAN PRISONER: Joshua Holt, who was "unjustly detained" in Venezuela for two years, arrived to a warm welcome in his home state of Utah Monday night after meeting with President Donald Trump in Washington D.C. ... Holt and his wife Thamy were greeted at Salt Lake City International Airport by a crowd filled with family, friends, and politicians who joined the couple and their daughter in the singing of the national anthem. A second homecoming celebration will take place in Holt's hometown of Riverton City, Utah, where streets were lined with green ribbons on light poles and trees. Green is Holt's favorite color, the Salt Lake Tribune reported.
AS SEEN ON FOX NEWS
PAYING TRIBUTE TO AMERICA'S HEROES: "Today our whole country thanks you, embraces you, and pledges to you: We will never forget our heroes." – President Trump, honoring fallen heroes and their surviving family members in a Memorial Day speech Monday at Arlington National Cemetery, as seen on "America's News Headquarters." WATCH
WHY ILLEGALS SHOULD SUPPORT TRUMP'S BORDER WALL: "They should be championing a wall. That is the next step for them to find their way to be here legally." – Wounded veteran and veterans advocate Johnny "Joey" Jones, on "Outnumbered," saying illegal immigrants should be "championing" President Trump's plan for a border wall with Mexico. WATCH
#PROUDAMERICAN
World War II veteran posthumously honored with Purple Heart.
Flag's cross-country journey raises funds for children of fallen heroes.
'God, country and golf': Charity raises millions for families of fallen heroes.
THE SWAMP
Stormy Daniels' lawyer Michael Avenatti complicates Cohen probe.
Virginia Rep. Tom Garrett reportedly not seek re-election: 'I'm an alcoholic.'
Chelsea Clinton: Trump 'degrading what it means to be an American.'
ACROSS THE NATION
Woman punched by cop on beach 'refused to comply': New Jersey mayor says.
Cop killer sues New York City after being jumped in prison.
Boy, 9, raises $6,000 for sick brother at lemonade stand.
MINDING YOUR BUSINESS
Nissan to cut North American output by 20 percent: Report.
The Week Ahead: Investors will focus on jobs.
How expensive will this hurricane season be?
Coca-Cola debuts first alcoholic drink.
FOX NEWS OPINION

Rep. Ken Calvert: California Democrats take hypocrisy to new heights in stance on sanctuary laws and National Guard.
Corey Lewandowski: America First -- President Trump stands with American aluminum workers.
Lauren DeBellis Appell: Harvard gives Hillary Clinton award for 'transforming society' -- even when you lose you get a trophy.
HOLLYWOOD SQUARED
Michelle Wolf attacks Sarah Sanders' 'ugly personality' on her Netflix show.
Meghan Markle's half-sister slams her for denying father a coat of arms: 'It's a huge insult.'
Paris Jackson leaves fashion show after getting enraged over performing animals.
DID YOU HEAR ABOUT THIS?
Dino-killing asteroid impact warmed Earth's climate for 100,000 years.
Seven delicious foods you never thought to grill.
Dinosaur dandruff found in 125 million-year-old tiny beast.
STAY TUNED
On Fox News:
Fox & Friends, 6 a.m. ET: Meet the high school senior told to not wear an Army sash to her graduation. A closer look at why the mainstream media hate President Trump's use of social media. Also, meet the Korean War veteran who's fighting to keep the American flag flying over his hometown.
President Trump's rally in Nashville, Tenn., 8 p.m. ET: Tune in for Fox News' live coverage!
On Fox Business:
Mornings with Maria, 6 a.m. ET: Guests include: Rep. Blaine Luetkemeyer; Mack McLarty, former White House chief of staff under President Clinton.
Varney & Co., 9 a.m. ET: Kirk Lippold, former Commanding Officer of the USS Cole; Art Laffer, former member of President Reagan's Economic Policy Advisory Board; Steve Sweeney, New Jersey Senate president.
Cavuto: Coast to Coast, Noon ET: Former New Mexico Gov. Bill Richardson.
The Evening Edit, 5 p.m. ET: Brett Velicovich, drone expert and founder of the African Eye Project; Gordon Chang, author of "The Coming Collapse of China."
On Fox News Radio:
The Fox News Rundown podcast: Special Counsel Robert Mueller's team has been investigating American political consultant and longtime Trump confidant Roger Stone's finances as part of the probe into Russian meddling in the 2016 election. Fox Radio Eben Brown speaks with Stone, who says he "has no intention of going quietly." Two more school shootings take place less than four months after the mass shooting in Parkland, Fla. Andy Pollack lost his daughter in the February tragedy, and he joins the podcast to share his thoughts on how to prevent these killings. Plus, commentary by Brian Kilmeade.
Want the Fox News Rundown sent straight to your mobile device? Subscribe through Apple Podcasts, Google Play, and Stitcher.
The Brian Kilmeade Show, 9 a.m. ET: Sen. Bill Cassidy on rising health care costs; former Florida congressman Allen West on the latest on negotiations for a still-possible North Korea summit; New York Post columnist Michael Goodwin on why a Hillary Clinton presidency would have been more chaotic than Trump's'; Chris Stirewalt on the top political headlines of the day; Stu Holden makes World Cup predictions.
#OnThisDay
2005: Danica Patrick becomes the first female driver to take the lead in the storied Indianapolis 500.
1988: President Ronald Reagan arrives in Moscow for the fourth summit meeting held in the past three years with Soviet leader Mikhail Gorbachev.
1953: Edmund Hillary of New Zealand and Tenzing Norgay, a Sherpa of Nepal, become the first explorers to reach the summit of Mount Everest.
Fox News First is compiled by Fox News' Bryan Robinson. Thank you for joining us! Enjoy your day! We'll see you in your inbox first thing Wednesday morning.