FOX NEWS FIRST: Mass shooting stuns Toronto, too early to determine if it's terror; Trump warns Iran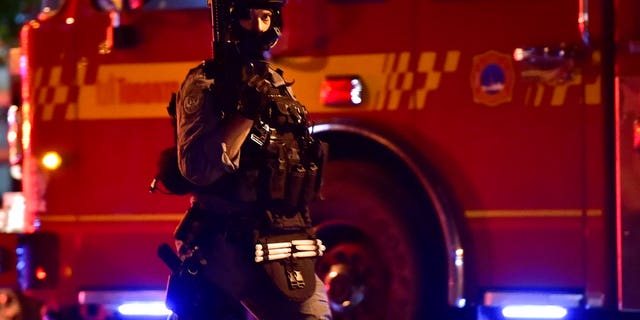 Welcome to FOX News First. Not signed up yet? Click here.
Developing now, Monday, July 23, 2018
One person was killed and 14 wounded in a mass shooting in a Toronto neighborhood Sunday night, police say; the gunman was also killed
President Trump warns Iran in a late Sunday night tweet to 'never, ever' threaten the United States again, or 'suffer the consequences' 
Trump calls the controversy over Russia 'a big hoax' after a week of backlash and damage control following his summit with Vladimir Putin
EXCLUSIVE: House Republicans asked President Trump to declassify key parts of the surveillance application for ex-campaign adviser Carter Page, according to documents obtained by Fox News
The operator of the duck boat in tragic accident that left 17 people dead last Thursday previously warned about safety issues and design flaws, a mechanical inspector says
THE LEAD STORY - HAIL OF GUNFIRE IN TORONTO: Authorities in Toronto late Sunday responded to a mass shooting in the city's neighborhood known as Greektown, where 14 people were hit by gunfire, including at least one fatally ... Responding police exchanged gunfire with the shooter and the suspect was killed. It is unclear if the suspect was hit by police fire. Authorities said it is too early in the investigation to determine if there is a terrorism link. Toronto police chief Mark Saunders said, "Other than the shooter we have a young lady that is deceased." Toronto police tweeted late Sunday that the condition of the victims is not known, but a 9-year-old girl is listed in critical condition. Thirteen others are being treated at a nearby hospital.
WAR OF WORDS: President Trump and Iranian President Hassan Rouhani are now in a war of words. Trump warned Rouhani in a late Sunday night all-capped tweet that he will face dire consequences if he continues to threaten the United States ... "NEVER EVER THREATEN THE UNITED STATES AGAIN OR YOU WILL SUFFER CONSEQUENCES THE LIKE OF WHICH FEW THROUGHOUT HISTORY HAVE EVER SUFFERED BEFORE," the president tweeted.
The tweet came on the heels of Rouhani's warning to Trump that hostile policies could lead to the "mother of all wars" with Iran. He earlier warned Trump to stop "playing with the lion's tail" and threatening Iran, "or else you will regret it." Trump earlier this year pulled the United States out of the international deal meant to prevent Tehran from developing a nuclear weapon and ordered increased American sanctions.
'ALL A BIG HOAX': President Trump capped a week of contradictory statements about Russian activities during the 2016 presidential campaign by tweeting, "it is all a big hoax" Sunday evening ... "So President Obama knew about Russia before the Election," Trump tweeted. "Why didn't he do something about it? Why didn't he tell our campaign? Because it is all a big hoax, that's why, and he thought Crooked Hillary [Clinton] was going to win!!!"
It was not clear precisely what Trump considered a hoax -- the ongoing investigation into whether his campaign colluded with Russian officials, or the notion that Russia had interfered with the election campaign at any point. However, the tweet echoed comments he made in an interview with Fox News' Sean Hannity that aired Monday.
FOX NEWS EXCLUSIVE: DISSECTING THE CARTER PAGE FISA APPLICATION - Republicans on the House Intelligence Committee asked President Trump last month to declassify key sections of the surveillance warrant application for ex-campaign aide Carter Page, according to a letter obtained by Fox News ... The heavily-redacted application outlining the justifications for surveilling Page, which was approved and renewed several times by the Foreign Intelligence Surveillance Court (FISC), was released over the weekend after a Freedom of Information Act lawsuit. "Because DOJ (Department of Justice) and FBI continue to obstruct the Committee's investigation, it is time to put the facts in the public domain," the letter, dated June 14, states.
OVERLOOKED WARNING SIGNS: A mechanical inspector said Sunday he warned the company operating the now-capsized duck boat in Missouri about massive design flaws and dangerous safety issues almost a year before Thursday's tragic accident that killed 17 people and injured seven others ... "My first thought was I was thankful that me and my family weren't on the ducks," Steven Paul told Fox News. "My second thought was, 'Oh man, I probably inspected that boat.'" Paul, who served in the U.S. Army for 6 years as a diesel mechanic before opening Test Drive Technologies in 2009, told Fox he was hired by Ripley Entertainment last year to inspect 24 duck boats.
Paul said he sent the company a "2-to-3-page fleet inspection report" as well as 24 checklist reports and "as many as 20 photos for each duck" he inspected in August 2017. In the report, he cautioned that the boats' engines -and pumps that remove water from their hulls- might fail in bad weather.
AS SEEN ON FOX NEWS WEEKEND
'MICROCOSM' OF HATRED: "Everyone has the right to speak. But when you can't even listen to what someone has to say because you despise the man who is president, you undermine not the president of the United States -- you undermine the United States." – Judge Jeanine Pirro, in her "Opening Statement" on "Justice with Judge Jeanine," reflecting on her heated exchange with Whoopi Goldberg on "The View" over President Trump and his policies and being thrown off the set. WATCH
INTRODUCING 'SUPER-TURBO-HYPER-CAPITALISM': "She is right. Hyper capitalism won't always exist in the world because it's not capitalistic enough." – Greg Gutfeld, on "The Greg Gutfeld Show," agreeing with political newcomer Alexandria Ocasio-Cortez's claim that "hyper-capitalism" in America won't always exist is true, because it simply isn't capitalistic enough. Gutfeld, tongue-in-cheek, had a solution: "Super-Turbo-Hyper-Capitalism," the first system of its kind where every single worker get his or her own startup. WATCH
TRENDING
James Comey warns Democrats against socialism: 'Please, please don't lose your minds.'
Milwaukee Brewers' Josh Hader gets standing ovation just days after offensive tweets resurfaced.
Rescue dog searches, finds missing dog stuck in mud.
THE SWAMP
Fickle millennials may not turn out for midterms, helping the GOP, new poll says.
John Kerry says Trump's slam on Biden 'unbecoming of a president.'
Obama national security adviser Susan Rice says Trump-Putin meeting a 'historic mistake.'
ICYMI: Hillary Clinton bashes Trump on immigration, Helsinki summit at OZY Fest in New York City.
ACROSS THE NATION
Investigators seeking clues in search for University of Iowa student reported missing after going on evening jog.
Florida sheriff says 'Stand Your Ground' law prevents arrest in fatal shooting in parking spot dispute.
America has a new 'rat capital'... and it isn't New York.
MINDING YOUR BUSINESS
Ritz cracker products recalled amid fears of salmonella.
Atos to buy Syntel for about $3.57B.
Fiat Chrysler names new CEO to replace ailing Marchionne.
G-20 calls for more dialogue on rising trade tensions.
FOX NEWS OPINION
Kay Coles James, Rep. Cathy McMorris Rodgers: Tax cuts only help the wealthy, right? American paychecks show otherwise.
Hans A. von Spakovsky: The left slings mud at Kavanaugh but will it stick?
Sally Pipes: Blame Democrats -- not Trump -- for sabotaging ObamaCare.
HOLLYWOOD SQUARED
'Equalizer 2' squeaks past 'Mamma Mia 2' and takes top spot at box office.
Dog apparently singing Britney Spears' 'Toxic' is Twitter hit.
John Schneider asks court to restore jail sentence for unpaid alimony after being released early.
DID YOU HEAR ABOUT THIS?
Flights from New Jersey 'infested' with bed bugs, passengers claim.
America has a new 'rat capital'... and it isn't New York.
Dozens of raccoons die from viral 'zombie' outbreak in New York's Central Park.
STAY TUNED
On Facebook:
Check out 'FOX News Update,' our new Facebook-exclusive news program hosted by Shepard Smith, Carley Shimkus and Abby Huntsman!
On FOX News:
FOX & Friends, 6 a.m. ET: Judicial Watch President Tom Fitton reacts to the release of the Carter Page FISA warrant documents. Insight about Acting VA Secretary Robert Wilkie as he heads to Capitol Hill for a formal confirmation hearing. See Janice Dean get muddy at MuckFest MS. Other must-see interviews include: Former Trump White House press secretary Sean Spicer and former Navy SEAL and congressional candidate Dan Debono.
Special Report, 6 p.m. ET: An exclusive interview with Nicaraguan President Daniel Ortega.
Tucker Carlson Tonight, 8 p.m. ET: Alan Dershowitz is expected to be among the special guests.
On FOX Business:
Mornings with Maria, 6 a.m. ET: Special guests include Rep. Jim Renacci and more.
The Intelligence Report, 2 p.m. ET: Special guests include: Gen. Jack Keane.
Countdown to the Closing Bell, 3 p.m. ET: Special guests include: Eric Hippeau, managing partner at Lerer Hippeau.
On FOX News Radio:
The FOX News Rundown podcast: The FBI released over 400 documents regarding their surveillance warrant for former Trump campaign adviser Carter Page. University of Memphis law professor Steven Mulroy explains what this could means for the Russian election meddling investigation. Is it too early for President Trump to start his re-election campaign? FOX News radio's Jared Halpern dives into the question with FOX News politics editor Chris Stirewalt. Plus, commentary from FOX News contributor and co-host of "Benson & Harf," Guy Benson.
Want the FOX News Rundown sent straight to your mobile device? Subscribe through Apple Podcasts, Google Play, and Stitcher.
The Brian Kilmeade Show, 9 a.m. ET: Hans von Spakovsky on the release of the FISA Carter Page documents. The Wall Street Journal's James Freeman on the FISA Carter Page documents, the ongoing immigration battle and the latest on the road to the midterms. Rep. Jim Renacci on Trump's growing trade war and the November midterms.
The Tom Shillue Show, 3 p.m. ET: Former Trump White House press secretary Sean Spicer discusses Trump's controversial Helsinki summit. Plus, Fox News contributor and "Benson & Harf" co-host Marie Harf and Democratic strategist Chris Hahn lend their insight.
#OnThisDay
2011: Singer Amy Winehouse, 27, is found dead in her London home from accidental alcohol poisoning.
1984: Vanessa Williams becomes the first Miss America to resign her title, after nude photographs of her taken in 1982 are published in Penthouse magazine.
1967: Five days of deadly rioting erupt in Detroit as an early morning police raid on an unlicensed bar result in a confrontation with local residents that escalate into violence that spread into other parts of the city; 43 people, mostly blacks, are killed.
Fox News First is compiled by Fox News' Bryan Robinson. Thank you for joining us! Enjoy your Monday! We'll see you in your inbox first thing Tuesday morning.