FOX NEWS FIRST: Giuliani blasts secretly-recorded Trump-Cohen tape; Pompeo facing grilling on Putin, N. Korea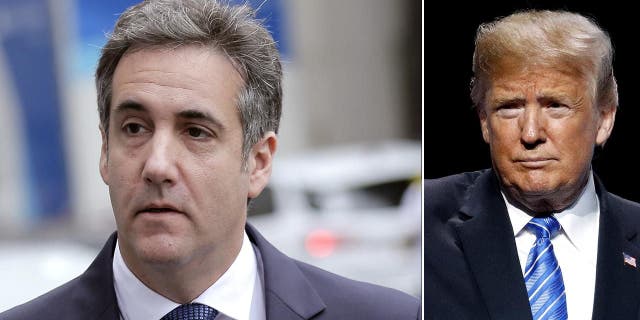 Welcome to FOX News First. Not signed up yet? Click here.
Developing now, Wednesday, July 25, 2018
In a tape secretly recorded before the 2016 election, President Trump and his former longtime personal lawyer Michael Cohen appear to discuss a possible payment to a former Playboy model who claims to have had an affair with the president
Secretary of State Mike Pompeo could be grilled about North Korea and Trump's meeting with Vladimir Putin when he testifies on Capitol Hill on Wednesday
Trump-backed Georgia gubernatorial candidate Brian Kemp won Tuesday's GOP primary runoff against Lt. Gov. Casey Cagle, setting up a showdown with Democrat Stacey Abrams in the fall
Farmers hurt by the U.S. trade war with China will receive a total of up to $12 billion in emergency aid, the Trump administration announced
Pop superstar Demi Lovato is reportedly 'awake' and recovering after an apparent overdose scare
PROGRAMMING ALERT: Tune in to 'Hannity' Thursday night at 9 p.m. ET for Sean Hannity's exclusive interview with Roseanne Barr!
THE LEAD STORY - THE TALE OF THE SECRET TAPE - A recording of President Trump and his longtime personal attorney, Michael Cohen, discussing a possible payment to former Playboy model Karen McDougal, was provided to CNN on Tuesday by Cohen's attorney and longtime Clinton confidant Lanny Davis ... FOX News and other outlets confirmed the existence of the tape Friday; however FOX News has not yet confirmed the tape's authenticity. A source has told FOX that no payment was ever made to McDougal.
On the recording, which was made prior to the 2016 presidential election, Cohen tells Trump: "I need to open up a company for the transfer of all of that info regarding our friend David" and adds that he has consulted Trump Organization CFO Allen Weisselberg "about how to set the whole thing up." Cohen then starts to say: "When it comes time for the financing," at which point Trump cuts him off and says, "What financing?" "We'll have to pay," Cohen responds. What Trump says next is not clear, but it ends with the phrase "pay with cash." "No, no, no, no, no, no," Cohen responds before the tape cuts off.
In an exclusive interview with FOX News' Laura Ingraham on "The Ingraham Angle," Trump attorney Rudy Giuliani slammed the leaking of the audiotape to the media and questioned why the recording ended at a key part in the conversation. Giuliani said that Trump told Cohen, "Don't pay with cash" and slammed Cohen for making the recording "surreptitiously." "There's no way the president is going to be talking about setting up a corporation and then using cash unless you're a complete idiot," Giuliani said, "and the president's not an idiot."
The recording appears to be one of 12 seized from Cohen's apartment, office and hotel room by federal investigators in April and turned over to prosecutors Friday. Cohen is under federal investigation over his alleged practice of paying women to stay silent about claims they had sexual relations with the married Trump.
POMPEO 'S HOT SEAT ON THE HILL: Lawmakers seeking answers about President Trump's talks with Vladimir Putin during their Helsinki summit and the state of efforts to get North Korea to denuclearize are expected to hammer Secretary of State Mike Pompeo when he testifies before the Senate Foreign Relations Committee on Wednesday ... Lawmakers may also want to know the Trump administration's path forward after pulling out of the Iran nuclear deal last May, especially in wake of a new war of words between President Trump and Iranian President Hassan Rouhani. In addition, Trump's harsh criticism of European allies, the state of U.S. relations with NATO, Trump's tariffs and a trade war with China could be other hot topics facing Pompeo.
TRUMP'S MIDAS TOUCH FELT IN GEORGIA: Georgia Secretary of State Brian Kemp has won a bruising Republican runoff in the state's race for governor, leveraging a damning secret audio recording of his opponent and a last-minute Trump-Pence endorsement ... With Tuesday's win against Lt. Gov. Casey Cagle, Kemp faces Democrat Stacey Abrams. She could become the country's first black woman governor. The race will test Democrats' assertion that changing demographics have turned the Republican stronghold into a swing state. Cagle's campaign was rocked by a secret recording in which he says he helped pass a "bad public-policy" bill for political gain.
FARM-AID: The Trump administration announced Tuesday that it will grant up to $12 billion in emergency aid to farmers hurt by retaliatory tariffs in the ongoing trade fight with China and other American trading partners ... Secretary of Agriculture Sonny Perdue said that the plan, which will provide direct assistance and other temporary relief for farmers through the U.S. Department of Agriculture's commodity program, is meant as a stopgap to give Trump time to negotiate a long-term policy with China, the European Union and others.
The plan was announced as Trump spoke at the Veterans of Foreign Wars national convention in Kansas City, where he urged patience in dealing with the tariffs and claimed that "farmers will be the biggest beneficiary" of the trade deals in the end.
'DEMI IS AWAKE': On the eve of a hotly anticipated string of tour dates, pop music superstar Demi Lovato is recovering after an apparent overdose ... Lovato reportedly was hospitalized after being revived at her home with the opioid treatment drug Narcan. According to multiple reports, law enforcement officials say the 25-year-old former Disney pop princess was rushed to a hospital in Los Angeles. TMZ initially reported that Lovato appeared to OD on heroin. However, the outlet is now reporting that wasn't the case, and a source also confirmed to FOX News that "it's not heroin."
In a statement to FOX News, Lovato's rep said: "Demi is awake and with her family who want to express thanks to everyone for the love, prayers and support. Some of the information being reported is incorrect and they respectfully ask for privacy and not speculation as her health and recovery is the most important thing right now."
AS SEEN ON FOX NEWS
ALL HYPERBOLE, ALL THE TIME: "We now inhabit an age of exaggeration." – FOX News senior political analyst Brit Hume, on "Tucker Carlson Tonight," sounding off on the Denver Post's publication of a letter to the editor from a Trump critic who accused him of treason and made reference to the execution of traitors. WATCH
TROLLER-IN-CHIEF: "I think that the president sometimes literally does troll the media and the left. I think that he wants heads to explode." – "Special Report" anchor Bret Baier, on "The Daily Briefing," saying President Trump may very well be trolling the media and the left by claiming that he thinks Russia will interfere in the midterms to help Democrats. WATCH
TRENDING
'The View's' Joy Behar, Meghan McCain clash over normalizing Democratic Socialism.
Ivanka Trump reveals why she's closing fashion brand.
Oregon woman finds mountain lion napping in her home.
100 tapeworm eggs found inside brain of 8-year-old with severe headaches, seizures: report.
THE SWAMP
'Hannity' interview: Nunes says memo has been 'totally vindicated' after DOJ released FISA documents.
'Special Report' interview: DHS Secretary Nielsen says White House is 'on track' to reunite separated families by deadline.
Maxine Waters' office receives package labeled 'Anne Thrax.'
House votes to repeal ObamaCare's medical device tax.
Religious freedom is 'right given by God,' State Department official says.
ACROSS THE NATION
FBI joins search for University of Iowa student.
Liberal Ninth Circuit backs right to carry firearms in public, in latest pro-Second Amendment ruling.
Doomed duck boat's designer had no engineering training, court documents reveal.
iPhones, iPads worth $29G stolen from Apple Store in Southern California.
Judge orders release of illegal immigrant detained by ICE during pizza delivery at military base.
MINDING YOUR BUSINESS
Stocks mostly higher following barrage of earnings reports.
Katz's Deli: The secrets behind keeping a 130-year-old business alive.
Harley-Davidson looking at 'all options' to deal with tariffs.
AT&T posts mixed results in first report since Time Warner deal.
Here's why Americans are moving to these states.
The world's first flying car is about to take flight.
FOX NEWS OPINION
Liz Peek: Why Chuck Schumer's about to have a very bad week (hint: It's the Trump economy, stupid).
Republicans are now the pro-Israel party, as Democrats distance themselves from the Jewish state.
John Stossel: Trump doesn't need to meddle in Cuba because things are already turning around.
HOLLYWOOD SQUARED
Georgia lawmaker to resign after yelling racial slurs, dropping pants on Sacha Baron Cohen show.
Clint Eastwood sues medical company over patents, report says.
Hillary Clinton to appear on 'Madam Secretary' with Colin Powell, Madeleine Albright, CBS says.
Matt Lauer complains he's 'an easy mark,' victim of 'misinformation' in first interview since sex scandal.
DID YOU HEAR ABOUT THIS?
Longest total lunar eclipse of the century: What you need to know.
Rare 'Viking' discovery made in Italy.
Mayonnaise ice cream is grossing people out on Twitter.
STAY TUNED
On Facebook:
Check out 'FOX News Update,' our new Facebook-exclusive news program hosted by Shepard Smith, Carley Shimkus and Abby Huntsman!
On FOX News:
FOX & Friends, 6 a.m. ET: The Wall Street Journal's William McGurn explains why he thinks the FISA court should be abolished. Larry Kudlow, White House director of the National Economic Council, discusses looming trade wars and Trump's tariffs. House Speaker Paul Ryan on the Republican message for the midterms. A closer look at the best companies for military veterans on National Hire a Veteran Day. Plus, meet Sgt. Alan Jones, the 94-year-old veteran that President Trump invited to the Oval Office.
Special Report, 6 p.m. ET: Analysis from Alan Dershowitz, Harvard professor of law emeritus.
Tucker Carlson Tonight, 8 p.m. ET: Special guest: Rep. Trey Gowdy.
On FOX Business:
Mornings with Maria, 6 a.m. ET: Special guests include: Agriculture Secretary Sonny Perdue; Jim Reid-Anderson, president and CEO of Six Flags; Rep. Darrell Issa; Dr. Liam Fox, U.K. international trade secretary.
Varney & Co., 9 a.m. ET: Rep. Martha McSally, Arizona GOP Senate candidate; Rep. Tom Reed; Stephen Sweeney, N.J. State Senate president; Christian Magoon, Amplify ETFs CEO; Nigel Farage, former Brexit leader.
Cavuto: Coast to Coast, Noon ET: Rep. Sam Graves.
The Intelligence Report, 2 p.m. ET: Special guests include: Rep. Matt Gaetz; Art Laffer, former economic adviser under President Reagan.
Countdown to the Closing Bell, 3 p.m. ET: Special guests include: Blake Moret, Rockwell Automation CEO.
On FOX News Radio:
The FOX News Rundown podcast: President Trump meets with European Commission President Jean-Claude Juncker to discuss the looming trade war after the U.S. Dept. of Agriculture announced $12 billion in emergency relief for farmers affected by the president's recent tariffs. FOX Business' Hillary Vaughn has the latest developments. Former White House press secretary Sean Spicer joins the podcast to give insight on the Trump administration and his new book, "The Briefing: Politics, The Press, and The President." Plus, commentary by FOX News Radio talk host Tom Shillue.
Want the FOX News Rundown sent straight to your mobile device? Subscribe through Apple Podcasts, Google Play, and Stitcher.
The Brian Kilmeade Show, 9 a.m. ET: Gregg Jarrett discusses his new book, "The Russia Hoax"; Sean Spicer on his new book and life in the Trump administration; Rep. Mark Meadows on the revelations from the release of the FISA warrant applications for former Trump campaign adviser Carter Page.
#OnThisDay
1972: The notorious Tuskegee syphilis experiment comes to light as the Associated Press reports that for the previous four decades, the U.S. Public Health Service, in conjunction with the Tuskegee Institute in Alabama, had been allowing poor, rural black male patients with syphilis to go without treatment, even allowing them to die, as a way of studying the disease.
1952: Puerto Rico becomes a self-governing commonwealth of the United States.
1866: Ulysses S. Grant is named general of the Army of the United States, the first officer to hold the rank.
FOX News First is compiled by FOX News' Bryan Robinson. Thank you for joining us! Enjoy your day! We'll see you in your inbox first thing Thursday morning.