FOX NEWS FIRST: George H.W. Bush's overlooked legacy; Clinton associate charged in plot to defraud Pentagon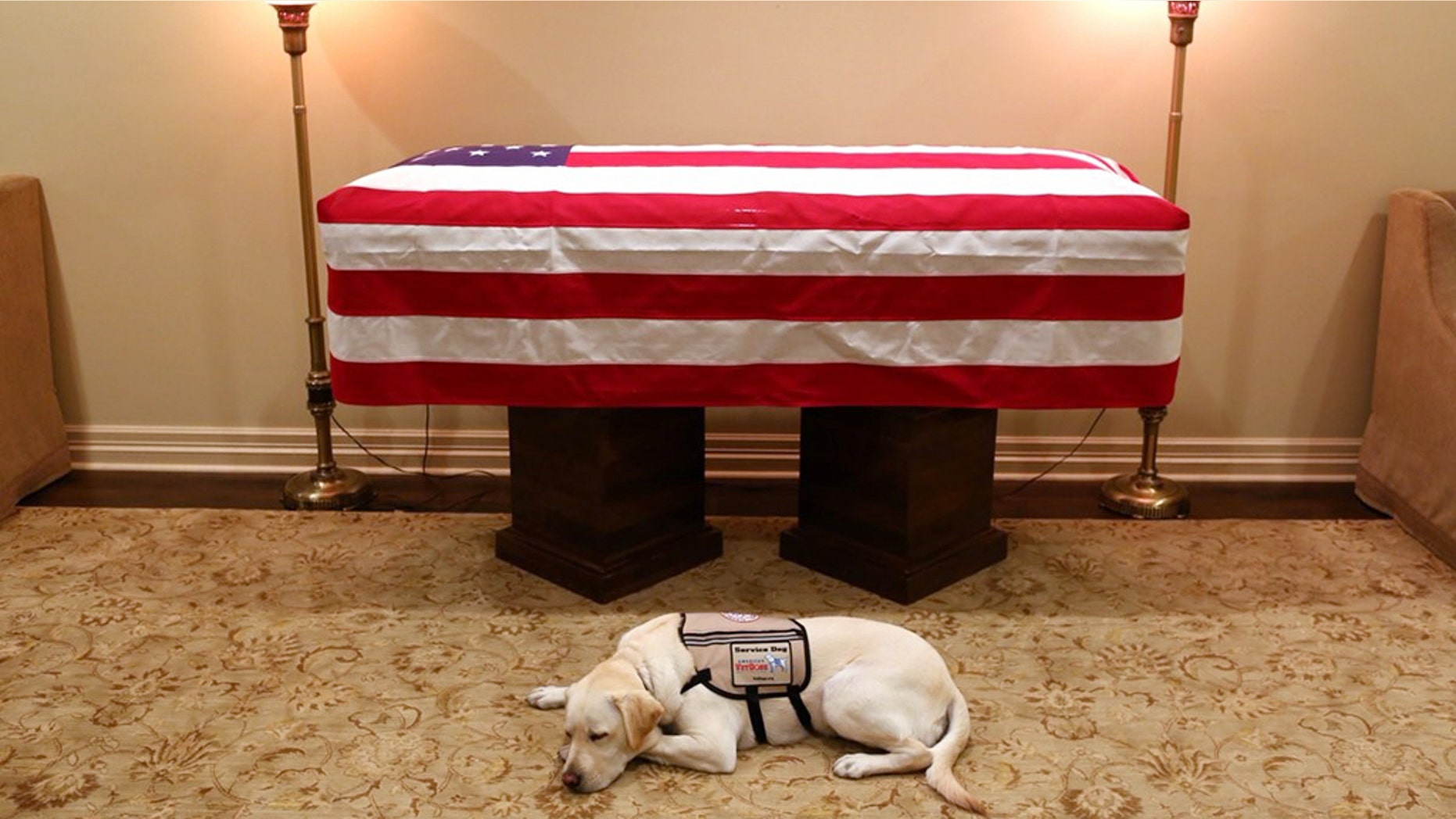 Welcome to FOX News First. Not signed up yet? Click here.
 
Developing now, Monday, Dec. 3, 2018
THE LEAD STORY - REMEMBERING GEORGE H.W. BUSH: Americans will begin four days of farewells to former President George H.W. Bush on Monday as his body will be flown to Washington and will lie in state at the Capitol Rotunda for public viewing ... The 41st president, who died Friday at his Houston home at age 94, will lie in state until Wednesday, the day of his state funeral at Washington's National Cathedral. President Trump has ordered federal offices closed for a national day of mourning on Wednesday and is scheduled to attend the state funeral with first lady Melania Trump and other high-ranking officials and dignitaries. Bush's body will be flown back to Houston for a private service Thursday at St. Martin's Episcopal Church, his longtime church. He will be buried at the Bush Library Center at College Station near the love on his life, his wife Barbara, who died in April and their daughter Robin, who died of leukemia in 1953.
GEORGE H.W. BUSH'S OVERLOOKED LEGACY: Dr. Marc Siegel has participated in George W. Bush's annual Warrior 100K ride for wounded veterans since 2012. In an op-ed for FOXNews.com, he recalls how the younger Bush revealed how he drew inspiration from his father, who was stricken with Parkinson's Disease, but did not let that keep him from skydiving ...  George W. Bush believed his father's incredible will to live was an inspiration for others - and Dr. Siegel agreed.
"There is only one President Bush now, but the legacy of the father lives on," Siegel writes. "For some he will be remembered most as a war hero, for how as a young navy pilot he overcame a harrowing plane crash in 1944 during WWII and miraculously swam to safety in a life raft and was finally rescued by a submarine.  For others it was his efforts as vice president and then president to end the Cold War and his successful 1991 Gulf War against Saddam Hussein. For me, as a physician, it was his heroic war against the side effects of Vascular Parkinsonism which included frequent bouts of bronchitis and pneumonia, the ignominy of drooling and being bound to a wheelchair. He soldiered on, and became a role model for the chronically ill everywhere."
Click here to read the rest of Dr. Siegel's tribute to Bush 41.
CLINTON ASSOCIATE IN ALLEGED PENTAGON FRAUD PLOT: Three Northern Virginia men --including one who reportedly celebrated New Year's Eve in 1999 with the Clintons-- were charged last week for their alleged roles in a scheme to defraud the Pentagon after receiving an $8 billion contract in 2012 to provide food and supplies to troops in Afghanistan, the Department of Justice announced ...  Federal prosecutors said the three—all executives connected to Anham FZCO, a defense contractor based in the United Arab Emirates--- knowingly gave false estimates of completion dates for a warehouse intended to provide supplies for troops in Afghanistan in order to win contracts. They allegedly provided "misleading photographs" to show that the project was further along than it was. Abdul Huda Farouki, 75, the former Anham CEO, was one of the men charged. He and his wife were Washington socialites and donated to the Clinton family charity, The Wall Street Journal reported. The Washington Post reported that the former CEO celebrated New Year's Eve with the Clintons in 1999 and was invited to a state dinner. - Reported by Edmund DeMarche (@EDeMarche on Twitter)
HUMANITARIAN MOVE OR IMMIGRATION 'TRICK'? - Mexican authorities shut down a crowded, unsanitary and mud-filled shelter at a sports complex, moving the remaining migrants who want to enter the U.S. to a new, government-run facility that's further from the border ... The migrants were taken by bus to the new shelter about 10 miles from the border crossing at Otay Mesa and 14 miles from San Ysidro, near where people line up to file applications for asylum in the United States. Officials in Tijuana cited "bad sanitary conditions" - mud lice, respiratory infections - as the reason for closing the sports complex shelter that holds up to 6,000 people. Still, some of the migrants were reportedly wary of the Mexican government's efforts. "People are distrustful that it's an immigration trick, that it's not what they say it is and that they will really be deported," Amelia Frank-Vitale, an immigration expert who has traveled with migrant caravans, told the Washington Post. - Reported by Christopher Carbone (@christocarbone on Twitter)
THE HOT SEAT AWAITS COMEY: Former FBI Director James Comey announced Sunday he has dropped his legal challenge to House Republicans' efforts to compel him to testify in a closed-door setting about the political bias and mismanagement they say permeated the Hillary Clinton and Trump campaign probes under his watch ... Last week, Comey's lawyers had resisted the GOP's subpoena and insisted on a public hearing, saying in court documents that Republicans' demand for closed-door testimony "exceeds a proper legislative purpose, is issued in violation of House rules, and unduly prejudices and harasses the witness." But Comey relented after House Judiciary Committee Chairman Bob Goodlatte, R-Va., agreed that the former FBI head's remarks would be made public in their entirety. Comey, who was called initially to testify on Monday, is now expected to testify later this week. - Reported by Gregg Re (@gregg_re on Twitter)
U.S., CHINA BUY TIME WITH TRADE TRUCE: The 90-day trade dispute truce reached by the United States and China at the G20 summit should give a boost to the financial markets. But, until the two countries reach a permanent agreement, experts say the stock market will remain volatile ... "You're going to see a ton of volatility," suggested Nate Thooft, a senior portfolio manager at Manulife Asset Management. "There's definitely no shortage of uncertainty." Trump agreed to hold off on plans to raise tariffs Jan. 1 on $200 billion in Chinese goods. The Chinese agreed to buy a "not yet agreed upon, but very substantial amount of agricultural, energy, industrial" and other products from the United States to reduce America's huge trade deficit with China, the White House said. The truce, reached after a dinner of more than two hours Saturday, buys time for the two countries to work out their differences in a dispute over Beijing's aggressive drive to supplant U.S. technological dominance. As part of the détente, China had agreed to rollback its tariffs on American automobiles below 40 percent, Trump announced Sunday.

THE SOUNDBITE
MORNING IN AMERICA VS. MOURNING IN AMERICA - "He was of that greatest generation and there was a humility and respect and a decency about him that sometimes is not seen frequently in Washington today." - Karl Rove, on "FOX News Sunday," reflecting on former President George H.W. Bush and how the political environment in Washington has changed.
STAY TUNED
FOX Nation: CLICK HERE to sign up for a free trial!
On FOX News: 
 
FOX & Friends, 6 a.m. ET: U.S. Rep. Liz Cheney, R-Wyo., and Lee Greenwood remember George H.W. Bush; Kevin Sorbo previews his new Christmas movie. Meet the 82-year-old veteran using a grand Christmas display to say thank you.
The Daily Briefing with Dana Perino, 2 p.m. ET: Dick Cheney looks back on the life of former President George H.W. Bush.
Special Report with Bret Baier, 6 p.m. ET: Daniel Krauthammer, son of the late Charles Krauthammer, gives the inside story on his father's final book, "The Point of It All: A Lifetime of Great Loves and Endeavors."
Hannity: A Department of Justice whistleblower who privately delivered documents pertaining to the Clinton Foundation and Uranium One to a government watchdog says FBI agents raided his home. Don't miss Sean Hannity's exclusive interview with the whistleblower, Dennis Nathan Cain, and his attorney, Michael Socarras.
On FOX Business:
Mornings with Maria, 6 a.m. ET: Complete coverage of fallout from the G20 summit. Karl Rove will be among the special guests.
Varney & Co., 9 a.m. ET: Michael Pillsbury, senior fellow and director of the Center for Chinese Strategy at the Hudson Institute.
On FOX News Radio:
The FOX News Rundown podcast: William La Jeunesse looks back on the life and legacy of former President George H.W. Bush. Last week, Marriott International Inc. disclosed that their Starwood Hotels guest database of up to a half a billion customers had been hacked, making it the second largest data breach in history. Shawn Tuma, cybersecurity and data privacy attorney, discusses this latest criminal attack on private information. Plus, commentary from FOX News contributor Tammy Bruce.
Want the FOX News Rundown sent straight to your mobile device? Subscribe through Apple Podcasts, Google Play, and Stitcher.
The Brian Kilmeade Show, 9 a.m. ET: remembering former President George H.W. Bush, the latest in the Robert Mueller investigation and the U.S.-China trade war ceasefire will be the top topics with the following guests: New York Post columnist Michael Goodwin; Brad Meltzer; John Strong; and Bret Baier.
#TheFlashback
 
1992: The first telephone text message is sent by British engineer Neil Papworth, who transmits the greeting "Merry Christmas" from his work computer in Newbury, Berkshire, to Vodafone executive Richard Jarvis' mobile phone.
1964: Police arrest some 800 students at the University of California at Berkeley, one day after the students storm the administration building and stage a massive sit-in
1947: The Tennessee Williams play, "A Streetcar Named Desire." opens on Broadway.
FOX News First is compiled by FOX News' Bryan Robinson. Thank you for joining us! Enjoy your Monday! We'll see you in your inbox first thing Tuesday morning.