FOX NEWS FIRST: Bruce Ohr kept Mueller deputy 'in the loop' about dossier, sources say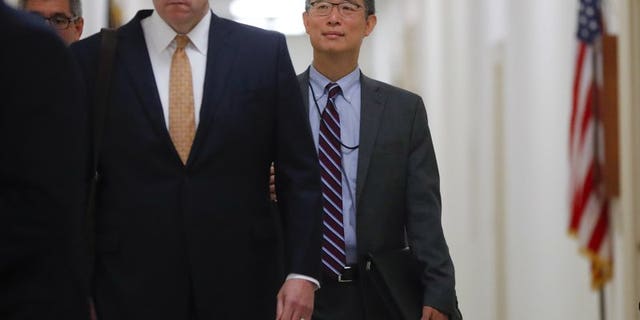 Welcome to Fox News First. Not signed up yet? Click here.
Developing now, Friday, August 31, 2018.
- Embattled Justice Department official Bruce Ohr was in contact with a top Robert Mueller deputy, as well as other senior FBI officials, in 2016 about the controversial anti-Trump dossier and the individuals behind it, two sources told Fox News.
- NBC responds after a former news producer who worked with Ronan Farrow said "the very highest levels at NBC" wanted the reporter to halt an investigation into alleged sexual misconduct by former Hollywood mogul Harvey Weinstein.
-A Democratic lawmaker issued a startling warning to government officials involved in "illegal" deportations that they "will not be safe" from future punishment when Donald Trump is no longer president.
- Sen. John McCain's casket arrives in Maryland ahead of Friday ceremonies at the U.S. Capitol. McCain was flown to Joint Base Andrews outside Washington after a church service Thursday in Phoenix.
THE LEAD STORY-'IN THE LOOP': Two sources told Fox News that Bruce Ohr kept a then-colleague, Andrew Weissman, who is now a top Robert Mueller deputy, "in the loop" on the Trump dossier and the individuals behind it. The sources said other senior FBI officials were also made aware of the dossier. Ohr's broad circle of contacts indicates members of FBI leadership knew about his backchannel activities regarding the dossier and Steele.
Ohr kept Mueller deputy 'in the loop' on dossier
Trump: Let's see if Hillary Clinton gets away with it
Senatorial support for Sessions appears to be slipping
HIGH-LEVEL THREAT? A former producer at NBC News, who was working with Ronan Farrow on the reporter's investigation of alleged sexual misconduct by Harvey Weinstein, claimed Thursday that an order to stop pursuing the bombshell story came from "the very highest levels at NBC."
In a statement to Fox News, Rich McHugh, who left the network's investigative unit earlier this month, said the order came as he and Farrow were preparing to travel to Los Angeles to interview a woman "with a credible allegation of rape" against the now-disgraced movie producer.
Late Thursday, NBC issued a statement referring to the claim as an "outright lie."
Trump ramps up attacks on NBC News and CNN
Kurtz: POTUS war on Jeff Zucker, Andy Lack
'WILL NOT BE SAFE' A Democratic lawmaker issued a startling warning to government officials involved in "illegal" deportations that they could be exposed to future punishment when Donald Trump is no longer president.
"If you are a US government official and you are deporting Americans be warned," Arizona Democratic Rep. Ruben Gallego tweeted early Thursday. "When the worm turns you will not be safe because you were just following orders. You do not have to take part in illegal acts ordered by this President's administration."
REMEMBERING MCCAIN: Sen. John McCain, who lived and worked in nation's capital over four decades, will lie in state under the U.S. Capitol rotunda Friday for a ceremony. On Saturday, McCain's procession will pause by the Vietnam Memorial and then eventually head for Washington National Cathedral for a formal funeral service. At McCain's request, two former presidents - Democrat Barack Obama and Republican George W. Bush - are expected to speak there.
AS SEEN ON FOX NEWS
ALGORYTHMS UNDER THE MICROSCOPE: "Social media today is the modern-day town hall. Sixty-seven percent of adults get their news from someone on social media" House Majority Leader Kevin McCarthy said on the "Ingraham Angle," before calling on CEOs of some of the largest tech companies to follow Twitter's Jack Dorsey who is preparing to face Congress next week. WATCH
TRUMP TAKES ON MEDIA: "People loathe the media, even more than politicians. And they especially loathe the media when they're talking about themselves," Mark Steyn, a bestselling author, told "Tucker Carlson Tonight." WATCH
TRENDING
South Carolina mom blown away by students' sweet act toward son at lunchtime: 'It gives me peace'
Coach in custody after missing teen found safe; pair had 'romantic relationship,' authorities say
Nearly 500 fake IDs stopped by Customs and Border Protection officers, agency says
THE SWAMP
Trump threatens DOJ, FBI to 'start doing their job' or he'll 'get involved'
Trump says Sessions' job is safe until at least November elections
Gohmert doubles down after FBI dismisses claim of Clinton server hack
ACROSS THE NATION
Canadian mom, daughter camping in California are found after reported missing by woman's boyfriend.
Winter will be 'teeth-chattering' cold, have plenty of snow, Farmers' Almanac says
Death toll climbs in New Mexico passenger bus crash; serious injuries also reported
MINDING YOUR BUSINESS
Billionaire Warren Buffett says Apple should not buy Tesla, saying, "It's not an easy business. You can win in auto one year and lose the next. You've got a dozen big companies out there with resources. They're going to keep coming. They're going to copy what you do."
Trump cancels pay raise due federal workers in January.
Jeff Bezos just got richer
FOX NEWS OPINION
Jason Riley: The media keep falling into the Trump trap
Todd Starnes: BOYCOTT! California Democrats declare war on In-N-Out Burger
Rep. Marshall: Ocasio-Cortez's message should be welcomed by the GOP for these reasons
HOLLYWOOD SQUARED
Heather Locklear charged for allegedly assaulting police officer and EMT: report
Louis C.K. 'rape whistle' joke made two women uncomfortable: report
AT&T silent after Trump calls for telecom giant to fire CNN boss Jeff Zucker
DID YOU HEAR ABOUT THIS?
Shark attack victim in Massachusetts says he punched predator in gills to escape
Bikini-barista coffee chain in California drawing criticism from residents near next location
Omarosa's memoir is reportedly tanking
STAY TUNED
On Facebook:
Check out 'FOX News Update,' our new Facebook-exclusive news program!
On FOX News
Fox & Friends, 6:15 AM ET: Mike Braun, the Republican candidate for Indiana Senate seat on President Trump's stop in Indiana to help his candidacy; 6:22 AM: Diamond & Silk, pro-Trump social media stars; 7:22 AM: Florida Gov. Rick Scott talks about battle to flip the state's Senate seat; 8:22 AM: Rep. Martha McSally, R-Ariz., who is running for Senate.
The FOX News Rundown podcast: President Trump has lashed out at Google accusing them of bias, claiming on Twitter that search engine results are "rigged" to only show bad news about him and other conservative voices. Google denies the accusation, saying it has no bias toward any political ideology. "Fox News Headlines 24/7's" Carley Shimkus and Brett Larson weigh in on the president's claims against Google.
Iran's supreme leader threatens to abandon the nuclear deal, saying his country should stop hoping the EU keeps the accord alive. Fox's Rich Edson joins us to discuss the future of the agreement.
Plus, commentary by 'Fox News Sunday" host, Chris Wallace.
Cavuto Live, Special coverage of Sen. John McCain's service at Washington National Cathedral from 9AM- 12 PM ET.
On Fox Business
Mornings with Maria, 6 AM ET: Rep. Roger Marshall, R-Kan.; Paul Bonicelli, former George W. Bush foreign policy adiser; Gordon Chang, the author of, "The Coming Collapse of China."
The Intelligence Report, 2 PM ET: Rep. Andy Biggs, R-Ariz.; Heather Zumarrage, Vision 4 Fund Distributors vice president
Countdown to the Closing Bell, 3 PM ET: Warren Buffett, CEO of Berkshire Hathaway; Ken Solomon, Tennis Channel CEO
Want the Fox News Rundown sent straight to your mobile device? Subscribe through Apple Podcasts, Google Play, and Stitcher.
#OnThisDay
1987: "Bad," the Michael Jackson album that featured hits like "Man in the Mirror" and "Smooth Criminal," was released. The album followed his juggernaut "Thriller."
1886: Charleston, S.C., was hit with a devastating 7.3 earthquake that killed 60 people. The quake struck at 9:50 p.m. and lasted about 60 seconds. The quake could be felt as far as New York City and St. Louis.
1886: French poet Charles Baudelaire died at 46. He was a poet who rejected the bourgeois values.
Fox News First is compiled by Fox News' Bryan Robinson. Thank you for joining us! Enjoy your day and Labor Day Weekend! We'll see you in your inbox first thing Tuesday morning.