FOX NEWS FIRST: At least 17 dead in Florida school shooting, suspected gunman Nikolas Cruz in custody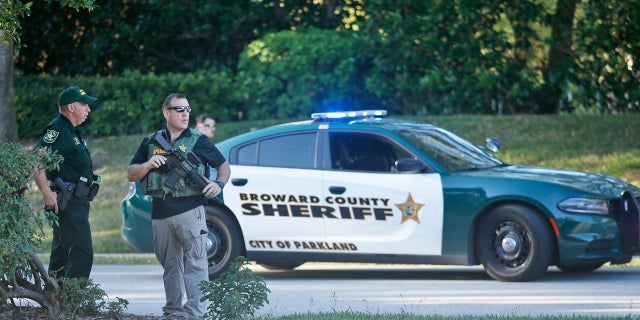 Welcome to Fox News First. Not signed up yet? Click here.
Developing now, Thursday, Feb. 15, 2018
Florida high school shooting: At least 17 killed, suspect in custody, Florida sheriff says
Suspected gunmen Nikolas Cruz opened fire in Florida high school then fled with students, police say
Florida high school football coach reportedly shot while shielding students from gunman
Shock claim about FBI's Michael Flynn interview raises questions
Barstool Sports co-host Patrick Connor fired by KNBR after calling Olympian a 'hot piece'
THE LEAD STORY –FLORIDA SCHOOL SHOOTING AMONG 10 DEADLIEST IN MODERN US HISTORY: A shooting at a high school in Parkland, Florida, killed at least 17 people, stunning the town and much of the nation, as investigators raced to find a possible motive behind the bloodbath … The suspect was identified as 19-year-old Nikolas Cruz, a former student at Marjory Stoneman Douglas High School who'd been expelled for disciplinary reasons, Broward County Sheriff Scott Israel confirmed during an evening news conference. Sen. Bill Nelson told Fox News that Cruz was wearing a gas mask and may have had smoke bombs during the rampage. The suspect carried an AR-15 rifle and had "countless magazines," the sheriff said.
Of the 17 people killed, 12 of them died in the school, two were killed outside, one died on the street and another two died at the hospital, Israel said. He added that 15 people were transported to the hospital. Israel said earlier that the suspect was taken into custody "without incident" in an area off school grounds.
HIDDEN IN THE CROWD: Nikolas Cruz opened fire in Florida high school then fled with students, police say … Cruz concealed himself in the crowd and was seen running out of the school with hundreds of terrified students, authorities said. Authorities said Cruz was later taken into custody "without incident" by Coconut Creek police in a Coral Springs neighborhood, located just a few miles from the high school itself. The Broward County Sheriff's Office said Cruz, 19, was identified as the only possible gunman after looking at security footage from Marjory Stoneman Douglas High School.
Police said Cruz was taken to the hospital because he "exhibited labored breathing." He was later seen being escorted into Broward Sheriff's headquarters in a medical robe. The motive behind the massacre was not immediately clear. Lawmakers and officials suggested the shooting may have been planned.
FLORIDA SCHOOL SHOOTING HERO: As an ex-student at a Florida high school allegedly opened fire Wednesday on his former classmates, a football coach at the school reportedly risked his own life to save those around him … Coach Aaron Feis, employed as a security guard at Marjory Stoneman Douglas High School in Parkland, jumped in front of students to protect them from the gunman, according to the Miami Herald. The Broward County Sheriff's Office said that a football coach died in the shooting. It's unclear if Feis is that coach. Students and players took to social media Wednesday to express their gratitude and concern for the football coach. Feis graduated the school in 1999, and in 2002 joined the junior varsity football team as head coach, according to a bio posted to the school's website.
NEW CLAIM SPARKS QUESTIONS ABOUT MICHAEL FLYNN'S INTERVIEW: Then-FBI Director James Comey reportedly told lawmakers last March that agents did not think former White House national security adviser Michael Flynn lied to them -- raising more questions about a key moment in the agency's Russia probe … The Washington Examiner's Byron York reports that Comey briefed lawmakers amid allegations Flynn had lied to Vice President Pence about conversations with then-Russian Ambassador Sergey Kislyak and speculation he also may have misled FBI agents who questioned him in January 2017. Flynn lost his job over that controversy -- and as recently as December, even President Trump claimed Flynn had "lied" to agents. But Comey reportedly told lawmakers at the time that agents who interviewed Flynn did not believe he lied to them in that Jan. 24 meeting, and that any inaccuracies in his account were unintentional. Fast-forward to December, after the probe takeover by Special Counsel Robert Mueller, and Flynn would plead guilty to one count of making false statements to the FBI during that meeting.
So what changed? The Examiner reported that those briefed by Comey are now "baffled by the turn of events." The revelation is likely to increase the scrutiny of Mueller, whose team already has faced accusations of bias in the wake of anti-Trump text messages from Peter Strzok and Lisa Page -- two FBI officials who once served on his team.
AS SEEN ON FOX NEWS
'It's a Bad Day, Shepard': "Our heart goes out to the families of the students of the school. They're grieving," Florida Sen. Bill Nelson told "Shepard Smith Reporting" on Wednesday in the wake of the mass school shooting in his home state. WATCH
FLORIDA SHOOTER'S TEACHER SPEAKS OUT: "Oh, wow, I had Nick in class," Jim Gard, a mathematics teacher who taught Parkland, Fla. school shooting suspect Nikolas Cruz for one semester in 2016, remembered thinking to himself while on "Tucker Carlson Tonight." "Am I shocked? Nowadays, nothing is shocking anymore, and that's horrible," he said. WATCH.
THE SWAMP
New Yorkers Say No to De Blasio, Cuomo, Gillibrand for 2020; Trump Approval There at 30 Percent
Bipartisan immigration deal pits moderates against GOP leadership, Trump
Stormy Daniels' attorney backs Trump lawyer Michael Cohen's claim $130G payout came from personal funds
ACROSS THE NATION
Military dad is flown home from Germany to say goodbye to daughter, 6, who died from flu
In minutes, Florida jury convicts man, 61, of abduction, rape, murder of 8-year-old girl
MINDING YOUR BUSINESS
IRS says thieves are stealing tax refunds
Stocks make the drive for five after the Dow's 253 pt gain
Consumer concerns have increased over financial retirement risks
NEW IN FOX NEWS OPINION
Todd Starnes: Pence slams Joy Behar, ABC News over 'religious intolerance'
John Moody: This Ash Wednesday, stand up for Christians worldwide
HOLLYWOOD SQUARED
Chelsea Handler blasts Republicans for Florida high school shooting, says they 'have blood on their hands'
Scott Baio's 'Charles in Charge' costar details more allegations of abuse
Celebrities react to Florida school shooting
DID YOU HEAR ABOUT THIS?
Rude passenger booted from Delta flight for 'screaming' about being seated near a baby
Solar storm could strike Earth Thursday: What you need to know
WATCH: Royal Navy detonates 1,100-pound World War II bomb found in the River Thames
STAY TUNED
On Fox News:
Fox & Friends, 6 a.m. ET: Ed Davis, former Boston Police commissioner, on whether the Florida shooter was on authorities' radar; Thomas Kersting, clinical psychologist, reveals what goes on inside the mind of a school shooter; Sen. Tim Scott, R-S.C., on how the new tax law drive economic opportunity in struggling communities.
Tucker Carlson Tonight: 8 p.m. ET: Tucker has a special investigation on how Big Tech is abusing its power.
Fox News @ Night, 11 p.m. ET: Rep. John Ratcliffe on the latest on the debate over the release of Democrats' rebuttal to the GOP FISA memo.
On Fox Business:
Mornings with Maria, 6 a.m. ET: Bob Nardelli, former Home Depot CEO and former Chrysler CEO; Senator John Barrasso (R-WY); Steve Howe, Ey Us Chairman And Americas Managing Partner.
Varney & Company, 9 a.m. ET: Ohio Congressman Jim Renacci (R) of the House Ways & Means Committee/House Budget Committee; Scott Wren, Senior Global Equity Strategist Wells Fargo; Betsy Mccaughey, "Beating Obamacare" author/ former New York LT. Governor; South Dakota Senator John Thune (R).
#OnThisDay
1564: Italian astronomer Galileo Galilei was born in Pisa.
1898: More than 260 crew members aboard the U.S. battleship Maine died after the ship mysteriously blew up in Havana Harbor, bringing the United States closer to war with Spain.
1933: President-elect Franklin D. Roosevelt escaped an assassination attempt in Miami that mortally wounded Chicago Mayor Anton J. Cermak.
Thank you for joining us for Fox News First! Enjoy your day, and we'll see you in your inbox first thing Thursday morning.