FOX NEWS FIRST: Aircraft carrying 11 crashes in Pacific Ocean en route to USS Ronald Reagan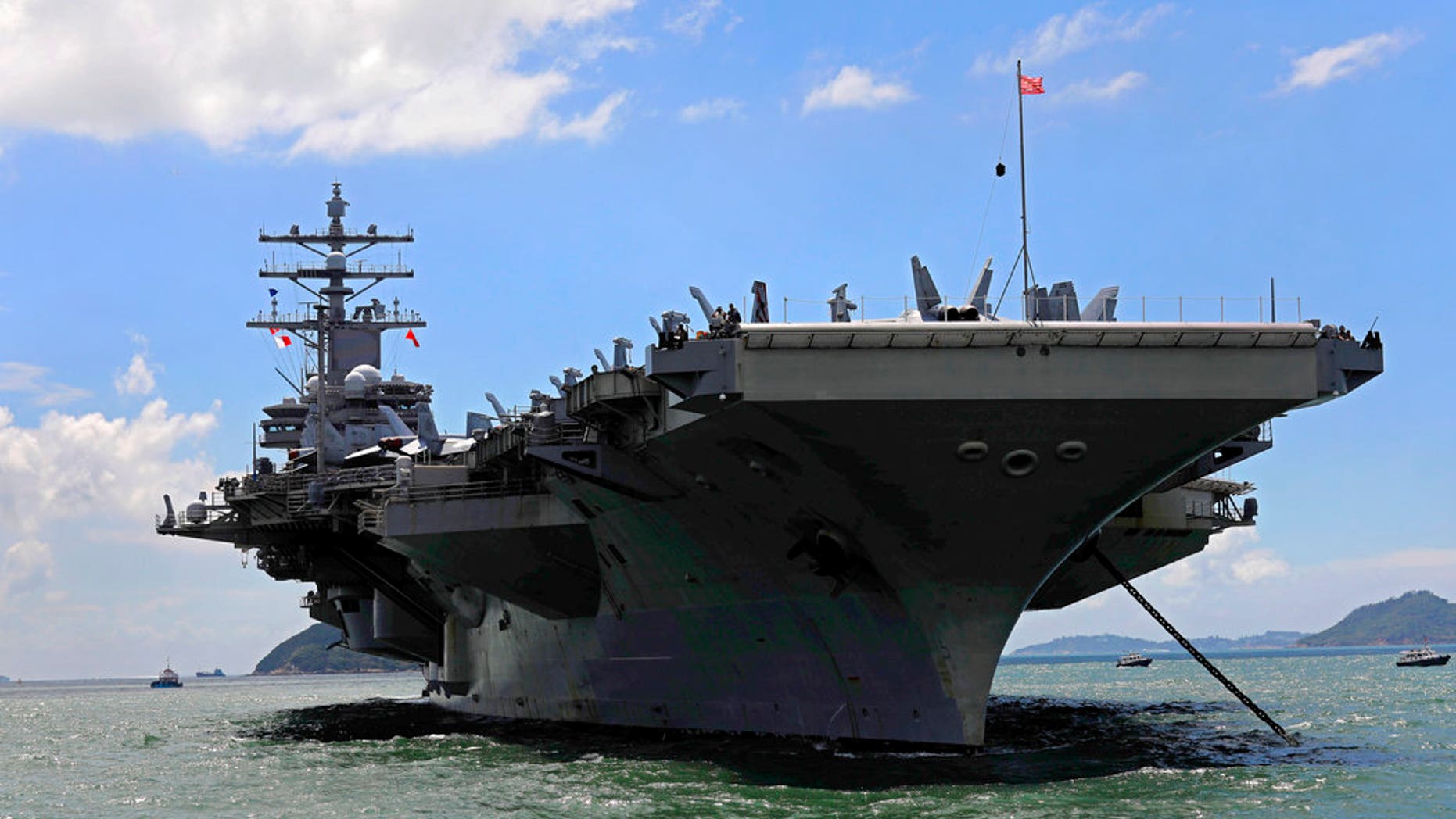 Welcome to Fox News First. Not signed up yet? Click here.
Developing now, Wednesday, Nov. 22, 2017:
A US Navy aircraft with 11 aboard crashes into the Pacific Ocean
The FCC takes a first step toward dismantling Obama-era net neutrality regulations
Uber reveals it paid $100,000 to hackers and kept mum on a data breach affecting 57 million customers
President Trump defends Alabama GOP Senate candidate Roy Moore against sex allegations
'Partridge Family' star David Cassidy dies at age 67
Talk radio host Mark Levin joins Fox News Channel with a weekly weekend show 
THE LEAD STORY: A U.S. Navy aircraft carrying 11 crashed into the Pacific Ocean while approaching the aircraft carrier USS Ronald Reagan, the U.S. Navy said ... Japan says 8 of the 11 personnel have been found. They have been transferred to the USS Ronald Reagan for medical evaluation and are in good condition. The U.S. 7th Fleet says a search and rescue operation for the three remaining personnel has been launched from the carrier. The plane was taking part in an ongoing joint U.S.-Japan naval exercise in the waters surrounding Okinawa from Nov. 16-26 when it crashed into the Pacific. The cause of the crash was not immediately clear, however Japanese Defense Minister Itsunori Onodera said the U.S. Navy told him that engine trouble was possible.
FCC TARGETS NET NEUTRALITY: FCC Chairman Ajit Pai announced plans to eliminate Obama-era net neutrality rules, calling for a "light-touch regulatory approach" to the Internet ... Pai said FCC commissioners will consider his proposal Dec. 14. The net neutrality regulations imposed utility-style regulation on Internet service providers such as Comcast, AT&T and Verizon to prevent them from favoring their own digital services over their rivals. Pai says the rules adopted during the Obama years prevent Internet service providers from providing better and faster online access.
UBER HACK COVER-UP: Ride-hailing company Uber says it paid hackers $100,000 and covered up a year-old cyberattack in which hackers stole the data of more than 57 million drivers and customers ... The hack occurred in late 2016. The hackers stole the names and driver's license numbers of roughly 600,000 Uber drivers, as well as the names, email addresses and phone numbers of some 57 million users. Uber says user credit card numbers, bank account numbers and social security numbers were not exposed. Uber attributed the hack to two individuals who accessed the data through a "third-party cloud-based service."
TRUMP DEFENDS MOORE: President Trump defended Alabama Republican Senate candidate Roy Moore, who faces sexual misconduct allegations ahead of the state's Dec. 12 election. ... "Look, he denies it ... He says it didn't happen, and you know, you have to listen to him also," Trump told reporters, adding that Alabama voters should not support Moore's Democratic opponent. "We don't need a liberal person in there, a Democrat [Doug] Jones ... We do not need somebody that's going to be bad on crime, bad on borders, bad with the military, bad for the Second Amendment." Meanwhile,. U.S. Rep. John Conyers, D-Mich., is under congressional investigation after settling with an ex-staffer who reportedly complained she was fired for rebuffing his sexual advances. In addition, liberal groups called on Sen. Al Franken, D-Minn., to resign after a second woman came forward with sexual misconduct allegations.
REMEMBERING A '70S ICON: "Partridge Family" star David Cassidy died Tuesday after suffering liver and kidney failure, his publicist confirmed. He was 67 ... "David died surrounded by those he loved, with joy in his heart and free from the pain that had gripped him for so long," JoAnn Geffen said. "Thank you for the abundance of love and support you have shown him these many years." Born into a show business family, Cassidy rocketed to stardom on ABC's "The Partridge Family," a sitcom about a widow (played by Cassidy's real-life stepmother Shirley Jones) and her five children who form a rock band and tour the country. As eldest son Keith Partridge, Cassidy became a global heartthrob and was the face -- and voice -- of the Partridge Family's biggest hit, "I Think I Love You."
FOX NEWS POWERS UP WEEKEND LINEUP: Nationally syndicated radio talk show personality Mark Levin will join Fox News Channel with a weekly, weekend primetime show called "Life, Liberty & Levin" ...  "Mark's passion for the principles found in the Constitution and success in talk radio has made him a distinct figure in the media landscape. We look forward to adding this spirited program to our weekend lineup," Fox News President of Programming Suzanne Scott said. Levin's hour-long show will air on Sunday nights at 10 p.m. ET beginning in February. It will explore the fundamental values and principles undergirding American society, culture, politics, and current events, and their relevance to the nation's future and everyday lives of citizens.
AS SEEN ON FOX NEWS
PURGING SEXUAL PREDATORS: "We have to expose this in order to get rid of the moral decay." – Concerned Women for America President Penny Nance, on "Tucker Carlson Tonight," reflecting on the recent flood of sexual misconduct allegations against legislators and public figures. WATCH
ETHICS REVIVAL: "Many in Washington put their ethics on layaway during the Clinton presidency. That bill is finally due." – George Washington University Law Professor Jonathan Turley, on "The Story with Martha MacCallum," saying Congress is now answering for putting aside its ethics during the Clinton presidency. WATCH
ACROSS THE NATION
Border agent's death being investigated as 'potential assault.'
North Korean troops crossed into South while chasing defector, U.S.-led U.N. command says.
California gunman who killed five was frequent subject of police calls.
MINDING YOUR BUSINESS
HP Enterprise CEO Meg Whitman steps down.
Tech gains help propel Wall Street to record highs.
Military overhauls retirement system in biggest shift since World War II.
NEW IN FOX NEWS OPINION
John Stossel: This Thanksgiving, thank private property.
Erick Erickson: This Thanksgiving, we should all be thankful for Trump. I know I am.
Charlie Rose urged 'respect for women,' fired for not following his own advice.
HOLLYWOOD SQUARED
Gayle King talks with Stephen Colbert about Charlie Rose firing.
David Letterman received Mark Twain Prize despite past scrutiny over sexual misconduct.
Priceless stolen John Lennon diaries, glasses, other items recovered in Germany.
DID YOU HEAR ABOUT THIS?
Automotive Turkeys of 2017.

Black Friday's biggest deals and savings.
Cyber Monday's biggest deals and savings.
STAY TUNED
On Fox News:
Fox & Friends, 6 a.m. ET: Lee Carter puts tax reform to the dial test with viewers; commentator Michelle Malkin sounds off on the sex scandals in Washington; "The Property Man" Bob Massi shares his predictions for the 2018 housing market; Catch a Contractor host Skip Bedell talks Black Friday deals.
On Fox Business:
Fox Business will have the very latest developments and analysis in Congress' quest to pass tax reform with the guests below!
Mornings with Maria, 6 a.m. ET: Fox News contributor/former presidential candidate Herman Cain.
Varney & Co., 9 a.m. ET: House Ways and Means Committee Chair Kevin Brady; Rep. Leonard Lance; golf star Maverick McNealy on turning pro; actor-producer Stephen Baldwin on his latest project.
Cavuto: Coast to Coast, Noon ET: Former NYPD Commissioner Howard Safir on terror precautions before Thanksgiving.
The Intelligence Report, 2 p.m. ET: FCC Chairman Ajit Pai on dismantling Obama-era net neutrality regulations; Grover Norquist, president of Americans for Tax Reform.
On Fox News Radio:
The Fox News Rundown podcast: Fox News @Night host Shannon Bream discusses how to handle discussing the subject of politics at the Thanksgiving dinner table. Former Navy SEAL Rob O'Neill describes how thousands of U.S. troops deployed overseas are getting a taste of home this Thanksgiving. And we have commentary from Fox News legal analyst Gregg Jarrett.
Want the Fox News Rundown sent straight to your mobile device? Subscribe through Apple Podcasts, Google Play, and Stitcher.
#OnThisDay
1963: President John F. Kennedy is assassinated while riding in a motorcade in Dallas; Vice President Lyndon B. Johnson is sworn in as president.
1935: The first trans-Pacific airmail flight, carrying more than 100,000 pieces of mail, takes off from Alameda, Calif.
1718: English pirate Edward Teach — better known as "Blackbeard" — is killed during a battle off present-day North Carolina.
Thank you for joining us on Fox News First! Enjoy your day and have a Happy Thanksgiving! We'll see you in your inbox first thing Friday morning.