Dozens join outside Pittsburgh synagogue for service after deadly shooting: report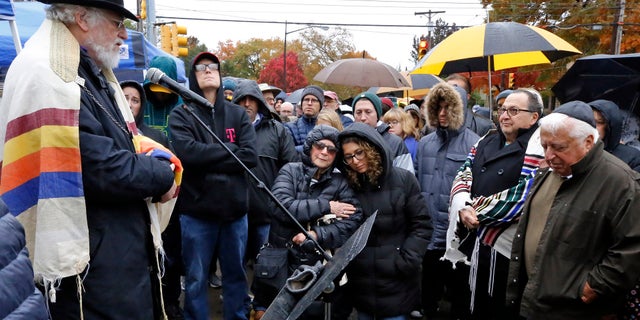 NEWYou can now listen to Fox News articles!
A week after the deadly Pittsburgh synagogue shooting that left 11 people dead, dozens of people came together for what a former rabbi described as a healing service outside the site of the bloodiest anti-Semitic attack in U.S. history.
In a service consisting of roughly 100 people outside the Tree of Life synagogue, Rabbi Chuck Diamond described those killed as "angels given to us, full of love and life," according to The Associated Press.
The synagogue, which "has stood for joy," he said, "is forever stained" following the attack, in which six others were wounded.
But it "cannot overshadow (that) this building is and will be into the future a place of joy," he said.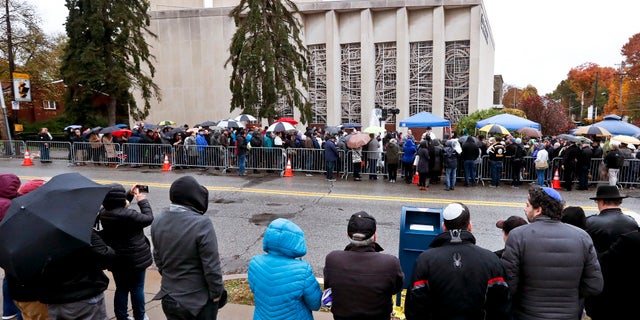 PITTSBURGH SYNAGOGUE SUSPECT TRANSFERRED TO PRISON IN ANOTHER COUNTY; OFFICIALS THERE 'NOT HAPPY' WITH DECISION
Robert Bowers, 46, has been identified as the suspect in the Oct. 27 shooting. Bowers, who pleaded not guilty to federal charges on Thursday, was arraigned on a 44-count indictment, charged with murder, hate crimes, religious obstruction and other crimes.
President Trump visited the synagogue earlier this week, along with first lady Melania Trump, his daughter Ivanka, his son-in-law Jared Kushner, Treasury Secretary Steve Mnuchin and White House Chief of Staff John Kelly.
A retired Presbyterian pastor who took part in the service said the underlying circumstances of the shooting were not simply an issue for those in the Jewish community, but for all of humanity.
PITTSBURGH RABBI SURPRISED BY 'WARM, PERSONAL SIDE' OF TRUMP AFTER MEETING
"This is not a Jewish problem, although Jews were targeted. This is a human problem," Rev. Lee Clark said, according to an AP report. "The only way to confront hate is to face it with love."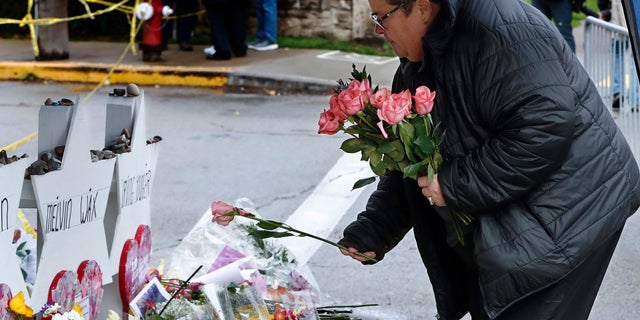 In other parts of the country, "Show Up for Shabbat" services were held at various synagogues in honor of those who died or were injured in the attack.
A service was held at Central Synagogue in New York City, attended by Jews and non-Jews alike, AP said.
"It's such a tragedy that happened in Pittsburgh, and I was touched by the calling of the Jewish community to welcome non-Jews into their synagogues today, so I couldn't resist and I came," Steven Kent, an Episcopalian, told the outlet. "It was a wonderful feeling."
Fox News' Paulina Dedaj, Andrew O'Reilly and The Associated Press contributed to this report.