Casey Anthony 'open' to having more children, 'doesn't care' what people think, report says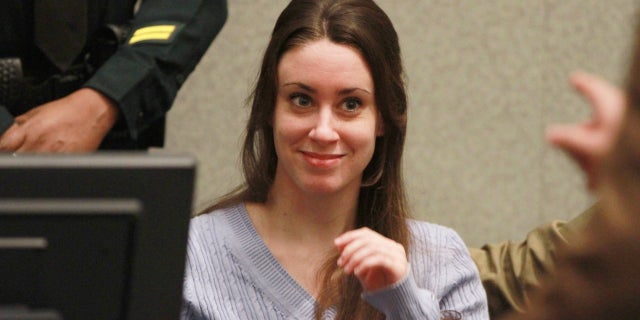 Casey Anthony, who was acquitted in 2011 of killing her daughter, is reportedly open to the idea of having more children and doesn't care what others think.
A source close to the 32-year-old told People that Anthony has thought about having children again.
"For a long time she was like 'no way,'" the source told People. "But time has changed that and she's now open to it in a way she hasn't been before."
In an interview with the Associated Press last year, Anthony said she didn't think she could bring another child "into this world."
CASEY ANTHONY TRIAL INVESTIGATOR BLAMES RELENTLESS MEDIA CIRCUS, FLORIDA'S 'SUNSHINE LAW' FOR LACK OF JUSTICE IN NEW DOCU-SERIES
"If I am blessed enough to have another child — if I'd be dumb enough to bring another kid into this world knowing that there'd be a potential that some little snot-nosed kid would then say something mean to my kid — I don't think I could live with that," she said.
The source told People that Anthony did not care what others thought and will do what she wants.
"She's very good at living her life and to hell with what other people think," the source said. "If she wants to have another kid, she'll have another kid. She doesn't care what you or I or anyone else thinks."
Anthony, 32, made headlines after her 2-year-old daughter, Caylee, vanished. The child was reportedly last seen June 16, 2008 -- but was first reported missing by her grandmother on July 15. The following day, Anthony was arrested on charges of child neglect. She told police at the time her child disappeared with a babysitter. Caylee's remains were found in a wooded area near the family home on Dec. 11, 2008.
Following a high-profile 2011 trial, prosecutors proved Anthony, the prime suspect, was a liar -- but they couldn't convince the jury she was a murderer. The government failed to establish how Caylee died, and they couldn't find her mother's DNA on the duct tape they said was used to suffocate her. After a month and a half in court, the jury took fewer than 11 hours to find Anthony not guilty of first-degree murder, aggravated manslaughter and aggravated child abuse.
CASEY ANTHONY ON LIFE AFTER ACQUITTAL: 'I SLEEP PRETTY GOOD AT NIGHT'
She was convicted of four counts of lying to police -- though two counts were later dropped. She served about three years in prison while awaiting trial.
Anthony now works as a researcher for Patrick McKenna, a private detective who was the lead investigator on her defense team. She has been spotted at restaurants in Palm Beach County, Fla., and is not in contact with her family.
In the AP interview, Anthony appeared in a similar state of mind to how People's source portrayed her.
"I don't give a s--- about what anyone thinks about me, I never will," she told AP. "I'm OK with myself. I sleep pretty good at night.
Fox News' Stephanie Nolasco and the Associated Press contributed to this report.