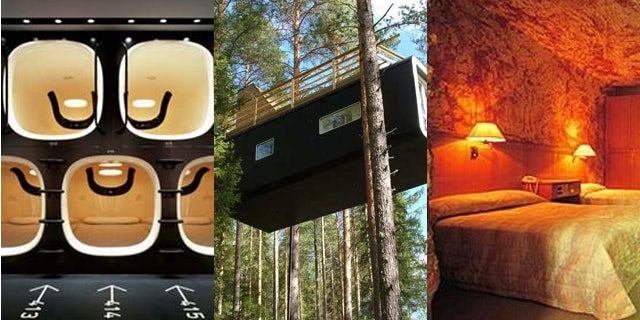 What makes a hotel "weird"? Each year, we search for out-of-the-ordinary experiences that you can't find anywhere else in the world. "Weird" is our way of saying "one of a kind," and in this lighthearted survey, uniqueness sometimes trumps Budget Travel's typical price point of $150 per night. Our goal is to showcase special corners of the globe, where you can literally slumber Down Under in an Australian "opal mine" lodge or tuck yourself into a vintage plane's cockpit for a nightcap. If our annual roundup is evidence of anything, it's that even your wackiest dreams can come true!
An oil rig in the middle of the ocean isn't the first venue that comes to mind for a dive hotel. But that didn't stop the folks behind Seaventures Rig Resort from creating an immersive, ecofriendly experience like few others. Situated in the center of the coral triangle of three Malaysian islands, the bright blue-and-orange converted rig is built over a cultivated reef teeming with undersea life. Rooms are outfitted with the basics, but diving is the focus here: Days are spent inhabiting the underwater home to all forms of sea creatures, from cuttlefish and sea turtles to barracuda and eel. A lift lowers divers directly into the water below to explore the reef, which the rig now serves to protect. With just 23 rooms, the sundeck's never crowded, and spectators can come up anytime they'd like for 360-degree views of the surrounding islands. Come nightfall, there's a house band and outdoor BBQ. Any time an oil rig is helping a marine environment, we're on board. 011-60/88-261-669, seaventuresdive.com, two-night diving packages from $433.
Treehotel, Sweden
Set in Harads near Sweden's Lule River, Treehotel puts a high-concept twist--as only Scandinavian design can--on the well-worn idea of a tree-house hotel. Fixed about 20 feet up in the trees of the Harads woods are five separate "rooms" that each offer distinct tree-house experiences. The Bird's Nest is exactly what it sounds like, with a wild twig exterior on grand scale. The Mirrorcube is a square unit that reflects its surroundings, doubling as a kind of forest camouflage. (Bird lovers, don't fret--it's covered in an infrared film that's visible to our feathered friends, to avoid crashes.) The UFO evokes a spinning spaceship from just about any '60s sci-fi movie. Each structure is only accessible by an individual ladder, staircase, or bridge, so to wander among them is to stroll the forest floor. While doing so, you'll also encounter the eight-person Tree Sauna, which includes a hot tub for soaking in after you've soaked up the great outdoors. 011-46/928-10403, treehotel.se, doubles from $590.
SEE MORE POPULAR CONTENT
10 Most Interesting Beaches
Top Budget Travel Destinations for 2012
8 Items You Never Pack…But Should

9 Hours, Japan
Sure, the capsule concept is far from new--the first one opened in Osaka in 1979 as a conveniently located base camp for business travelers. But Kyoto's 9 Hours hotel marries this original conceit of convenience--it is, after all, located in one of the main commercial centers of the city, a two-minute walk from the train station--with amenities you would expect from a four-star hotel (rain-forest showerheads, complimentary mineral water, pillows specially designed to ensure healthy posture during sleep). Awash in a Space Odyssey-style-white, with single-person sleeping quarters and technology designed to make sleep easier--9 Hours is like the iPod of hotels. Each capsule includes a computerized-lighting/alarm-clock system to facilitate sleeping and waking. Once inside, you might expect a soothing mist to put you into a time-traveling slumber, only to wake in the year 2057 wondering what happened to your crew. No such luck, as 9 Hours pays far too much attention to time: 9 Hours = 1 hour to shower (in the hotel's locker rooms), 7 hours to sleep, and 1 hour to prepare before leaving. Get it? Don't worry, though, the staff is not that literal--if you want to linger longer in the computer lounge or lobby, guests are allowed to spend up to 17 hours in a single stay. 011-81/075-353-9005, 9hours.jp, capsules from $63 per stay.
Kolarbyn, Sweden
"Good" is god in Swedish--and we can't deny there's something heavenly about being tucked away in a forest along the shore of Lake Skärsjön. Imagine being led through the woods to a tall pile of grass and branches. There seems to be a stovepipe sticking out of the top of it, and on further examination, a door! Inside one of 12 primitive forest huts at Kolarbyn, you'll discover a rugged getaway from modern-day bustle (and a marked absence of Ikea furnishings). Candles and fireplaces provide the only night-lights, and guests cook their own meals over an open fire. After a night's sleep on the simple beds, the closest thing you find to an alarm clock will be the birds chirping in the morning. But Kolarbyn isn't completely without comforts: After a guided forest hike, you can take a wooden boat ride on the lake and finish with a cathartic sweat in the floating sauna. Ah, the god life. 011-46/70-400-7053,kolarbyn.se, doubles from $59.
Madonna Inn Resort & Spa, California
The name predates the pop icon, but something tells us Madge would approve of this landmark motel. Situated in the California coastal town of San Luis Obispo, the Madonna Inn is a living shrine to retro kitsch. "Anybody can build one room and a thousand like it," says Jack Madonna, son of owner Phyllis. "I try to give people more than they pay for." With 110 individual theme rooms, this may be an understatement. The Country Gentleman, outfitted with gauche brown-leather sofas, portrays a circa-1960s suburban living room. The Caveman Room and Rock Bottom share a love of faux-rock ceilings and floors--and showers. The Love Nest revels in floor-to-ceiling magenta. Among the remaining 105 units, monochromatic color schemes, heavy carpeting, and faux retro touches rule. "I want people to come in with a smile and leave with a smile," Jack says. 805/543-3000, madonnainn.com, doubles from $179.
Airplane Suite, Netherlands
Welcome to the Airplane Suite. Once a government-owned Ilyushin 18 aircraft that carted around former East German officials like Hans Honecker, this vintage plane now only offers flights of fancy. In a feat of genius and excess, Dutch entrepreneur Ben Thijssen saved the craft from the trash heap, then promptly converted it into a five-star hotel suite. Parked permanently on the edge of Teuge International Airport's runway, the 131-foot cabin now ticks off a litany of posh amenities, including a whirlpool bath, a sauna, flat-screen TVs, and Wi-Fi. Guests can watch arrivals and departures without ever leaving the comfort of their queen-size bed. Naturally, the cockpit has been left intact for when you want to play pilot. 011-31/30-221-0568, hotelsuites.nl, one suite from $472.
Desert Cave Hotel, Australia
Part underground refuge, part desert oasis, few properties delve as deep into the Australian Outback as the Desert Cave Hotel. Literally. Taking a cue from nearby opal mines, 19 of the hotel's 50 rooms are underground to evoke a dugout, cave-like experience (albeit with modern-day amenities). Sandstone is the principal design element here, buttressing walls, floors, and ceilings throughout the property. As a result, even a visit to the gift shop can feel a little like a lunar walk. Of course, that's part of the charm. Those who can't do without natural light can stay aboveground in units that showcase stunning views of the expansive red desert. Given the setting, it may be your extracurricular activities that distinguish your stay at Desert Cave: Special tours offer the chance to explore real opal mines (complete with hard hat) one day and then tour the 80-million-year-old Painted Desert in a four-wheel-drive vehicle the next. 011-61/-8-8672-5688, desertcave.com.au, doubles from $184.
Medieval Hotel Detenice, Czech Republic
Bound to call to mind troubled visions of the Medieval Times franchise (for some American travelers anyway), this hotel on the outskirts of Prague survives comparisons to its gauche counterpart with admirable attention to authenticity. Part of a larger resort that features a castle, brewery, and tavern, the hotel's decor isn't just charmingly anachronistic; it pays loyal tribute to the details of the Middle Ages. Candles and sconces light the way to dim guest rooms without electricity (but with indoor plumbing, thankfully). The rooms themselves are outfitted with furniture made from solid timber beams (as they would have been around the 13th century A.D.). Sheepskins and weaponry hang on the walls--but historical accuracy stops short of horsehair ticking in the mattresses, which are topped by plush down comforters. Maintaining the medieval illusion, the staff dresses and acts the part, sometimes with bawdy banter aimed at guests themselves. Foodies won't be disappointed, either, as the adjacent tavern offers enough banquet fare and ale to make King Henry I, II, or III proud. 011-420/493-599-161, detenice.cz, doubles from $80.
Marmara Antalya, Turkey
Offering a new spin on the notion of 360-degree views, Turkey's Marmara Antalya is the world's only fully revolving hotel. Sitting in 400-plus tons of water to ensure a smooth rotation, the hotel can be sped up or slowed down as various events require--the fastest (and most novel) 360-degree rotation takes two hours, for, say, a cocktail party; the slowest, a regular setting for everyday guests, takes 22 hours. Perched atop the Falez cliffs near Antalya, this circular Revolving Loft annex serves up multiple vistas for each room in the process. You might go to sleep overlooking the surrounding foothills only to wake to a vista of the Mediterranean Sea. White linens and natural wood accents lend a warm-and-airy feel to rooms, but the views are the main attraction. If the novelty of a hotel spinning on its axis isn't quite enough, guests can also canoe a man-made river, ascend a rock-climbing column, or even channel their inner Banksy at a graffiti station, all without leaving the hotel complex. 011-90/242-249-3600, themarmarahotels.com, doubles from $127.
La Balades des Gnomes, Belgium
For anyone who's ever wanted to inhabit a fantasyland worthy of a child's picture book, La Balades des Gnomes is the B&B for you. At this Belgian countryside residence, travelers can pretend they're about to invade Troy inside a full-scale replica of the famed Trojan Horse, complete with wooden panels and wheels. The nearby farmhouse showcases the same whimsical details in 10 imaginative rooms that look like something out of Tim Burton's sketchbook. Each space has its own distinct narrative: Guests can sleep in a boat floating in a pool of water or in a spaceship set on a lunar landscape. There's even a Fores Hut with a moat of live goldfish. Detailed woodwork accents every inch of the property, with Grimm's Fairy Tales--like gnomes and ghoulish faces carved in all manner of surfaces. Single travelers, rest assured: You're not alone here. 011-32/20-472-8623, labaladedesgnomes.be, doubles from $155.