5 Unique Christmas Destinations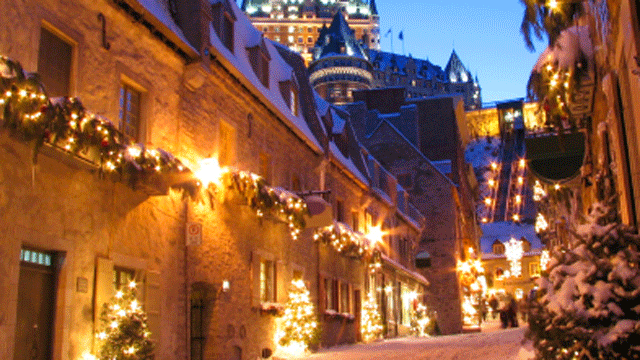 NEWYou can now listen to Fox News articles!
It's Christmas morning, your living room is littered with wrapping paper, the kids are on a sugar high, your credit cards are maxed out and the big plan for the day is to head to Aunt Marge's for some ham and her famous green bean casserole.
Our question to you is – why not shake-up things up this year and head for the Crescent City, or the desert, or an old-walled city?
David Lytle, editorial director for Frommers.com, has five unique Christmas destinations that might just become a tradition for you and your family.
Quebec City
"Québec is the idea of going to Europe without really having to go to Europe," Lytle told FoxNews.com. "You're almost guaranteed to have a white Christmas, and Old Québec does it up right with lights, cobblestone streets and a toy parade."
When you walk down the streets of Old Québec, you feel like you're immersed in a story book, it's that pretty. Tiny specialty shops and restaurants dot the narrow streets. Take a turn down an alley and you'll find artwork hanging on the brick walls and a local pub serving up mulled wine, which you can drink by a fire.
If you want quintessential Québec, stay at the Fairmont Le Château Frontenac Hotel.
"The hotel really is a symbol of the city," Lytle said.
The majestic looking property is perched high-above the St. Lawrence River, and from Dec. 20 through Dec. 26, you can find rates for as low as $189.00 per night.
Click here for more lodging options, restaurants and a calendar of events.
"This is sort-of the idea like Québec – you're pretty much guaranteed that you will be having some snow during your stay here," Lytle said.
Along with the snow, you'll be surrounded by breathtaking views, and if you're lucky, some wildlife. You'll also find some great holiday traditions at the Ahwahnee Hotel, which is located inside the park.
"They have what's called the Bracebridge Dinner that they've been performing every December since 1927," Lytle said.
Think dinner theater for the whole family.
"The Bracebridge Dinner transforms The Ahwahnee into a 17th century English manor for a feast of food, song and mirth. The inspiration for this yuletide ceremony was Washington Irving's Sketch Book that described Squire Bracebridge and English Christmas traditions of that period," it says on the hotel's website. "The Bracebridge Dinner is an elegant and artistic four-hour pageant of classic carols, Renaissance rituals and entertainment of the Middle Ages."
Unfortunately, you can't stay at the Ahwahnee because it's booked, but everyone is invited to go to the Bracebridge, you just have to get a reservation.
The good news is there are rooms available just outside the park at Yosemite View Lodge.
"I've stayed there before," Lytle said. "The lobby and the restaurant are really cool. The rooms aren't fancy, but every room looks right at Merced River and it's a 15 minute drive from the doorstep of the hotel to Ahwahnee. You can get a room for about $170.00 per night."
Click here for more information on the Bracebridge dinner and lodging in and around Yosemite.
Palm Springs
Swap the snow for sand and head to Palm Springs, Calif., to celebrate Christmas in the desert.
"You're going to have temperatures in the high 80s or higher during the day and cooler at night like mid-40s to mid-50s. You have the desert, swimming pools and California mid-century architecture," Lytle said. "You can get a tan over Christmas."
You can opt to rent a house through websites like VRBO.com (vacation rental by owner), or check out one of the many hotels like the Andreas Hotel and Spa. Right now, you can get rates starting around $85.00 per night over Christmas.
"This is where Hollywood goes to play," Lytle said. "You know it's going to have a built-in restaurant scene, and it's going to have cocktail scene and you're not far from Joshua Tree. If you're taking your family here, there are lots of outdoor activities. Families can go on hikes, they can go mountain biking."
Another thing you might want to check out is the massive and outrageous Christmas light extravaganza that Palm Springs-based artist Kenny Irwin puts up every year. We're talking about millions and millions of Christmas lights.
For more information on visiting Palm Springs, go to VisitPalmsprings.com
New Orleans
Five-course dinners, cheap hotel rates, the French Quarter, music, holiday parades, staying up all night – you can find all of that and more in New Orleans during Christmastime.
"If you check out NewOrleansonline.com/holiday they have a whole listing of specials," Lytle said. "They have 80 participating hotels with some starting at $60.00 a night. You can stay at the W Hotel for $75.00 per night and it's in the heart if the French Quarter."
While you're down there, you have to overindulge in an old French holiday tradition known as reveillon dinners. Restaurants all over the city are participating and offer some pretty reasonable pre-fixe menus.
"It's the meal served on Christmas Eve at midnight and these are elaborate feasts and restaurants have reveillon dinners there that are five courses, and usually start around $35.00 to $45.00," Lytle said. "It's become a tradition for residents there as well. It's sort-of like 'restaurant week' in New York. You'll start with lobster ravioli and end with a steak and it's all Creole style, so there maybe come gumbo in there and some beignets."
You will never be lacking for food in New Orleans, and just like New York, this is a city that doesn't go to sleep.
Click here for more information on hotels deals and reveillon dinners.
Santiago, Chile
While we're on the subject of southern destinations, let's talk about a city below the equator – Santiago, Chile.
"Santiago is just a really fine town to check out," Lytle said. "You're in an urban environment, but you're also less than 20 minutes away from wine country. It's warm, and it's also a former Catholic country, so you can just imagine, they really know how to celebrate Christmas – and they do it with a Latino flare. They have lots of lights and you can go to their Mercado, which is a giant market with lots of fresh fish and restaurants."
Oh, and did we mention it's summertime there with temperatures in the upper 70s and low 80s. Another plus is the fact that you won't feel jet-lagged when you land because you're not flying across time zones.
For accommodations, Lytle recommends the Aubrey hotel, which located in the Bellavista neighborhood of Santiago.
"This neighborhood is a mix of old colonial homes and there's a university that abuts the neighborhood so you have cafes with college students and there's a really cute hotel called the Aubrey," he said. "It's two 19th century mansions that have been turned into this hotel and restaurant. It has a lap pool. Each room is laid out differently, some have in-room soaking tubs, and there are funky furnishings and spa amenities."
It's not cheap to stay at the Aubrey Hotel, with rates starting around $240.00 per night, but as Lytle pointed out, it does put you in a neighborhood, which is a great place to immerse yourself in the city.
Click here for more information on spending the holidays in Santiago.