Romanian President Visits US Destroyer Cook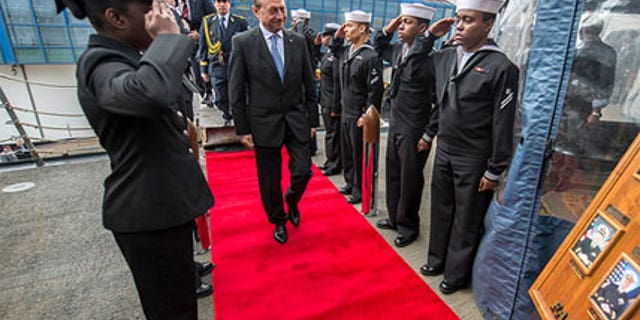 The Aegis guided-missile destroyer Donald Cook welcomed aboard Romania's President Tuesday, a day after a tense standoff with a Russian attack jet in the Black Sea.
Cmdr. Scott Jones, captain of the Cook, said the visit of Romanian President Traian Basescu was an opportunity to show support for regional allies at a time of heightened tensions with Russia.
A day earlier, in international waters off Romania's Black Sea coast, a Russian Su-24 Fencer attack jet made about a dozen low passes in a replay of the Cold War scenario in which U.S. and Russian ships and aircraft frequently shadowed and harassed each other.
The Cook was never under serious threat and later docked at the Romanian port of Constanta, the Navy said.
"We feel that this is an important time to demonstrate our resolve and shared commitment with NATO -- that we will maintain the right presence where it matters," Cmdr. Jones said in a Navy dispatch from the Cook.
Russian media outlets have charged that the Black Sea visit of the Cook, and the Aegis destroyer Truxtun last month, amounted to an attempt by the U.S. to maintain a permanent naval presence in the Black sea to move missile defenses closer to Russia's borders.
The Cook was scheduled later this week to carry out joint exercises with Romania's navy.
-- Richard Sisk can be reached at richard.sisk@monster.com