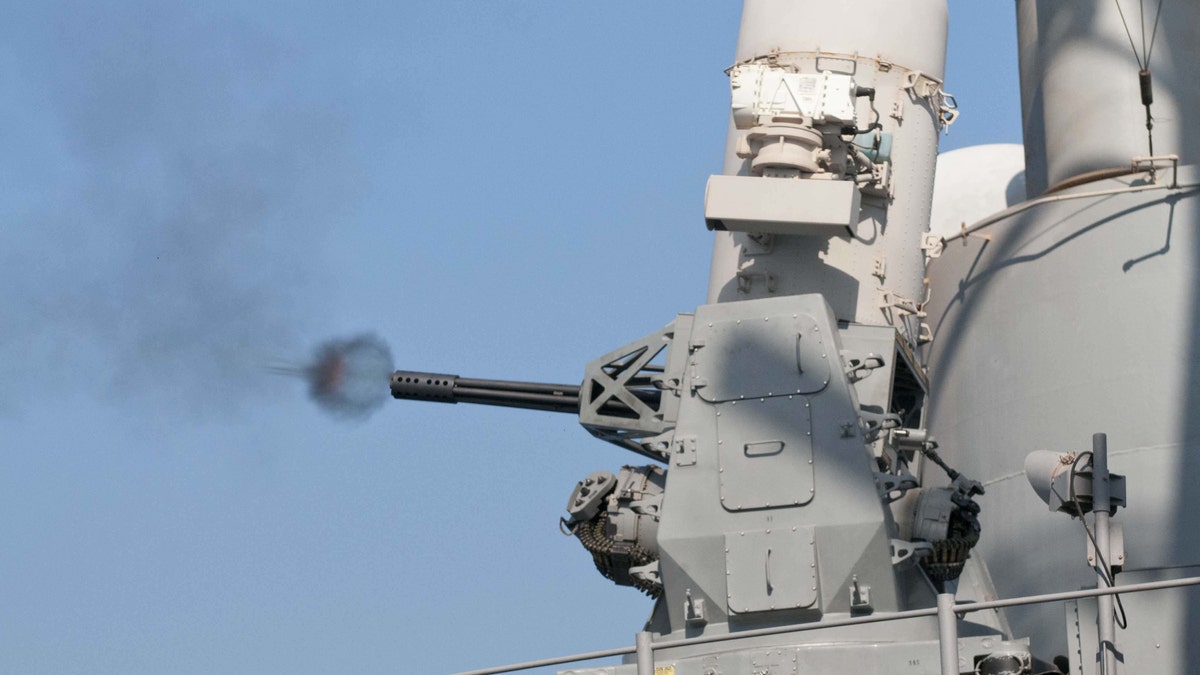 If a missile slips past a ship's defenses, then rapid-fire gun system Phalanx destroys the threat before it can strike - this is the "last-chance" defense system for military vessels.
The U.S. Navy is acquiring $159.9 million dollars more of Raytheon's Phalanx Close-In Weapons System (CIWS). The latest contract covers Phalanx manufacturing, inspection and testing. In 2013 the Navy awarded Raytheon a $136.2 million contract to remanufacture, overhaul and upgrade 19 Phalanx Systems and four SeaRAM anti-ship Missile Defense Systems.
Phalanx's 20 mm gun system automatically tracks and destroys enemy threats with computer-controlled radar. Phalanx provides close-in defense against air, land and sea threats.
Related: Meet 'Viper' - the newest F-16 Fighter
This weapons system can take on a range of threats from anti-ship missiles to fixed-wing aircraft and helicopters. At sea, Phalanx can also defeat fast-travelling surface craft.
The U.S. Army uses the land-based Phalanx as part of its systems to counter rockets, artillery and mortars. Before a threat can hit a ground target, Phalanx detects and destroys incoming rounds in the air.
If there is an attack, the technology also provides early warning.
Related: 11 stunning F-22 fighter jet images
Rather than separate systems for searching, detecting, evaluating a threat – Phalanx does it all in one. It also handles tracking, engaging and destroying the threat.
Phalanx's Block 1B version features control stations that also allow its operators to visually track and identify threats before they are engaged. There is also a forward-looking infrared sensor.
The SeaRAM Anti-ship Missile Defense Systems uses the advanced Phalanx Block 1B sensors and replaces the gun with an 11-round Rolling Airframe Missile guide.
Related: Falcon Shield launches electronic attacks to take control of drones
The Independence-class of the U.S. Navy's Littoral Combat Ships carry SeaRAM.
In the Raytheon press release on the $159.9 million deal, the company's Naval and Area Mission Defense Vice President Rick Nelson explained that "Phalanx provides the U.S. Navy's ships with a 'last-chance' defense against anti-ship missiles and littoral warfare threats while SeaRAM extends that inner-layer battlespace."
Phalanx is installed on U.S. Navy surface combatant ships as well as on the ships of 24 other countries. More than 890 of the systems have been deployed.
The land-based version has also been used in combat. The contract also covers the overhaul of four land-based Phalanx systems.
Work under the latest Phalanx contract is expected to be completed by August 2018.
Ballet dancer turned defense specialist Allison Barrie has traveled around the world covering the military, terrorism, weapons advancements and life on the front line. You can reach her at wargames@foxnews.com or follow her on Twitter @Allison_Barrie.