Microsoft Windows 8 Release Preview Unveiled: Touchpad Gestures, New IE Features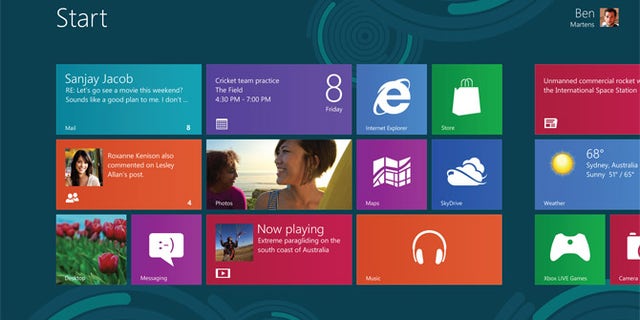 Marking another milestone on the road to launch, today Microsoft unveiled the latest beta version of its coming OS, Windows 8 Release Preview, for free download. Though consumers have been able to test a pre-release version of Windows 8 since the Consumer Preview launched in February the new iteration has some subtle, but important improvements worth noting, including support for new touchpad gestures and improved touch-support for Internet Explorer 10.
TouchPad Gestures
Windows 8 has supported a variety of multitouch gestures on touch screens since the Consumer Preview launched in February. With Release Preview, Microsoft adds gestures support for touchpad users. Unfortunately, the download available today doesn't come with the necessary drivers to enable these gestures, but a demo notebook the company loaned us had a special Elan driver that allowed us to see how the new features work.
As you'd expect, pinching allows you to zoom out of Metro and see all your screens at once. Swiping in from the right side brings up the righthand charms menu while swiping down from the top shows you a context menu for your current application. On the Metro start screen, the downward swipe brings up a green bar with a button for the all apps menu, but in the beta Sports app it brings up a menu bar with buttons for all your favorite teams.
Within certain apps such as the beta news app, using a two finger left or right swipe allows you to scroll horizontally between screens. Perhaps our favorite gesture is the simplest; swiping from left to right allows you to flip between all your open apps.
New IE 10 Features
Where the prior version of Windows 8 did not support Flash with Internet Explorer running in Metro Mode, the Release Preview adds a special version of Flash 11.3 to IE 10 Metro. This special version of Flash is designed to be touch-friendly so it only works on select sites and does not support features like hover which require a mouse to work properly. However, it works with all YouTube flash videos, making them touch-friendly as well.
Even better, IE 10 in Metro allows you to to swipe back and forth on the touch screen to navigate between pages on multipage web documents that allow it. For example, when we searched Bing and got more than 5 pages of results we were able to advance to the next 10 results by swiping right or go the previous ten by swiping left. Web developers will be able to enable this functionality on their sites using special code.
For the security-conscious, IE 10 now has "do not track" turned on by default, which lets other sites know that you don't want them following your moves around the web.
New Color Schemes for Metro
If you're tired of the stock green background behind start screen, the Windows 8 Release Preview lets you choose from about two dozen other schemes in a variety of colors. Simply go into the PC settings menu and click Personalize then Start Screen.
People App Improvements
The people app has been enhanced so it now appears as a sharing option when you are in other applications such as Internet Explorer that allow sharing. After you select Share from the charms menu, People shows up as an option. Once you tap people, you can share to the social media accounts you have there, including Twitter, Facebook, and Linked In. As before, the people app does a great job of combining all your contacts from different social media accounts into one list.
Metro-Style Bing Apps
The Release Preview comes with new Sports, Travel and News Metro apps from Bing. In our brief testing, we particularly appreciated the large colorful images in the Sports and News apps, along with the headlines that showed up on their live tiles in the Start Menu.