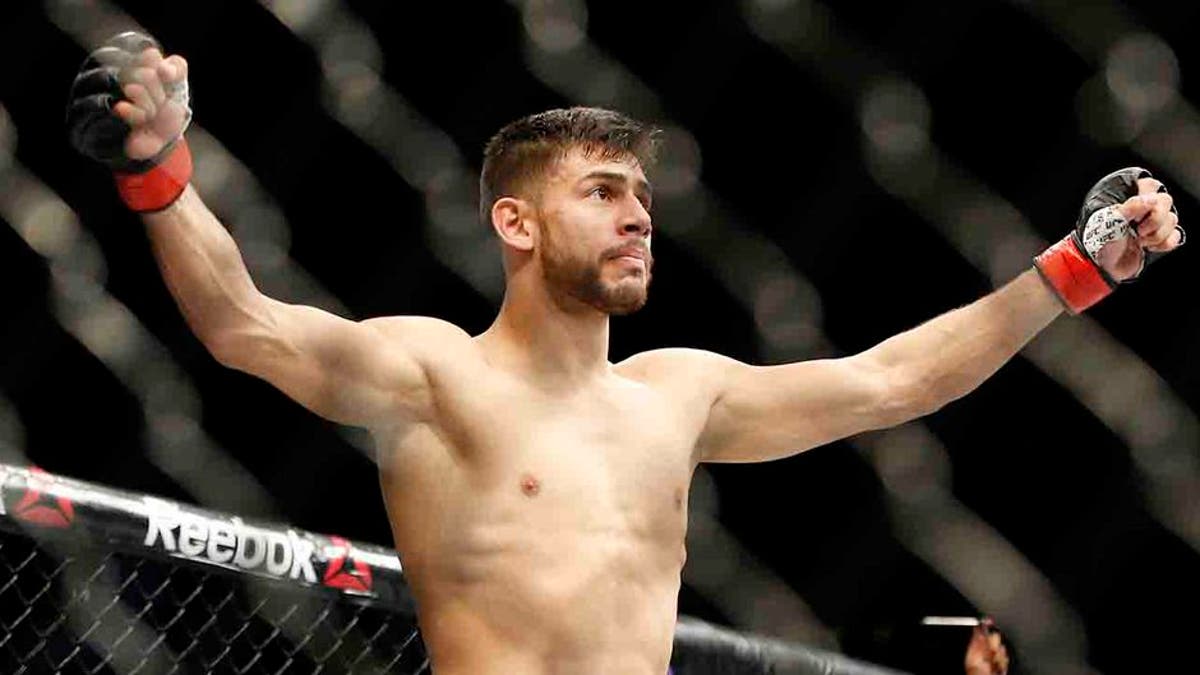 As the UFC continues to expand into Latin America, featherweight contender Yair Rodriguez would like to become the new face of the promotion in Mexico with hopes to even surpass Saul "Canelo" Alvarez as the biggest combat sports star in his home country.
Now that might sound like very lofty aspirations considering Alvarez has become one of the biggest sports stars in all of Mexico while also becoming a real draw for the sport of boxing.
Alvarez's most recent fight against Julio Cesar Chavez Jr. reportedly sold around one million pay-per-views, which is a massive landmark for the 26-year old Mexican boxer.
Now Rodriguez makes it clear that he has no ill will towards his fellow countryman whatsoever, but he still believes in the long term that he could become an even bigger draw for the Mexican faithful than what "Canelo" is currently pulling for his fights.
"He became a big star. Well why him being Mexican and being a fighter, can I not become a big star in Mexico? Why not? It doesn't make any sense for me when people ask me," Rodriguez explained when speaking to FOX Sports. "Why not?
"If I become a champion, if I become the first Mexican UFC champion, I can become bigger because I will be the first one. There are already a lot of Mexican boxers, great boxers. I'm not saying Canelo is not great. He's great. But I think I can become bigger than that because I'll be the first one."
Mark J. Rebilas-USA TODAY Sports
Lofty goals indeed for Rodriguez but there's no lack of confidence in the surging featherweight star ahead of his next fight at UFC 211 this weekend.
To remain on his path to become the first ever Mexican born UFC champion, Rodriguez will have to get past Frankie Edgar on Saturday night and that's no easy task.
Edgar has sat atop two divisions during different stages in his UFC career while currently being ranked No. 2 at featherweight sitting behind only champion Jose Aldo and interim champion Max Holloway. In fact, Edgar has only been defeated by Aldo since moving down to 145 pounds while racking up wins over every other fighter he's faced including stoppages over Cub Swanson and Chad Mendes.
Despite that resume, Rodriguez not only believes that he can beat Edgar at UFC 211, but he wants to add another career first to his record as well.
He wants to be the first person to hand Edgar a loss by knockout.
"I think he's never fought a guy like me," Rodriguez said about Edgar. "Everybody thinks I'm fast, but they dont know how fast I am until they fight me. Whenever they fight me, they can never find me. I think Frankie Edgar has the potential for me to knock him out because the way that he moves and he's short. I like to fight short guys because my range helps me out a lot. So I think it's just because of that."
As much as the hype around this fight centers around Rodriguez taking a big step up in competition to face a former champion like Edgar, he refuses to acknowledge that this matchup is any tougher than the others he's faced in the past.
It's not that Rodriguez doesn't see Edgar as a threat, but instead he prefers to focus on what he's doing to get ready for the fight rather than putting any opponent on a pedestal.
"For me it's just one more fight. With all respect to him, he's just one more fight for me," Rodriguez said. "I treated B.J. Penn the same, I treated Alex Caceres the same, I treat any fighter the same. It doesn't matter. Because for me, they're just a number. It doesn't matter if you're the champion or not. For me, that doesn't matter. I'm going to treat you the same because you are a human being.
"You have a brain, you have a heart, you have two arms and two legs. You train just like me. It doesn't matter where you think you are. I'm going to treat you the same."