Why Ryan Fitzpatrick is now 'scaring' Jets receiver Brandon Marshall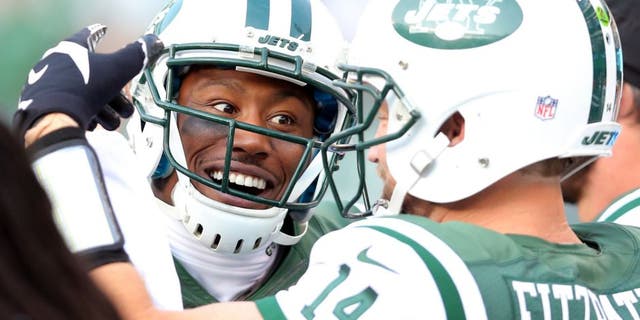 NEWYou can now listen to Fox News articles!
The New York Jets are just over a week away from opening training camp. They'll do so without their starting quarterback from a year ago, Ryan Fitzpatrick. The disastrous crumbling relationship between the Jets and Fitzpatrick has been well documented, with both sides refusing to budge on a contract that would reunite them for another season.
Todd Bowles has grown tired of discussing the situation, as have some of his players, but one of Fitzpatrick's better friends on the Jets is worried about him. Brandon Marshall and the bearded quarterback had a great relationship in 2015 -- one that was filled with text messages and hugs on the sidelines following their record-breaking campaign.
Now, they don't speak.
"I don't know what's going on," Marshall said on Michael Rapaport's podcast. "To be honest, me and Fitz talk everyday, all the time, but I texted him the last two weeks three times and there's no response. The only thing that he can do to make this right is to say he was on vacation, I was out of the country. It's not like him. It's scaring me right now. It's scaring me that my guy hasn't texted me back."
This appears to be about something besides football. It's unlikely that Fitzpatrick would completely cut Marshall out due to his ongoing dispute with the team. It's not unusual for Marshall to be out of the loop with regards to the two sides' negotiations given the little information that's come out lately, but Fitzpatrick going completely dark is indeed strange.
With training camp coming up soon, the situation is going to be more publicized than it has been in recent weeks. Depending on how Geno Smith performs, the Jets could become more inclined to cave and give Fitzpatrick what he wants. To flip it around, Fitzpatrick may soon realize that other offers aren't coming and his only option to play in 2016 is to return to New York.
Regardless of whether a reunion is on the horizon, it's going to be interesting to watch unfold.