What Should Fantasy Football Owners Do With Arian Foster?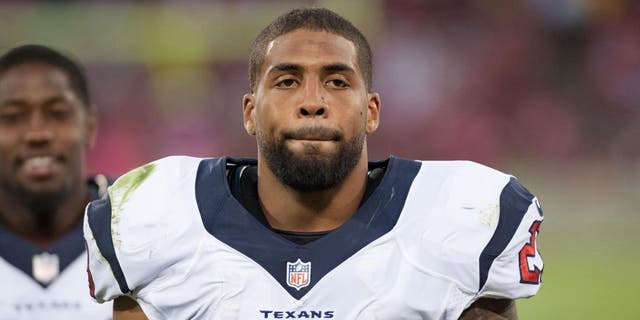 NEWYou can now listen to Fox News articles!
After spending the first seven seasons of his career with the Houston Texans, Arian Foster has signed with running back needy Miami Dolphins. He's essentially trading places with Lamar Miller, who moved from Miami to Houston this offseason.
Here's what you need to know about Foster, and the case for taking and avoiding him in your fantasy football draft:
Foster's Profile
The first thing you need to know about Foster is that he'll be 30 years old this season, and he's coming off one of the worst possible injuries a running back can have: a torn Achilles. In addition to that, Foster has a long injury history which includes knee surgery, groin surgery and a herniated disk in his back which caused him to miss time. He's notched nearly 1,500 carries in the NFL.
In four games last season, Foster averaged just 2.6 yards per carry but was an impact player in the passing game, catching 22 passes and scoring twice through the air. As recently as 2014, however, Foster was still brilliant on the ground, averaging 4.8 YPC while racking up over 1,200 yards on the season.
Unfortunately, there just isn't a long history of running backs returning from a torn Achilles to become impact players once again. Former Packers RB Edgar Bennett came back from a torn Achilles, but he averaged just 3.5 yards a carry in a single season before retiring soon thereafter. Kendall Hunter, once a promising backfield option for the 49ers, received just a single carry last year after sitting out the entire 2014 season with the injury.
Players at other positions like wide receiver, like Demaryius Thomas and Michael Crabtree, have successfully rebounded from the injury. A return to form for Foster would be unprecedented.
Why You Should Draft Him
Despite all the warning flags, it seems likely that the Dolphins will give Foster plenty of chances to see the field. Foster has said that he's "fully healthy" nine months after his surgery, although it may be a surprise to see him play much, if at all, during preseason.
If you're in a standard league, you can safely leave Foster low on your draft list. Jay Ajayi (6-foot, 228 lbs) has the size to be an effective goal-line back, and it seems unlikely that Foster will become a workhorse given his durability issues.
PPR players simply can't ignore Foster in the middle of their draft, however. Foster is a terrific route runner out of the backfield and has sure hands, and for a Dolphins team that may be playing from behind more often than not, he should receive plenty of targets so long as he can stay upright. Foster has caught as many as 66 passes in a season before, and last year as the offensive coordinator of the Chicago Bears, Adam Gase's running backs, Matt Forte and Jeremy Langford, combined for 66 receptions.
Foster has already taken note of his potential to be an impact player in the passing game, telling the Miami Herald the following:
"Adam (Gase) knows how to use a running back out of the backfield, which is my best quality, route running, catching the ball out of the backfield," Foster said. "He knows how to steer the ship, man. I'm happy to have a seat on the boat."
It could certainly rise, but Foster's current ADP according to FantasyFootballCalculator is the 41st running back off the board, going at the end of round nine. If he's the full time third-down back, which he certainly could be given Ajayi's inexperience and Kenyan Drake's learning curve, there's a good chance he returns that kind of value.
With a new coaching staff in place, the Dolphins may put an emphasis on running the ball more. It's worth noting that Gase's Bears were 6th in the NFL in rushing attempts last season. Despite being dead last in rushing attempts per game last year, Miami was actually 9th in average yards per carry, so the offensive line has shown potential.
The workhorse days are over, but a player with Foster's talent level and receiving skills is still capable of making an impact on a team with inexperienced, questionable running back depth.
Why You Shouldn't Draft Him
Jay Ajayi is younger, fresher and faster. Foster is entering the age and carry load where even the healthiest of running backs start to fall off a cliff. His ineffectiveness as a runner last year, even before the Achilles tear, is troubling for his future output.
The best-case scenario for Foster just feels incredibly unlikely, and using a pick in the middle of your draft on a player who has missed 23 games over the last three seasons feels a little reckless. Foster will almost certainly get more of an opportunity than guys like Bilal Powell and Tevin Coleman will, but Foster's health is a much bigger question mark.
Again, there just isn't a precedent for running backs becoming top options immediately after Achilles surgery. Foster may feel fine, but with all the lower body issues he's had in the past, even the slightest compensation for the Achilles can cause chaos elsewhere.
There's a strong chance the Dolphins ease Foster back in, as well, which would give Ajayi every chance in training camp and preseason to lay claim to the job. The likeliest scenario probably involves Foster taking a drive here or there, but mainly focusing as the receiving and third-down back.
That's fine, but at the range of the draft where he's going, a more traditional handcuff option might provide higher upside. Vikings RB Jerick McKinnon, for example, goes three rounds after Foster and would seemingly take over as a three-down back should something happen to Adrian Peterson. Ditto for someone like DeAndre Washington, who currently has a round 13 ADP.
Point being, the juice might not be worth the squeeze with Foster. His recovery from injury limits his early-season appeal, and although he should put up solid receiving stats, the chances he can survive a whole season in a significant role seem pretty unlikely.
Picking Foster at his current ADP would break a lot of the "rules" of fantasy drafting. You're not supposed to chase past production, you're not supposed to use high picks on running backs coming off significant injuries, and you should avoid running backs over the age of 30 is possible. There are players who prove to be exceptions to the rules, and Foster is surely talented enough, but the risk here is probably too great to justify his selection in your draft, at his current price.
Final Verdict
Foster's injury history, age, miles and likely slow start to the season are enough to make me want to look elsewhere in the middle of my fantasy draft.