What did it mean? Vikings-Raiders preseason game recap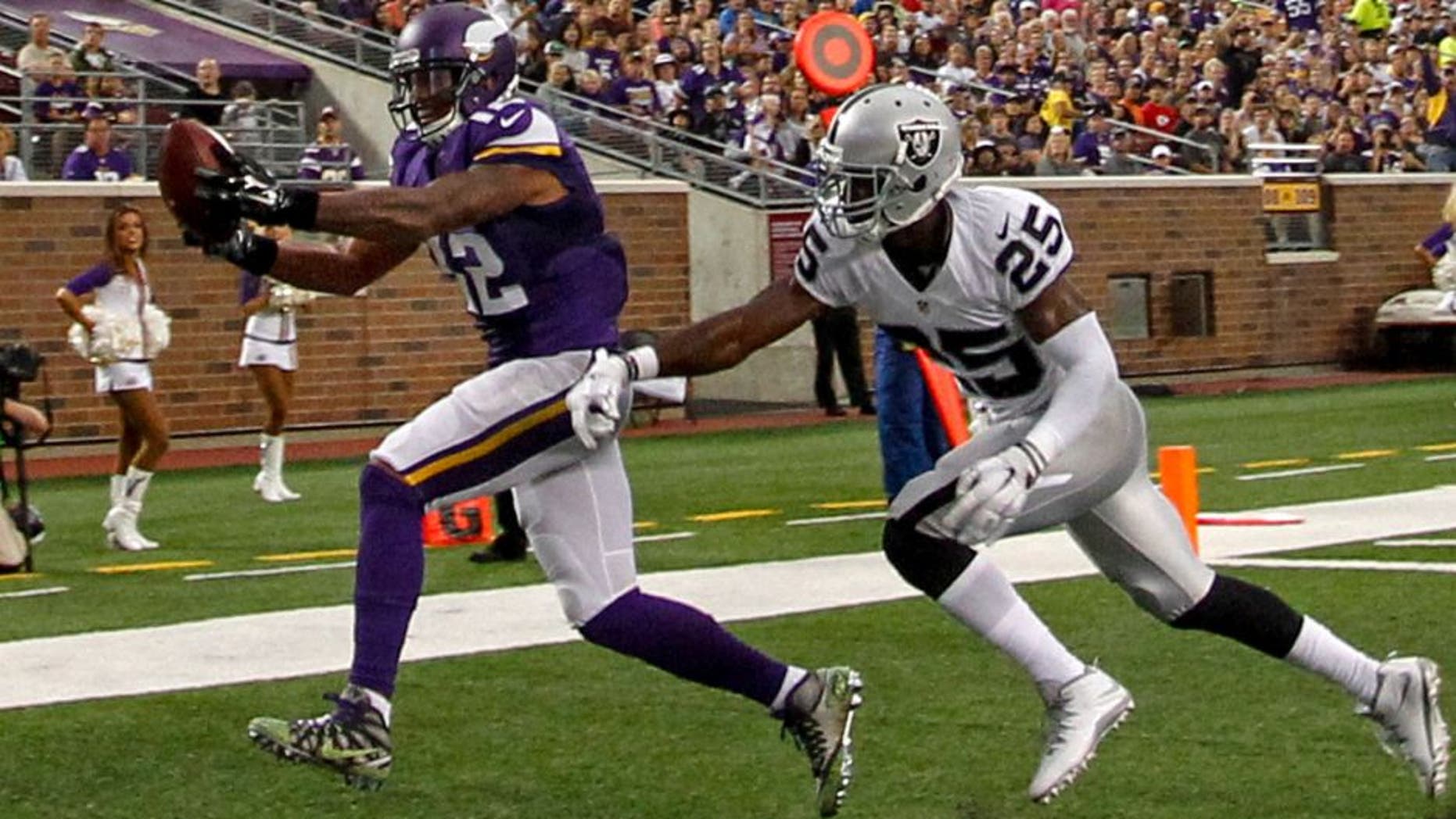 Saturday night in Dinkytown played out just as it was forecast -- right down to Christian Ponder hearing boos rain down upon him.
Other than that, the Minnesota Vikings' preseason encounter with the Oakland Raiders was largely forgettable, though the night will certainly be memorable to the thousands at TCF Bank Stadium who endured periodic heavy rain and a midgame weather delay.
At the very least, the Vikings walked away from their 20-12 exhibition win without any nightmarish injuries, like the torn Achilles that befell starting right tackle Phil Loadholt a week prior. And there were a few bright spots for the hosts.
Let's delve deeper into the Vikings' third exhibition game, which left Minnesota at 3-0 in preseason play this month.
5 things we learned:
-- Teddy Bridgewater largely looks ready for the games that count. Yes, Bridgewater was off the mark on a few early passes on Saturday, but the Vikings' second-year signal-caller rebounded and ended the night 10 for 14 with 89 yards through the air, plus one touchdown pass. This preseason, Bridgewater is 22 for 28 for 219 yards. And, most importantly, he has zero turnovers so far.
-- Minnesota's pass blocking is just fine, despite some early injuries. Yes, Loadholt is out for the season. And, yes, center John Sullivan sat out Saturday's contest due to back spasms. Nevertheless, Bridgewater was usually given a clean pocket from which to step up and throw. That has to be encouraging for an O-line group in a mild state of flux.
-- Anthony Barr's health appears to be improving. Barr, the Vikings' prized, 23-year-old outside linebacker, missed the final month of the 2014 regular-season due to injury. Additionally, he sat out last Saturday's exhibition game against Tampa Bay due to reported left knee inflammation. But Barr played on Saturday, recording a tackle and an athletic, leaping pass breakup near the line of scrimmage -- undoubtedly an encouraging sign for a Vikings squad that sorely needs him.
-- Ponder probably won't lead the Raiders to the Super Bowl. Okay, that probably doesn't qualify as breaking news, but Ponder, the former Vikings' QB castoff, still very much resembles an NFL passer who's destined to be a backup. The 27-year-old signal-caller, who went 10-6 as Minnesota's starter in 2012, had a less-than-memorable night on Saturday in Minneapolis, completing seven of 11 pass attempts for 69 yards for Oakland.
-- The Vikings are in capable hands at the tight end position. Rookie MyCole Pruitt (ankle) sat out Saturday's game, yielding increased reps to Chase Ford, and the third-year man out of Miami took advantage, finishing with five catches for 19 yards. Ford's night included a gutsy, four-yard scoring grab with eight seconds left before halftime, during which the 6-foot-6, 255-pounder was tackled hard over the middle shortly after coralling Shaun Hill's throw.
4 things we still don't know:
-- Is Blair Walsh up to the task in 2015? The Vikings' 25-year-old kicker failed to weather the storm on Saturday, missing all three of his field-goal attempts and one of three extra-point attempts. It should be noted, though, that there were consistently 18 mph winds at TCF against Oakland, and Walsh faced an intense gust of wind on his first field-goal try of the night, a 35-yarder late in the first quarter. Still, head coach Mike Zimmer is likely a bit uneasy about his kicking game these days.
-- Is Jerick McKinnon Minnesota's best option as a No. 2 tailback? The speedy McKinnon, 23, is likely to be given every opportunity to be Adrian Peterson's top backup this season. But, while McKinnon averaged just 2.1 yards per carry on Saturday (12 carries for 25 yards), fellow reserve Matt Asiata looked like his usual, steady self, producing 51 total yards, including a 17-yard reception that helped set up Ford's score just before halftime.
-- Is Mike Wallace really Minnesota's top pass-catching option? Wallace comes with the big-play reputation, and the hefty price tag ($9.9 million cap hit in 2015, according to spotrac.com), but Charles Johnson looked like the Vikings' top playmaker on Saturday. Johnson finished with a team-high four catches for 40 yards, a stat line that included a fingertip, 10-yard TD grab in the back of the end zone for his team's first score.
-- Who is the Vikings' top return man? The old standby, cornerback Marcus Sherels, had a 49-yard kickoff return with 5:16 remaining in the third quarter against Oakland. Roughly 15 minutes later, rookie wideout Stefon Diggs produced a 29-yard punt return. Sherels, the former Gopher, has been steady on special teams for four years now, but is limited at cornerback. It'll be interesting to see if Sherels can claw his way on to the purple and gold's final, 53-man roster yet again.
3 key stats:
-- Yes, the Vikings didn't always look sharp in Saturday's early going, but the hosts still finished with 215 net yards of offense before halftime. Minnesota also had 17 first downs in the first half.
-- The Vikings picked off two passes, and also produced a pair of sacks. Minnesota's reserve defenders seemed to play with the most intensity. Third-year linebacker Michael Mauti, for example, looked like a man possessed in the game's final minute, when he flew into the backfield with fury and dropped Oakland QB Cody Fajardo with a blindside hit.
-- The Raiders committed 13 penalties for 106 yards. You can bet Oakland's former, renegade owner, the late Al Davis, would've been proud.
2 top performances:
-- Cornerback Josh Thomas, a 26-year-old Buffalo alum, faces long odds of making the Vikings' final roster. Still, Thomas did everything in his power to stand out against Oakland, recording a team-high six tackles. He also punctuated Minnesota's win by jumping a comeback route along the sideline for an interception near midfield, with 16 seconds left.
-- Fourth-year defensive end Justin Trattou was credited with three tackles, one sack and a tackle for loss. With 9:15 remaining in the third quarter, Trattou dropped Ponder for a narrow loss on a fourth-and-3 play.
1 big moment:
-- The Vikings' victory was all but secure with 3:35 left in the third, when reserve linebacker Brian Peters, a 26-year-old Northwestern product, picked off a low pass over the middle, at Oakland's 22 yard-line. Peters' subsequent, 21-yard return set up the game's final score, a 1-yard Blake Renaud scoring plunge.
Next: Saturday, Aug. 29 at Dallas Cowboys, 6 p.m.
Follow Kelly Beaton on Twitter