WATCH: Miesha Tate trashes Ronda Rousey following KO loss at UFC 193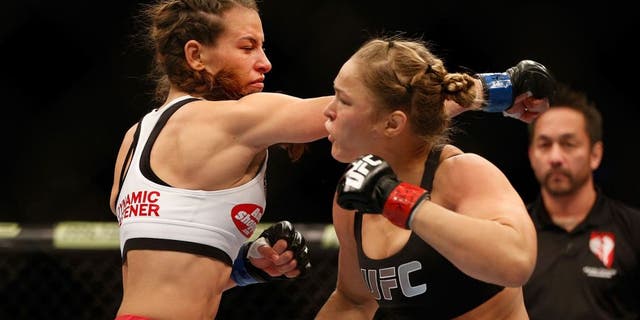 LAS VEGAS, NV - DECEMBER 28: (L-R) Miesha Tate punches Ronda Rousey in their UFC women's bantamweight championship bout during the UFC 168 event at the MGM Grand Garden Arena on December 28, 2013 in Las Vegas, Nevada. (Photo by Josh Hedges/Zuffa LLC/Zuffa LLC via Getty Images) *** Local Caption *** Ronda Rousey; Miesha Tate Josh Hedges/Zuffa LLC
It's no secret that Miesha Tate was never going to be Ronda Rousey's biggest fan, but following her knockout loss to Holly Holm on Saturday night, her long-reigning foe piled on after hosting a viewing party for the fight in Las Vegas.
Holm knocked Rousey out at 0:59 seconds into the second round with a vicious head kick.
"I'm f**king stoked," Tate said at the viewing party. "Honestly, f**k Ronda Rousey. F**k her and her nobody has the right to beat her -- well, you just got beat, b**ch."
(WARNING NSFW language in the video)
There's certainly no love lost between Tate and Rousey after the two bantamweight women became fierce rivals back in Strikeforce before even landing in the UFC.
Rousey defeated Tate to win the Strikeforce title and the disdain between the two of them only grew larger after they coached season 18 of "The Ultimate Fighter" against each other.
Tate then fell to Rousey a second time via armbar when they rematched at UFC 168 in 2013.
While Tate didn't have a kind word to say about Rousey following the fight, she paid a lot of respect to Holm, who is still undefeated in her career as well while now becoming only the second ever UFC women's bantamweight champion.
"I'm proud of Holly. She had the perfect, flawless game plan," Tate said. "She came in here tonight and she's the champion and I look forward to that fight because I think I'm next in line."
Arguably, Tate should have actually been in the fight that took place at UFC 193, but the unfortunate news for the top-ranked contender is that she'll probably have to wait even longer for her next shot at the title.
UFC president Dana White announced following the conclusion of the card from Australia that Rousey will likely receive an automatic rematch against Holm when she recovers from the injuries suffered in the knockout loss on Saturday night.