Venezuelan Unemployed Banker Dances His Way Into Alpine Skiing In Sochi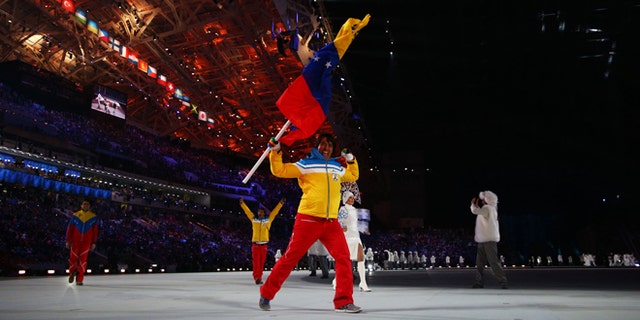 While Venezuela's lone winter Olympian, skier Antonio Pardo Andretta, may not be one of the favorites to stand atop the podium after next week's Giant Slalom race in Sochi, he certainly won the hearts of many fans during the opening ceremonies for his dance moves in the stadium.
Waving the yellow, blue and red flag of the Latin American nation, Pardo grooved around Fischt Olympic Stadium to the delight of spectators and fans watching at home. His entrance was even more memorable thanks to the confusion by the Olympic News Service over Pardo's background.
The service, using source material from the Venezuelan press, originally reported that Pardo had suffered a brain tumor at the age of eight, when doctors gave him only three months to live. Unfortunately for the Olympic News Service – and fortunately for Pardo – his story was confused with para-cross country skier Antonio Pardo Andrade.
The alpine skier Pardo's story, however, is just as interesting.
The 43-year-old self-described "unemployed" banker took up skiing recreationally in 1988 in St. Moritz, Switzerland, and only began racing in 2011 after losing his job when the stock market went haywire.
"Before I didn't have neither the time nor the resources, I had to work," he said, according to the Sports Review. "With the paralyzation of the stock markets I became unemployed, so I said to myself, 'This is the moment to fulfil my dream.'"
Pardo never thought he could make it to the Olympics until he met Hubertus von Hohenlohe, the 55-year-old Mexican-born prince and alpine skier, at the 2010 Vancouver Olympic Games.
"I had always skied recreationally until I met Hubertus in Vancouver," Pardo told the Associated Press in Spanish. "I could see the competition and I said, ' if they can do it, I can too.'"
Moving his home ski base to Argentina's Patagonia region – far away from the balmy climes of his home country – the Venezuelan skier began an intensive training program that he hoped would lead him to qualify for the Sochi games.
Just two weeks before the Sochi games began, Pardo got the news that he had qualified for the Olympic with the minimum of 140 points required by the International Ski Federation.
Pardo, who besides being only the fifth Venezuelan in the Winter games is also the head of Venezuela's ski federation, said that he knows he is a long shot for an Olympic medal, but he is proud to be part of the games.
"Being in the stadium, it was like a dream and I was very happy," Pardo, who was accompanied by his Argentine coach Lucas Comesaña said. "The joy I had inside overflowed."
Follow us on twitter.com/foxnewslatino
Like us at facebook.com/foxnewslatino