Upon further review: Packers at Panthers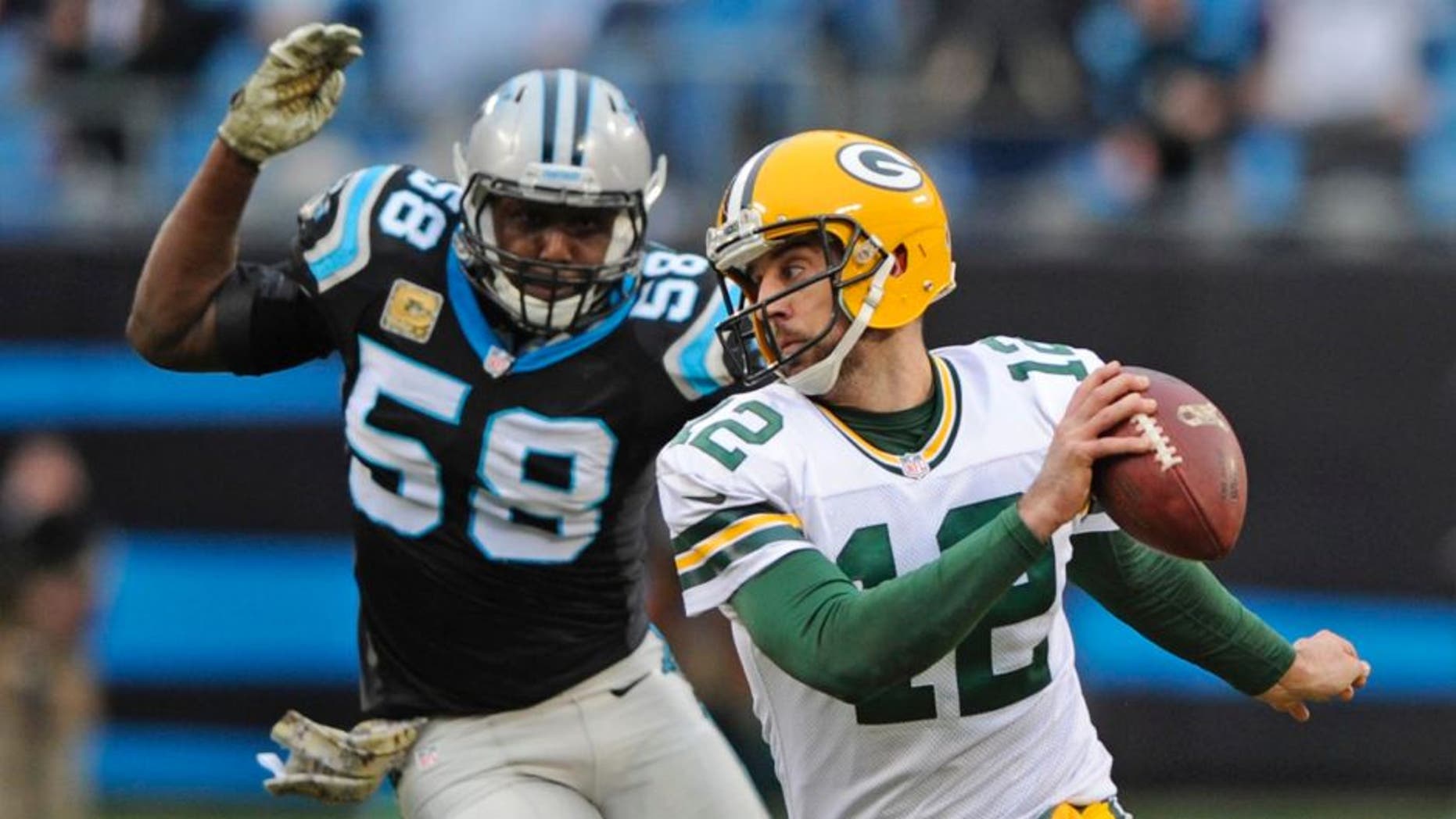 After having its offense rendered impotent in a loss to undefeated Denver, questions about Green Bay were plenty as it faced another unbeaten team on the road.
Early on, it seemed as though Carolina was going to give the Packers a repeat performance as the Panthers, using a big-play offense and relentless defense, led by 20 points at the half.
The Packers were down by 23 points with 9:22 left in the game and yet amazingly with two minutes to play had a chance to tie the game. That was thanks to, as usual, the play of Aaron Rodgers, who got Green Bay's offense finally untracked in the second half.
But it was little too late and the Packers fell to 6-2 and tie for first place in the NFC North while Carolina (8-0) got one step closer to the No. 1 seed in the NFL playoffs.
Here's a recap of Sunday's game:
SUNDAY SCHOOL
-- Head coach Mike McCarthy's patience with running back Eddie Lacy might be wearing thin. Lacy had only five carries on the day -- and just one (late in the third quarter) after he fumbled in the second quarter.
-- Green Bay used screen passes to get back in the game in the fourth quarter, throwing three on one drive to James Starks, Richard Rodgers and Starks again, the latter a touchdown. On the next scoring drive, which got the Packers within one score, a screen to Starks got the ball to the 3 before Aaron Rodgers hit Cobb in the end zone for a TD.
-- Big plays had a big impact. Carolina used passes of 59 yards to Jericho Cotchery and 52 yards to Devin Funchess to set up touchdowns and also had a 39-yard TD catch to Philly Brown. In addition, a 34-yard pass interference penalty set up yet another Panthers TD. Green Bay had 10 plays of 20+ yards -- after 0 such plays last week vs. Denver -- including a 53-yard pass from Rodgers to Randall Cobb.
-- McCarthy challenged a spot on a Cam Newton run and the replay overturned the call of a first down and forced Carolina to punt. It was just the fourth challenge for McCarthy this season -- two were in the same game vs. the Rams -- and he's won three of them. As head coach of the Packers, McCarthy has now challenged 79 calls and has had 39 overturned.
-- Green Bay drew up some good plays for Cobb. On his 3-yard touchdown, he was matched up 1-on-1 with a defensive lineman. Then at the tail end of the game he was wide open in the end zone -- but Aaron Rodgers couldn't get him the ball for the possibly tying score due to too much pressure which blew up the play.
-- This was the first time since 2010 that a Rodgers-led Packers team has lost back-to-back games.
DULY NOTED
-- The Packers converted just 3 of 14 third downs (21 percent), but were 2 of 3 on fourth downs.
-- After allowing over 500 yards in consecutive games, Carolina had "only" 427 yards.
-- A week after Denver shut down most throws to Green Bay's wide receivers, Cobb had 12 targets (four catches), Davante Adams 11 targets (seven catches) and James Jones six targets (2 catches).
-- Rookie linebacker Jake Ryan had 10 tackles (six solo). He entered the game with four tackles all season and no more than one in any game.
-- The game was in Carolina but there were a lot of Packers fans at the game. When fullback Aaron Ripkowski caught a pass, the Green Bay faithful chanted "Kuuuuuhhhhn!"
WHAT IT MEANT
There was a lot of talk about how Green Bay's chances for a top seed in the playoffs is now bleak, which is true. But there are bigger issues here. The Packers are now tied with Minnesota for first place in the division with two games yet to play against their rivals. Green Bay hasn't beaten a team which currently has a winning record and are 0-2 vs. those that do. Fortunately, the final eight games for the Packers will likely feature just three -- possibly four (depending on Oakland) teams with winning records.
PLAYER OF THE GAME
Despite being under pressure throughout the game, Aaron Rodgers kept Green Bay in the game despite falling behind early. He completed 25 of 48 passes for 369 yards with four touchdowns, including a beauty of a strike to Richard Rodgers in the first quarter after extending the play with his mobility.
DON'T FORGET ABOUT ME
With two cornerbacks out, rookie Damarious Randall was going to be tested. He came through with five tackles, two passes defensed and a clutch interception late in the game which gave the Packers a chance to tie the score.
THAT MOMENT
In a close game there are so many choice, but any chance for a decent attempt at tying the game Hail Mary was foiled when LaDarius Gunter was called for an unnecessary block in the back on Micah Hyde's punt return. Hyde had returned the ball to the Green Bay 45; a 55-yard heave certainly is in Rodgers' repertoire. But the penalty knocked the Packers back to their 21, which commenced a futile attempt of laterals after a short pass.
THIS NUMBER
14 -- the number of quarterback hurries Carolina's defense was credited with in Aaron Rodgers' 48 pass attempts. Add in the Panthers' five sacks and Rodgers felt the heat on 35.8 percent of his dropbacks (in contract, the Packers had no sacks and two QB hurries on Cam Newton, who had 30 pass attempts).
THEY SAID IT
"We had an opportunity for a pitch-and-catch touchdown, and I got scared by something. I can't explain. It was a mistake for me, and something I'll think about on the ride home. I don't know who was in my face; all I know is I had Randall (Cobb) wide open for a touchdown." -- Green Bay quarterback Aaron Rodgers
"We dug ourselves a big hole, but there's a lot of grit with our team. A lot of fight." -- Green Bay head coach Mike McCarthy
"I was just reading the formation and reading the ball . . . I just tried to create a spark for our team." -- Green Bay cornerback Damarious Randall on his fourth-quarter interception
"He is a first ballot Hall of Fame quarterback who doesn't quit." -- Carolina head coach Ron Rivera on Rodgers
WHAT'S NEXT
After a couple of road losses against undefeated teams, Green Bay (6-2) returns home to perhaps face the right team to help turn things around in the struggling Lions (1-7). Detroit hasn't beaten the Packers in the state of Wisconsin since 1991, a streak of 24 games (including playoffs).