Twins MLB mock draft roundup: The Wright decision?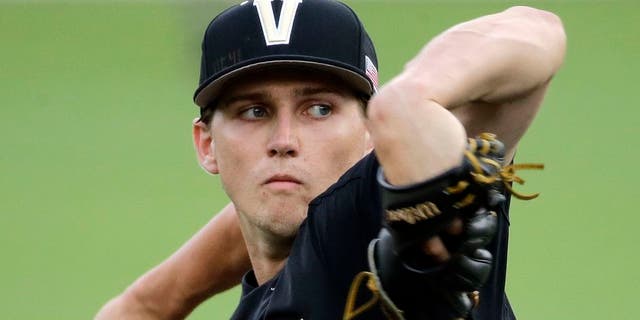 NEWYou can now listen to Fox News articles!
The 2017 Major League Baseball Draft gets underway June 12 with all eyes on the Minnesota Twins and who they will select with the No. 1 overall pick.
Of course, the draft is a lot more than the first round -- there are 40 rounds in all, with the Twins owning the top spot in each round plus a competitive balance pick at No. 35 overall.
But who Minnesota selects at No. 1 is the big question at the moment.
Most prognosticators think that Vanderbilt pitcher Kyle Wright will be taken by the Twins. But not everybody. There is certainly an air of mystery and the unknown as we head towards Monday's first round.
There have been some changes since we last did a mock draft roundup. But the top names remain.
With the draft closing in, here's one final look at mock draft picks from analysts around the web. If we included them in our previous roundup we've also added the pick they had predicted back then.
Jim Callis of MLB.com (June 9): Kyle Wright, RHP, Vanderbilt. "Both Wright and [Brendan] McKay will pitch this weekend in NCAA super-regionals, though their performance won't really affect Minnesota's decision. The Twins are much more likely to go with one of the collegians -- they'd take McKay as a pitcher -- than one of the high schoolers." Previously: Brendan McKay, 1B/LHP, Louisville. UPDATE: But wait! Callis provided more info later and now thinks McKay is the pick for Minnesota. He writes: "Though the teams selecting behind the Twins think they're leaning toward Vanderbilt right-hander Kyle Wright, I started hearing whispers Thursday night that Minnesota prefers Louisville two-way star Brendan McKay. That noise is getting louder Friday, and I now believe the Twins will take McKay No. 1, as a left-handed pitcher rather than a first baseman, unless California high school righty Hunter Greene overwhelms them in his visit to Target Field on Friday afternoon."
John Manuel of Baseball America (June 9): Kyle Wright, RHP, Vanderbilt. "The industry consensus at the top of the draft remains that [Hunter] Greene has the highest ceiling. Falvey said his club will not shy away from Greene just because a prep righthander has never gone No. 1 overall. 'I do believe in evidence,' he said. 'Its likely that . . . there has been some rationale for that. Lets figure out why it applies, or does not apply, in this case . . . rather than make a blanket statement.' Most industry sources still expect the Twins not to take Greene, with their choice coming down to Wright and McKay." Previously: Wright.; Supplemental pick: Brent Rooker, 1B, Mississippi State.
Ryan Fagan of The Sporting News (June 9): Kyle Wright, RHP, Vanderbilt. "At this point, Wright going with the top pick seems to be the consensus for most of the draft evaluators out there Baseball Americas John Manuel, MLB.com (both Jim Callis and Jonathan Mayo) and ESPNs Keith Law all have him there in their most recent mocks. Wrights a tall right-hander starring at a powerhouse college program with a mid-90s fastball and hard curveball; thats about as sure of a thing as the MLB Draft ever offers."
Frankie Piliere of D1baseball.com (June 9): Kyle Wright, RHP, Vanderbilt. "When we first put Kyle Wright with the Twins, it seemed like more of a longshot. Now there is a consensus growing that this is the direction they appear to be headed. Price tag will matter, and theyre still considering the likes of Hunter Greene and Brendan McKay as well." Previously: Wright.
Matt Axisa of CBSSports.com (June 8): Kyle Wright, RHP, Vanderbilt. "Wright has the best combination of upside and probability in the draft class, which is why the expectation is he winds up with Minnesota. He has now stuff in his mid-90 fastballs and knuckle-buckling curveball, and he has a big-league body at 6-foot-4 and 220 pounds. Wright has a chance to be a top-of-the-rotation starter, but is also very likely to carve out a big league career in some capacity (mid-rotation starter, high-leverage reliever, etc.), as long as he stays healthy."
Ryan Phillips of The Big Lead (June 7): Kyle Wright, RHP, Vanderbilt. "The Twins could go a number of ways here, but the winds seem to be blowing in the direction of Vanderbilt righty Kyle Wright. Wright has the highest ceiling of the college pitchers in the draft and has been on fire lately. That could give him the edge over two-way standouts Brendan McKay and Hunter Greene."
Eric Longenhagen of Fangraphs (June 5): Kyle Wright, RHP, Vanderbilt. "It sounds like Louisville LHP/1B Brendan McKay is also under heavy consideration here and that Minnesota would evaluate him both ways in pro ball for a while. Hunter Greene and MacKenzie Gore are dark horses but less likely than the Wright or McKay."
Jeff Ellis of Scout.com (June 4): Hunter Greene, RHP, Notre Dame HS (Calif.). "I know everyone and their mother has Wright here. I can see it, but only if Greenes asking price is super high. The view on the top pick is that, with the money saved, you can get another first round talent or even two later. If Greenes price is too high, then it might be a three for one, though. Otherwise, Greene is exactly what the Indians and Rangers have targeted in drafts and the Twins are run by guys from the Indians and Rangers." Previously: Greene.
Perfect Game scouting staff (June 2): Brendan McKay, LHP/1B, Louisville. "At this point the Twins are being linked to three players most heavily, in McKay, Hunter Greene, and Kyle Wright; with a little buzz surrounding other names like Virginia's Pavin Smith. This pick is likely not going to be decided for awhile yet, so for now the Twins go with McKay, a relatively safe mid-rotation starter, who might hit as well." Previously: Hunter Greene, RHP, Notre Dame HS (Calif.).
Jonathan Mayo of MLB.com (June 1): Kyle Wright, RHP, Vanderbilt. "The Twins continue to look at a number of candidates, with Wright seeming to be the front-runner among those handicapping from behind. Hunter Greene, Brendan McKay, Royce Lewis, MacKenzie Gore and Pavin Smith are all still in the conversation." Previously: Hunter Greene, RHP, Notre Dame HS (Calif.).
Keith Law of ESPN.com Insider (June 1): Kyle Wright, RHP, Vanderbilt. "Ive heard that the Twins are in on at least four players at No. 1, including Brendan McKay (as a bat or a two-way guy but not just as a pitcher), Mackenzie Gore and Hunter Greene, but the current betting in the industry is that they will take Wright as the prospect with the best combination of floor and ceiling." Previously: Brendan McKay, 1B/LHP, Louisville.
MyMLBDraft.com (May 29): Brendan McKay, 1B/LHP, Louisville. Previously: McKay.
Dave Heller is the author of Ken Williams: A Slugger in Ruth's Shadow, Facing Ted Williams -- Players From the Golden Age of Baseball Recall the Greatest Hitter Who Ever Lived and As Good As It Got: The 1944 St. Louis Browns