TRUCKS: Buescher Lights Up One Hot Night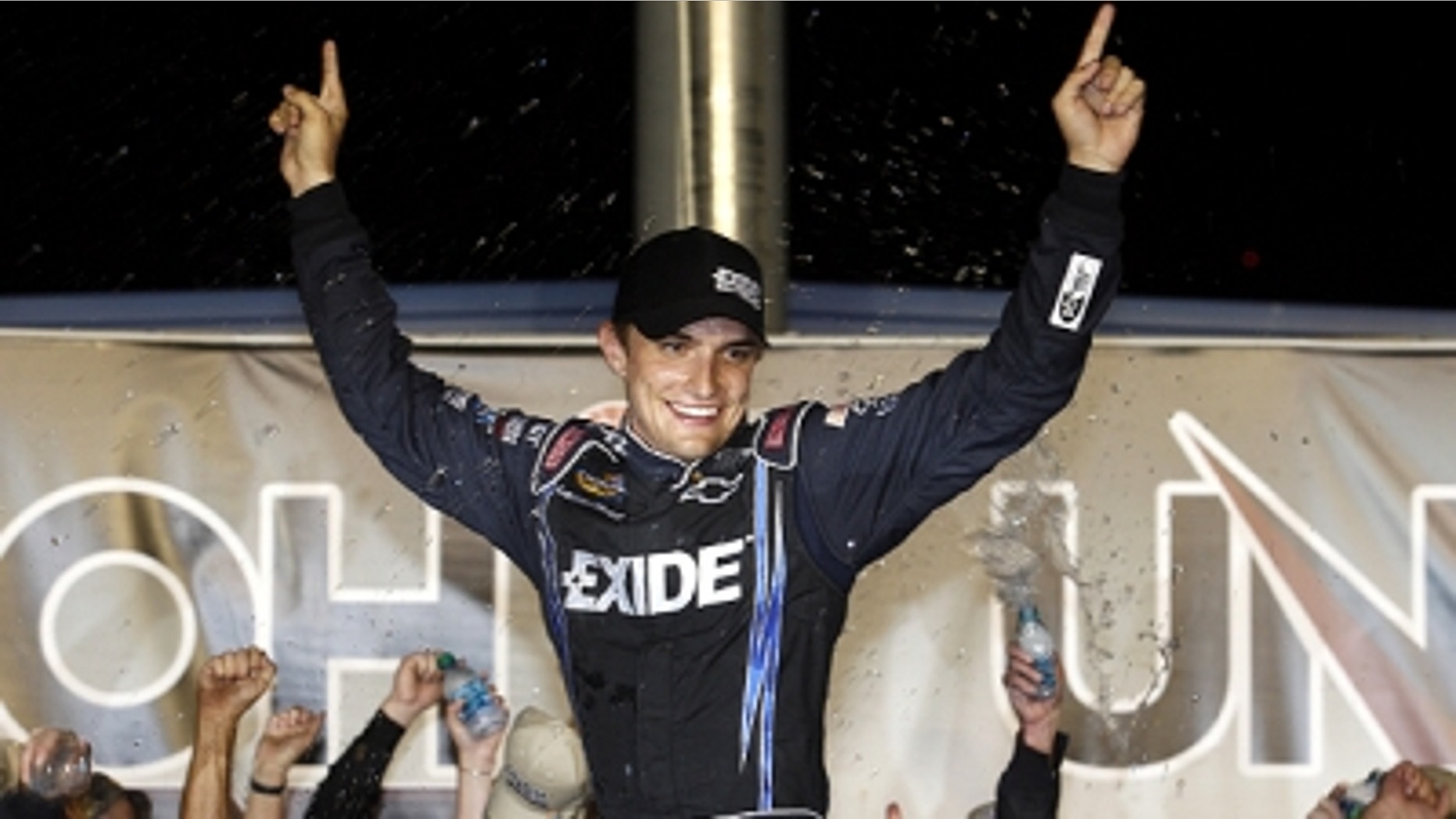 James Buescher prevailed over both his rivals and steaming hot southern weather to win Thursday night's UNOH 225 NASCAR Camping World Truck Series race at Kentucky Speedway.
Buescher dominated the second half of the race in his No. 31 Turner Motorsports Chevrolet Silverado to become the first two-time winner in eight Truck Series races this season. In 80 career series starts, both of Buescher's victories have come this season.
"Hats off to everybody on this Turner Motorsports team," said Buescher. " ... Happy to close off the deal today. The closing laps of the race, I kept thinking what was going to go wrong because it normally does."
But not tonight. Buescher was virtually perfect, running away from the field to score an easy victory. All told, he led 119 of 150 laps.
Brad Keselowski finished second in his No. 19 Ram, prevailing in a tight three-way battle over Ty Dillon in the No. 3 Richard Childress Racing Chevrolet, and Matt Crafton. Timothy Peters completed the top five and now leads Justin Lofton by 4 points in the series standings.
"It was a good fight to get second, but not good enough to get the job done," said Keselowski, who scored his best career finish in a truck at Kentucky.
"I'm really happy to come out with a good finish," said Dillon.
Crafton started from the pole in No. 88 ThorSport Racing Toyota and held the early lead, with teammate Johnny Sauter quickly advancing to second place.
Crafton led the first 18 laps, until a caution for Jon Wes Townley's crash sent the field down pit road for gas only, with Sauter taking the lead and dropping Crafton briefly to second.
But Crafton took the lead on the restart, only to see two-time series champ Todd Bodine spin in Turn 3 to bring out a second caution on Lap 23.
The green waved on Lap 27, but Crafton got hung out as the field went four-wide with Buescher and Justin Lofton going to the front. Jake Crum then wadded his truck up in Turn 2 sending the track yellow for a third time by Lap 29.
Buescher was still out front when Jeff Agnew crashed in Turn 3 on Lap 61 to bring out the fourth caution.
Then, chaos. On Lap 69, Bodine tried to dive under points leader Justin Lofton going into Turn 1, the two trucks going around and taking Nelson Piquet Jr. out with them.
The track went green on Lap 77, just past halfway, with Buescher holding point and Joey Coulter moving into second.
At the Lap-100 mark, Buescher's lead was 1.421 seconds over Coulter, with Crafton third, 2.085 seconds in arrears.
Tim George hit the Turn 2 wall on Lap 103, sending the leaders down pit road for what was expected to be their final stop of the night.
Under caution, Ty Dillon and Timothy Peters gambled on two tires each, emerging out front of Buescher, Jason Leffler, Coulter, Brad Keselowski and Crafton.
The race restarted on Lap 107, with Buescher ducking under Dillon on the backstretch to take the lead once again. Seconds later, rookie Kyle Larson got loose on the bottom of Turn 2 and drifted up the hill into Cale Gale, who went around into the wall, taking Parker Kligerman with him.
Buescher was out front when the green flew on Lap 115 and from then on, the race was to see who would finish second.
At Lap 135, Buescher's lead was 2.542 seconds and he cruised to an easy victory, the final margin being 3.805 seconds.
Tom Jensen is the Editor in Chief of SPEED.com, Senior NASCAR Editor at RACER and a contributing Editor for TruckSeries.com. You can follow him online at twitter.com/tomjensen100.