Tim Tebow reportedly takes legal action against maker of 'MY Jesus' T-shirts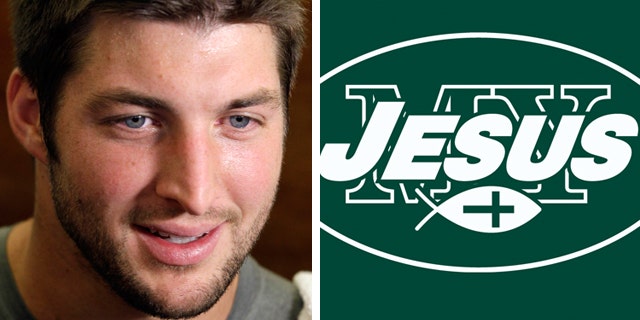 NEW YORK – Jets backup quarterback Tim Tebow is taking legal action against a company selling T-shirts featuring the words "MY Jesus" in a design similar to the "NY Jets" logo, TMZ reported Wednesday, citing a cease-and-desist letter from his lawyers.
In a letter sent last month, lawyers for Tebow demanded that Cubby Tees stop selling the T-shirts -- which the company admits were produced to reference Tebow's strong Christian faith -- because they give the impression their client endorses the product.
Cubby Tees bosses told TMZ they will not back down, saying the T-shirt design "shares nothing with Mr. Tebow except for promotion of a common Lord and Savior."
On its website, the company says the T-shirt's "fun design is not officially endorsed by New York's backup quarterback or the Son of God, but plays off the themes of Tebow's faith and his new team -- borrowing from the J-E-T-S to promote J-E-S-U-S, with a fish for a football, and "MY" replacing "NY" with a color scheme that will be familiar to Jets fans."
The T-shirts are still for sale on the company's website.