Tickets from Lions fan who made racist post donated to charity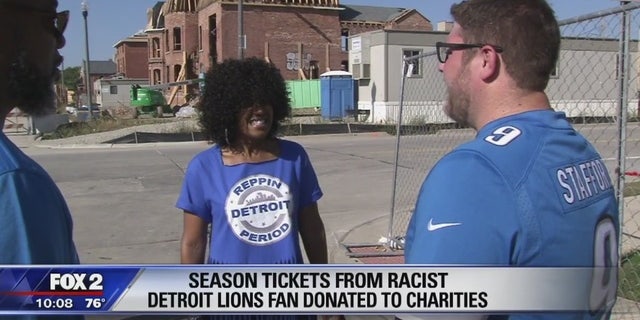 One Detroit man is taking action to spread positivity instead of hate, after a fellow Lions fan was shown in a racist post on social media that went viral.
Lions fan and season ticketholder Stacey Graham decided to sit during the national anthem of the season opener. But she was soon made the subject of a viral racist post, when a Pontiac businessman made a Snapchat photo of her and captioning it with a racial slur, Fox 2 Detroit reported.
Many people were disturbed by the post, including the Lions team, who revoked the man's season tickets and banned him from future games.
Andy Morse, a fellow Lions fan, was particularly upset by the situation and felt inclined to take action.
"When I saw that occur, I kind of felt that I needed to help somehow," Morse said. "I wanted to do something."
After contacting the Lions, Morse purchased the season tickets and decided to donate them to a different charity each week. He also wanted to let Graham know his plan to help.
"I wanted to reach out to Stacey and tell her what we were doing," Morse said. "Let her know the tickets would go to a good cause and that out of all this bad stuff, some good can come out as well."
Stacey Graham was overwhelmed by his act of kindness.
"Tears of joy, tears of joy when I found out he purchased the tickets, and is giving them away to charity," Graham said.
Graham contacted Morse to thank him for his kind actions and invite him to her tailgate. The two fans connected before the game to share team spirit and positivity. They were thrilled to see something so hurtful and negative become something so good.
"This is incredible," Graham said. "You can give back love, and tolerance is really what it is really all about. So I probably will never get an apology, but this is awesome."
This week Morse will be donating the tickets to Alternative for Girls, a nonprofit organization that empowers homeless and high-risk girls to avoid teen pregnancy, violence and exploitation.