The Celtics crushed the Wizards in Game 5 as quite a few Patriots cheered them on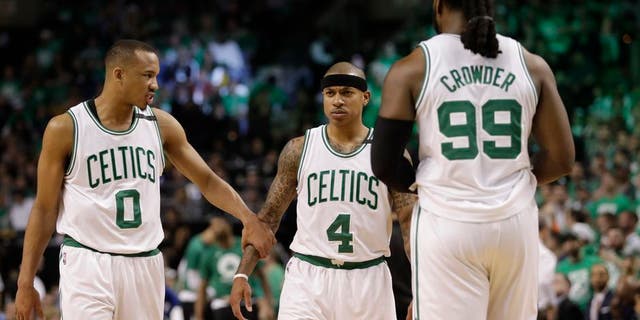 On any night that you limit Isaiah Thomas to just 18 points on 5-for-13 shooting, you have to feel pretty good about your chances.
Yet thanks to big games from Avery Bradley (29 points, including 21 in the first half) and Al Horford (19 points, six rebounds, seven assists), the Boston Celtics destroyed the Washington Wizards 123-101in Game 5 to seize a 3-2 series advantage.
The home team has won all five games in this series, as each team's role players have dominated in their own building and fallen apart on the road. With John Wall having his first sub-par game of the postseason (21 points, four assists) and no one else on the Wizards roster up to the challenge, Washington was never in this game. The Celtics claimed a 33-21 first quarter lead and never trailed after first falling behind 4-0 to start the game.
The Celtics put on a show in front of quite a few members of the defending Super Bowl champion New England Patriots, who were seated courtside along with a smiling Bill Belichick and owner Robert Kraft.
Boston fans were in rare form on Wednesday night, as they ruthlessly taunted and booed Washington's Kelly Oubre, who was suspended for Game 4 after a Game 3 altercation with Boston's Kelly Olynyk. The chants took a vulgar turn late in the game with Boston ahead by 20-plus points ( link NSFW).
And because he's one of the best point guards in the NBA, Thomas managed to make an impact on the game in the fourth quarter, even if it was only adding insult to injury as he tore through the Wizards defense for a tough layup:
The series now heads back to Washington for Game 6 on Friday at 8:00 PM ET on ESPN.