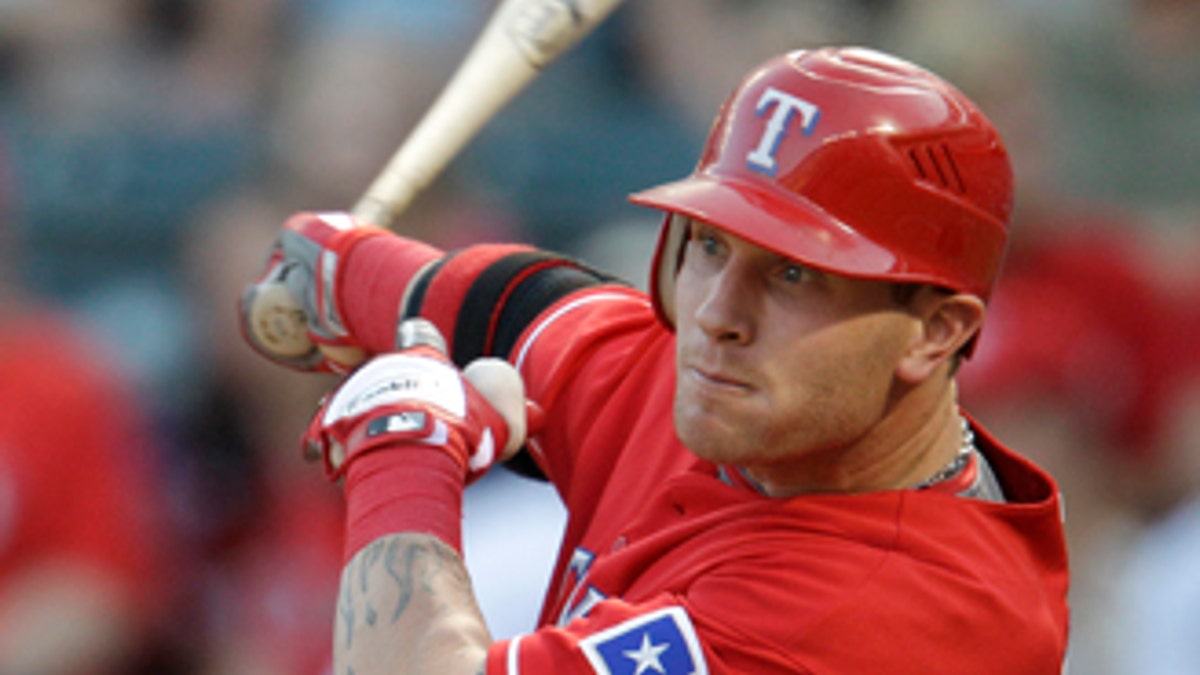 NEW YORK -- Texas outfielder Josh Hamilton was a runaway winner of the American League's Most Valuable Player award.
Hamilton received 22 first-place votes and 358 points in voting announced Tuesday by the Baseball Writers' Association of America.
Hamilton overcame eight trips to rehabilitation for drug and alcohol addiction to lead the major leagues in batting average (.359) and slugging percentage (.633) and help the Rangers reach their first World Series. He had 32 homers and 100 RBIs despite missing time nearly all of September because of two broken ribs.
"I would say a 99 percent chance that this would never happen," Hamilton said, chuckling. "I mean, honestly, I think a lot of people would agree with that."
After going on the disabled list in 2001 while in the minor leagues, he became addicted to alcohol and cocaine. He didn't play from 2003-05.
"I do reflect. If I didn't reflect, 'I' might start sneaking in there, a little ego might start sneaking in there, and that's one thing I don't want to happen," Hamilton said. "So I do reflect and I think about where I was at my lowest time."
His story has inspired his teammates.
"It's awesome, everybody makes mistakes in their lives and everybody deserves a second chance," Rangers teammate David Murphy said before voting was announced. "A lot of people don't take advantage of that second chance. But he took it and he ran with it."
After voting was concluded, Hamilton was selected MVP of the AL championship series win over the Yankees. Overall, he hit .190 in the postseason with five homers and nine RBIs
"There were other guys around the league who had great years, but seeing Josh, what he was able to do, it's pretty impressive," teammate Michael Young said. "You don't see guys go three-month stretches where they hit .400, it's just too difficult to do."
Hamilton is the sixth Rangers MVP, following Jeff Burroughs (1974), Juan Gonzalez (1996, 1998), Ivan Rodriguez (1999) and Alex Rodriguez (2003).
Cincinnati's Joey Votto was voted NL MVP on Monday. Votto and Hamilton were together on the Reds in 2007.
"He was just what everybody expected him to be," Hamilton said. "I knew he was a great player and knew what he was capable of, and he showed people this year exactly that."
Selected by Tampa Bay with the top pick in the 1999 amateur draft, Hamilton didn't make an impact in the majors until 2008, when he won the All-Star Home Run Derby at Yankee Stadium and led the AL with 130 RBIs.
Injuries limited Hamilton to 89 games the following year, when he hit .268 with 10 homers and 54 RBIs.
Detroit's Miguel Cabrera was second with five first-place votes and 262 points after leading the AL with 126 RBIs and a .420 on-base percentage. The Yankees' Robinson Cano was next with 229 points.
Toronto's Jose Bautista, who led the major leagues with 54 home runs, had the remaining first-place vote and 165 points.
Bob Dutton of The Kansas City Star, Tom Gage of The Detroit News, Scot Gregor of The (Arlington Heights) Daily Herald, Jim Ingraham of The Port Clinton News-Herald and Steve Kornacki of Booth Newspapers voted Cabrera first. Shi Davidi of The Canadian Press cast the first-place vote for Bautista.
Hamilton receives a $100,000 bonus, Cabrera $200,000 and Paul Konerko of the Chicago White Sox $60,000 for finishing fifth. Tampa Bay's Evan Longoria was sixth, followed by teammate Carl Crawford, and each gets $25,000.