Texans star WR Hopkins wants to spend whole career with team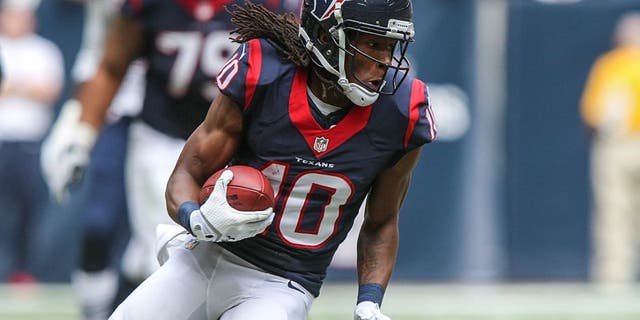 Houston Texans wide receiver DeAndre Hopkins is making it clear he has no desire to leave the franchise.
"If I can play my whole career here, I would," Hopkins told the Houston Chronicle. "I love this place. This organization took a chance on drafting me. You have to look at that."
Hopkins is coming off a sensational third NFL season, setting career highs across the board with 111 receptions, 1,521 yards and 11 touchdowns passes despite a quarterback situation that was unsettled at best.
The Texans can guarantee Hopkins remains with the team for at least two more seasons by exercising a fifth-year option on his four-year rookie season. While that's a mere formality, it's likely the organization will try to sign Hopkins to a long-term pact.
Hopkins switched agents and recently signed with Creative Artists Agency, which has negotiated pricey contracts for top wideouts Julio Jones, Dez Bryant and Demaryius Thomas - each of which included at least $43.5 million guaranteed.
"I love this place," said Hopkins, the No. 27 overall pick in the 2013 draft. "I love this organization. I love the fans here. I'll never forget after we went 2-14 (in 2013), I don't recall too many fans bailing out on us. It speaks a lot about this city and who they are."