St John's names Rick Pitino as head coach days after losing with Iona in March Madness
It was rumored for quite a while that Pitino was interested in Red Storm's vacancy
Just days after losing in the First Round of March Madness, Rick Pitino is heading to St. John's University to become its next head basketball coach.
Pitino, a Naismith Memorial Basketball Hall of Famer, reportedly had discussions with the university after his Iona Gaels squad fell to the UConn Huskies in the NCAA Tournament. It was made official on Monday.
"One of my great coaching memories was having the distinct privilege of coaching against Lou Carnesecca and St. John's, a Hall of Fame coach and historic program that I have always respected," said Pitino in an official statement by St. John's on the hire. "It is surreal to now have this opportunity to bring St. John's back to prominence. I'm honored, humbled and grateful to Fr. Shanley, Bill Janetschek and Mike Cragg for making me feel so special."
CLICK HERE FOR MORE SPORTS COVERAGE ON FOXNEWS.COM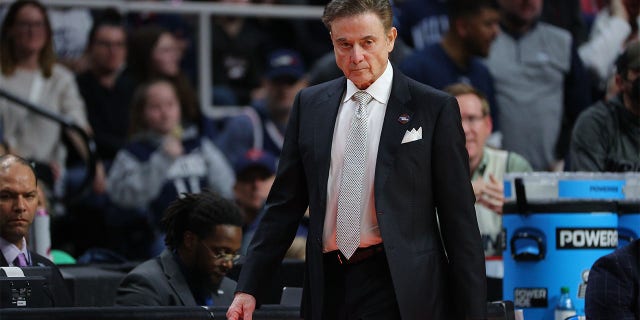 Pitino, 70, replaces Mike Anderson as head coach, who was fired following four seasons with a mediocre record 68-56 in 124 games. The New York Post reported that Pitino broke the news to his Iona players on Sunday after St. John's offered him the role.
The Post adds that St. John's location close to his Mamaroneck, New York, home was a key factor as well as playing in Madison Square Garden. Pitino was the New York Knicks' head coach from 1987 to 1989 before heading back to college with the Kentucky Wildcats.
RICK PITINO UNSURE OF COACHING FUTURE AFTER IONA BOUNCED FROM NCAA TOURNAMENT IN FIRST ROUND
Pitino has been with Iona for the past three seasons, and after a 12-6 campaign in 2020-2021, his Gaels went 25-8 and 27-8, respectively. Both of those teams won the regular season championship, but this year's Iona squad won the MAAC Tournament to become a 13 seed in the NCAA Tournament.
Despite a hard-fought game against UConn, they lost 87-63 on Friday. It was there where Pitino was asked about his coaching future as the rumors regarding St. John's came before the First Round.
"I really don't have an answer to it, to be honest with you," Pitino said. "I have no idea if it is or isn't because I've focused everything on this game, trying to develop a plan to beat Connecticut."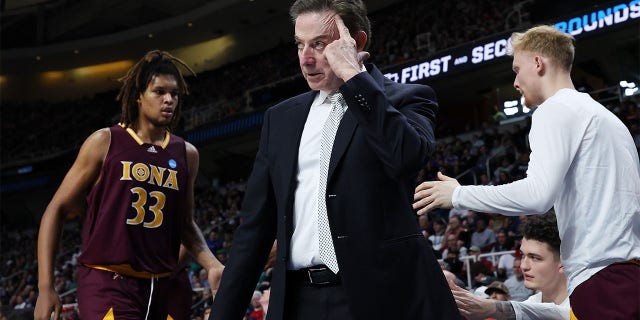 Pitino has 35 years of experience as a collegiate head coach, taking three different programs to the Final Four in the process. Kentucky was one of them as well as Louisville and Providence.
Having coached with Louisville and Providence, Pitino is aware of how competitive Big East basketball can be, which is why the Red Storm is happy he agreed to lead their team next season and beyond.
KENTUCKY UNAWARE 16-SEED FAIRLEIGH DICKINSON BEAT PURDUE DESPITE GAME ON JUMBOTRON: 'NONE OF US KNEW THAT'
"I am delighted to welcome Rick Pitino and his family to the St. John's family," said St. John's University President the Rev. Brian J. Shanley in a statement. "I am excited that this seasoned coaching veteran — who has won at the highest levels and is as passionate as ever — is committed to leading our student-athletes and our program to national prominence. Rick knows BIG EAST basketball and is determined to take and keep the Red Storm program where we know it belongs."
Pitino was inducted into the Basketball Hall of Fame in 2013.
Pitino will be tasked with getting better recruits in the building to play his fast-paced style on the court that has seen success over the years.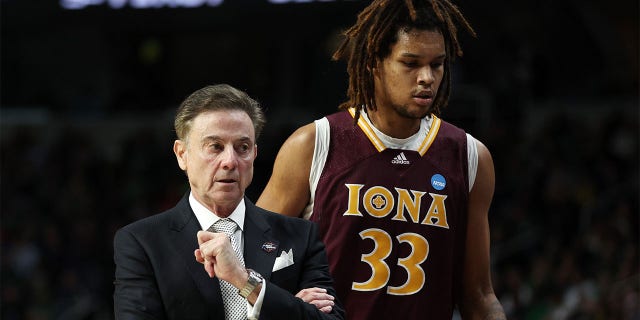 CLICK HERE TO GET THE FOX NEWS APP
St. John's has not made it to the NCAA Tournament since the 2018-2019 season, when they lost in the First Four.
Fox News' Joe Morgan contributed to this report.