Spanish cyclist Joaquim Rodriguez will retire this year, ending 17-year career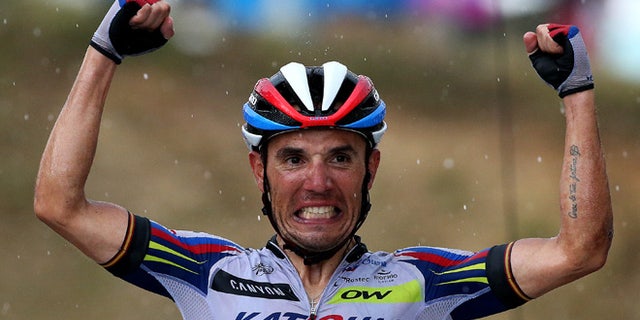 ANDORRA LA VIELLA, Andorra (AP) – Spanish cyclist Joaquim Rodriguez will retire at the end of this season, ending a 17-year career marked by podium finishes at all three Grands Tours.
Rodriguez made the announcement on Monday during a rest day in the Tour de France at a news conference organized by his Katusha team.
"I still enjoy this sport so much but I am 37 years old," Rodriguez said in Andorra, where he has been living and training for many years. "One day, I will have to stop anyway and I prefer to do this when I am still riding at a high level."
Nicknamed "Purito," or Small Cigar in Spanish, Rodriguez was fifth overall after the first week of the Tour, just 37 seconds behind race leader Chris Froome.
"I will give my maximum like I did my whole career," Rodriguez said. "I would be happy to finish my Tour career in top 10, but of course I still dream of another podium in Paris."
His best results in the Grand Tours were second in the Giro d'Italia (2012) and Spanish Vuelta (2015), and third in the Tour (2013) and Vuelta (2010, '12).
He also won the Tour of Lombardy twice as well as the Fleche Wallonne classic, and ended the season at the top of the UCI rankings three times.
Rodriguez is expected to enter the Rio de Janeiro Olympics road race next month.
''For the moment, I have no idea what will be my last race," he said. "In theory, Rio and the Spanish Vuelta are still on my program."
Like us on Facebook
Follow us on Twitter & Instagram