Soccer Roundup: Chicharito's Brace-ing Return; Sergio Aguero and Carlos Tevez; and Memo Ochoa's 7 Saves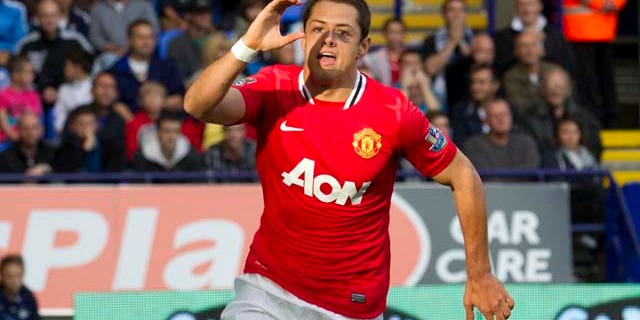 In his first official start for Manchester United since that concussion at the end of July, Javier Hernández demonstrated he had lost nothing off of his scoring touch in the 5-0 English Premier League victory over Bolton this past weekend.
Chicharito struck twice for the EPL champions, but it turned out he was not the star of the show. Wayne Rooney was, as the English National Team player fired home a hat-trick, becoming the first United player to record consecutive hat-tricks Alex Dawson in 1960.
Rooney and Hernández have given United an imposing one-two punch in one of the best leagues in the world.
"It was excellent, the movement and pace they play at was just fantastic," ManU manager Sir Alex Ferguson said of the Rooney-Hernández partnership.
Chicharito had missed six weeks of action since a ball hit him in the head during a United practice prior to the Major League Soccer all-star game in Harrison, N.J., in late July.
So getting back onto the field was the perfect tonic for the 23-year-old superstar.
"Scoring goals gives you confidence," Hernández told MUTV. "But like I say, the most important thing for me was to play 90 minutes and to win. For almost two months I was out, so my goal is to keep working for the team and to help the team get the win."
Hernández gave United all the scoring it needed in the fifth minute. Rooney found Nani on the right flank and the Portuguese crossed into the six-yard box where Hernández beat goalkeeper Jussi Jaaskelainen at the near post. He added his second goal in the 58th minute.
"He's a menace to any defender," Ferguson said. "If you look at his first goal, his movement and speed to get across in front of the defender was absolutely first class. Over the years you've always said that [players can struggle] if they have a good first year and they're young, but I expected what I saw today."
United has bolted out to a 4-0 start, outscoring its opposition by an amazing 18-3 margin.
"There is a lot of excitement about this team. Everyone knows about Bolton but we played very well. We created chances and scored goals," Hernández said. "Scoring early settled us down. Once you are up in front, the other team needs to go towards your goal. Then you can start to attack more."
Sergio Aguero and Carlos Tévez
Crosstown rival Manchester City has matched United to it 4-0 start of the EPL season with a 3-0 victory over Wigan. Aguero, an Argentine international and the son-in-law of the great Diego Maradona, connected for a hat-trick. City extended its home unbeaten streak to 18 games.
Aguero has scored five goals in two home games since he joined the club from Atletico Madrid (Spain) in a $60 million transfer last month.
"Sergio played very well but so too did all my players," City manager Roberto Mancini said. "I enjoy watching it because I like it when we play football very well."
Tévez did not score in his first start since he was striped of his captaincy, but Mancini expected the Argentine international to blossom in the coming weeks.
"It was important that Carlos played and I thought he did well and linked well with Sergio Aguero," Mancini said. "I think it may be two or three games before we see the best of him.
The Mexican international goalkeeper made seven saves in AC Ajaccio's first French Ligue 1 victory a 3-1 win over Valenciennes FC. While it is early in the season, Ajaccio (1-2-2) moved out of the relegation zone and into 15th place. As well as Ochoa played, he wasn't perfect as Gael Danic solved him in the 36th minute.
Guardado's skills and versatility were on display in Deportivo La Coruña's 3-2 win over Barcelona B in the Spanish Second Division. The Mexican international midfielder struck with a spectacular volley that gave the visitors a 3-1 advantage in the 35th minute, four minutes after setting up Coruña's second goal. Because left fullback Ayoze was forced from the game with a sprained ankle in the 40th minute, midfielder Saul replaced him. But since Coruña did not have any flank defenders, Guardado played the rest of the match on defense.
Jonathan dos Santos
Another Mexican international, dos Santos, started and played the 90 minute for Barca B, but did not figure in the scoring, although hen took his team's first shot in the 22nd minute.
Héctor Mancilla
Chilean Héctor Mancilla struck for a hat-trick to power undefeated Tigres UANL to a 5-0 romp over Pachuca. Tigres (16 points) trails Chivas Guadalajara (17) by a point. Tigres rolled to a 3-0 halftime advantage. Manchilla's six goals shares the league scoring lead with Santos Laguna's Rafael Figueroa.
The Paraguayan striker converted two penalty kicks and missed another a third as Benfica recorded a 2-1 home victory over Vitoria Guimaraes in Portugal. Benfica (12) trails defending league champion Porto (10) by two points.
James Rodríguez and Fernando Belluschi
Rodríguez, a Colombian Under-20 international, and Belluschi, an Argentinean, scored goals for Porto in its 3-0 triumph over Vitoria Setubal.
Alvaro Saborio
It was one strange goal scored by Costa Rican international striker Alvaro Saborio, but then again Real Salt Lake coach Jason Kreis wasn't about to give it back, especially after it proved to be the game-winner in his team's 2-1 win over the Seattle Sounders FC in Seattle.
Saborio struck in the 56th minute. Fabian Espíndola's sent a cross to the Costa Rican, who fired his shot into a pair of defenders before smacking the rebound past goalkeeper Kasey Keller and inside the left post to snap a 1-1 tie.
"It was a strange goal," Kreis said. "At first I thought it went towards the side of the goal. I really don't know what happened. Saborio was trying to cross it but it just ended up in the back of the net.
Saborio also was involved in a play that led to the dismissal of Seattle defender Jhon Kennedy Hurtado, who received a straight red card for making contact with Saborio's face in the 39th minute. That infraction came four minutes after RSL's Tony Beltran received his marching orders, forcing both teams to play with 10 men the rest of the match.
Carlo Costly
Honduran international midfielder Carlo Costly was red-carded in the 64th minute of the Houston Dynamo's 3-0 loss at Sporting Kansas City for a late tackle on Chance Myers. At the time, Kansas City was winning, 1-0, and the hosts took advantage of the extra man and space to score two more goals. It also meant that Costly will sit out the Dynamo's next game at the Columbus Crew on Wednesday.
"Yes, it was tough," Houston coach Dominic Kinnear said. "One to zero, I thought we were playing pretty well and it just changed the game."
Besides the ejection, Costly had a frustrating game with three near misses, including a shot that banged off the post in the first half.
Michael Lewis, who has covered international soccer for three decades, can be reached at SoccerWriter516@aol.com.
Follow us on twitter.com/foxnewslatino
Like us at facebook.com/foxnewslatino