Smith's tally keeps Hawks alive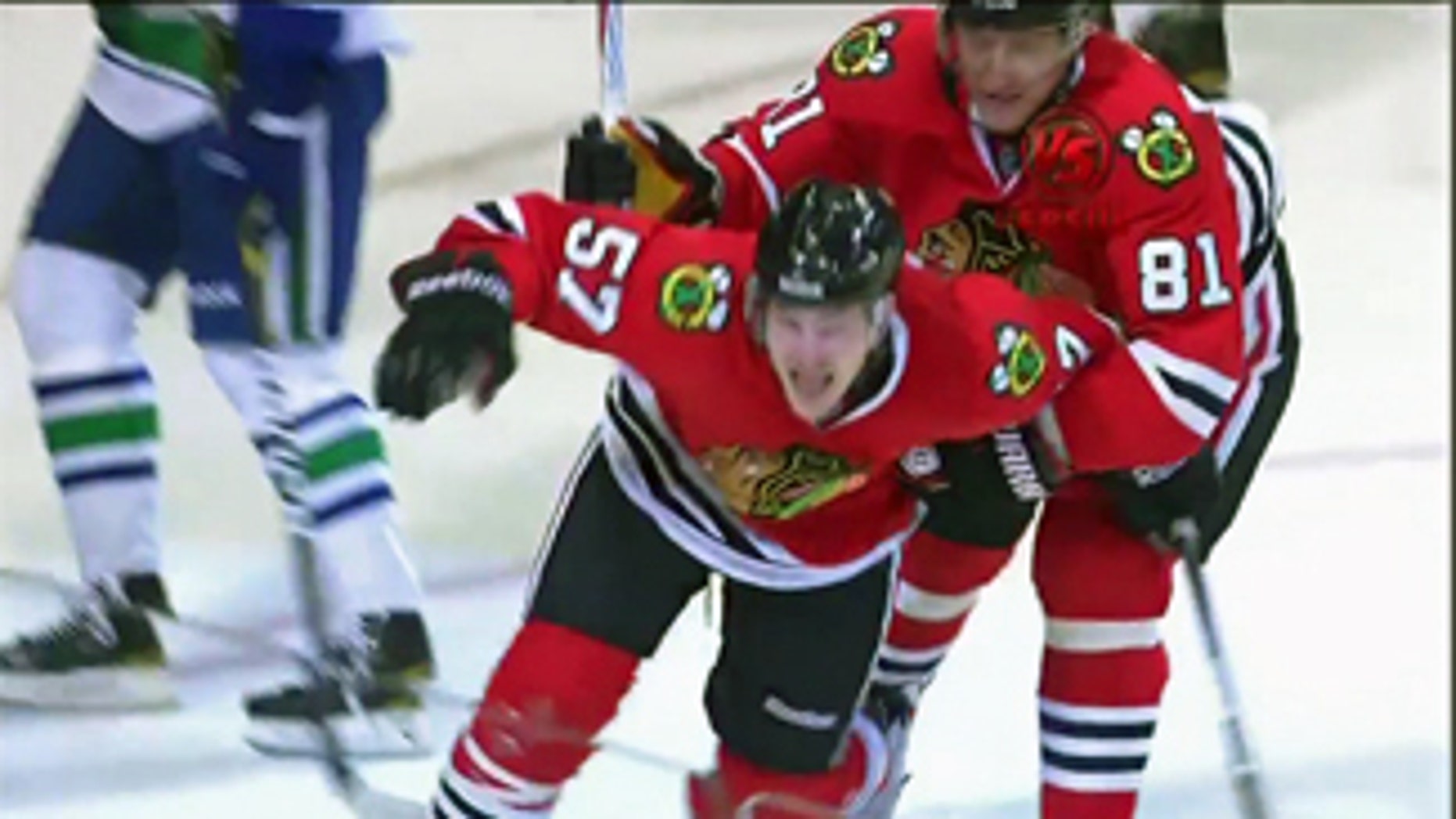 CHICAGO -- Ben Smith did what Ben Smith has always done. He planted his strong body in front of the net, hoped for a rebound and fought like heck to get his stick on it and shove it back toward the net once it came to him.
He did this as a kid and it earned him a scholarship to Boston College. He did it as a collegian and it helped him win a national championship with the Eagles. Now he's done it with the Blackhawks and it's earned him hero's status in arguably the wildest playoff series of the young NHL postseason.
Smith, the Blackhawks rookie who played all of six regular-season games, scored the biggest goal of Chicago's season Sunday night to extend the quarterfinal-round series against Vancouver to an improbable seventh game. Smith used his backhand to swipe the rebound of Niklas Hjalmarsson's shot past Roberto Luongo 15:30 into overtime to give the Blackhawks a 4-3 win and a ticket to Vancouver.
Game 7 is Tuesday night.
Here is a snippet of his postgame comments in the victorious dressing room at United Center:
Q: Can you believe it's you?
Smith: Ha ha, yeah, I don't know. It's, uh -- the really important thing is we're going to Vancouver tomorrow. It could have been anyone in this locker room and it didn't matter, so...
Q: But, it was you, so how does that feel?
Smith: Yeah, well, I'm just grateful. The guys have been so good to me and I'm really grateful I could contribute that way, help the season move on a few more days and see what happens.
Q: Venture to guess you'll have a very hard time topping this goal in your career, right?
Smith: Well, uh, yeah, but the challenge is to keep bringing your best everyday. That's the challenge of the pro hockey life, to bring your best everyday and to prove to people you belong here.
Q: How did you see the play setting up and what did you decide to do? Can you just talk us through the winning goal?
Smith: I really just wanted to get to the front of the net. That's what I try and do. That's my game, to be a body in front of the net and whack at rebounds. Nik Hjalmarsson made a great, hard shot and the rebound bounced right there for me.
Q: Is it hard to imagine this postseason turning out for you like it has?
Smith: It's been day by day just focusing on what's going on here. I'm really thankful for all the support I've had. It's come in big numbers and without that throughout my hockey career this wouldn't be reality.
Q: Did the goals you scored earlier in the series help you confidence-wise?
Smith: Yeah, definitely. Just knowing that at this level I can contribute just by getting to the net and being a body down there.
Q: Bryan Bickell still says he's going to make you pick up the pucks after practice...
Smith: Oh, absolutely. I've only played about 10 games or so in my career, so I'll still be picking up the pucks.
Follow Dan Rosen on Twitter: @drosennhl