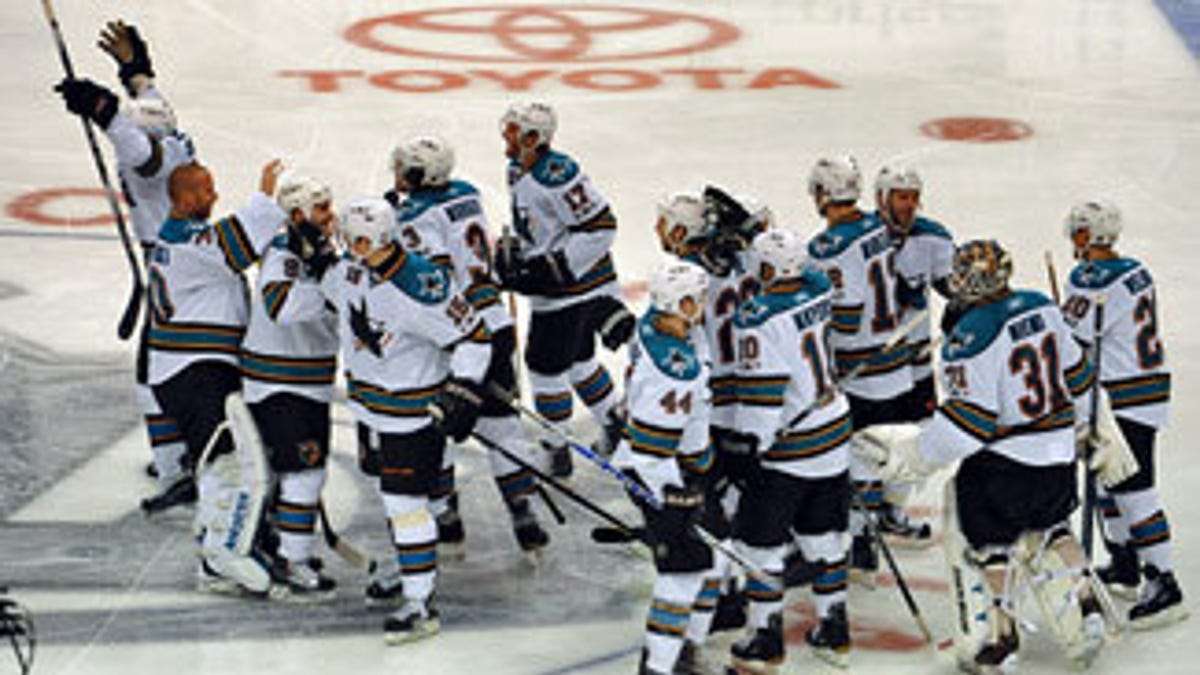 LOS ANGELES -- Now that one hard-fought series has ended on a successful note for the San Jose Sharks, they have a couple of days to rest and gear up for a second round they anticipate will be at least as difficult.
The Sharks needed six games to dispatch the Los Angeles Kings and advance to the Western Conference semifinals for the second year in a row. Three of the wins required overtime.
"It was a hard series," Sharks forward Devin Setoguchi said. "We knew what it was going to be like. They're a hard-working team that plays defensive hockey and pounces on turnovers. We have that core group that's been here before and it definitely showed and helped to push us through this."
The Sharks won all three games at the Staples Center, clinching the series with Monday's 4-3 overtime victory after they squandered three one-goal leads.
"There are so many good teams," Sharks forward Dany Heatley said. "Every game, every series, is going to be battle. It's going to be a grind. This series was a grind and it's only going to get tougher."
The Sharks were their own worst enemies at times, getting off to poor starts in Games 2, 3 and 5. The series might have had a much different outcome had the Sharks not staged a remarkable comeback from a 4-0 deficit in Game 3, when they scored five times in the second period and pulled out a 6-5 overtime victory on Setoguchi's goal.
Kings coach Terry Murray claimed the heart-wrenching defeat on home ice "really had no effect on us emotionally or mentally," but Sharks coach Todd McLellan called it the turning point of the series. The Sharks won two nights later to seize a 3-1 series lead.
"I mentioned that night that we used our mulligan up," McLellan said. "(Down) 4-0 in the opponents' first home game of the series, it could have very easily been 2-1 (in the Kings' favor) and you don't know what you're going to get in Game 4. It could be 3-1 (for the Kings) and then you're really scrambling.
"So that was a huge turning point for us. I think we woke up a little bit at that point and decided we needed to play a certain way. It still wasn't smooth."
The Sharks stuck with beleaguered goalie Antti Niemi, who twice was given the hook, and he responded with a solid performance in Monday's clincher.
Niemi gave up a couple of goals on rebounds, but he made four clutch saves in the final 3:23 of regulation when the Kings were on a five-minute power play after Jamie McGinn was assessed a major charging penalty for slamming Brad Richardson into the boards. The Sharks killed off the remaining 1:37 to start the overtime so effectively that Niemi didn't need to make another save.
Forty-five seconds later after the penalty expired, team captain Joe Thornton scooped up a loose puck on a broken play and fired it past Kings goalie Jonathan Quick to end the series.
"It was good to see the big guy score," Heatley said. "To get the game winner was huge. He played well the whole series at both ends of the rink and he got rewarded."
Even at 6-feet-4 and 230 pounds, Thornton has sometimes seemed to fly under the radar in the postseason. He began this run with 16 goals, 52 assists and a minus-23 rating in 96 career playoff games.
But Thornton made his presence felt against the Kings. He had a pair of goals, including the winner in Game 4, and 3 assists, along with a plus-1 rating. Thornton was a force in the faceoff circles – he won 12 of 17 draws Monday night – and helped the Sharks kill off 20 of 24 Kings power plays in the series.
Just as significant, the 31-year-old center was a calming influence in the locker room, most notably after the first period in Game 3 when the Sharks were staring at a 3-0 deficit.
"When you're a player of his stature, it doesn't matter what team you're on; you're a focal point," McLellan said of Thornton. "He accepted the leadership role this year that we gave him and to see him battle through the year that we had, the turnaround that we had and to score the winner (Monday), I'm very proud of him.
"There are a lot of things that people outside our locker room don't see, and for him to get the winning goal, to have the 'C' on to settle the team down … keep in mind that he's known for his offense, but he was a heck of a penalty killer. He blocked a lot of shots in the series and he won a lot of key faceoffs. He broke up plays on the backcheck. He's doing a lot of things away from the puck to make him a successful player."
If there is one area of concern for the Sharks, it is a power play that sputtered throughout the series. After finishing with the NHL's second-best success rate during the regular season, the Sharks went 3-for-23 against the Kings.
"We still have a lot of work to do," Thornton said. "It was a tough series for us. They're not a seventh seed. They've been pretty stingy defensively all year. We knew it was going to be a tight defensive battle. They have one tremendous goalie that gives them a chance to win every night. Now we get a couple days to relax and refocus and then get back at it in the second round."