Series Preview: Can Predators down Blues, make West finals for first time?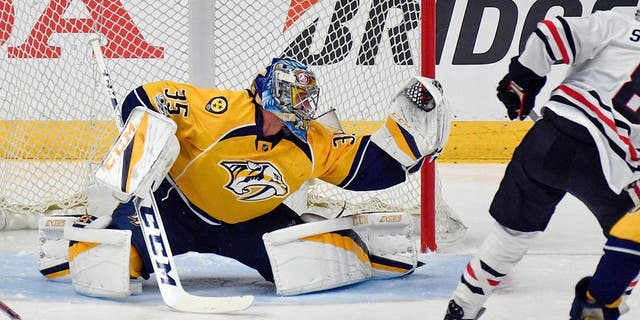 What a treat. The Predators and Blues have never met in the playoffs, until now.
Both teams punched an early ticket to the second round, Nashville sweeping the Chicago Blackhawks in four games and St. Louis topping the Minnesota Wild in five. This series has the makings of a potential goaltenders duel between Pekka Rinne and Jake Allen, but does it really?
Are the Blues as good as advertised or are the Predators the false prophets in this series?
Nashville ended the regular season with a 3-2-0 record against St. Louis, but the Preds didnt have a chance to face the Mike Yeo-coached Blues until their April 2nd meeting -- one St. Louis dominated with a 4-1 win.
Thats the one thing that sticks out about this series. While the Blues havent changed much in their roster, the presence of Yeo and what hes brought since the departure of Ken Hitchcock has turned this team around to the one that dispatched Minnesota quickly.
Presenting a very similar game plan between the two teams, it could easily be an instant classic in the making.
Forwards
Unlike Chicago, the Blues dont have superstar names on their roster. Granted, players like Vladimir Tarasenko, Paul Stastny and Alexander Steen are extremely dangerous for a team like St. Louis.
Led by the first-round efforts of Jaden Schwartz, the Blues have a very similar offensive punch like the Predators do, but their depth is going to leave the biggest question mark.
During their first-round series against Minnesota, the Blues had plenty of issues controlling puck possession in the later stages of regulation and overtime. While their first-period efforts were strong in three of their five games, St. Louis was absolutely dominated in the second and third periods.
The Blues found enough goals and relied on Jake Allen to get them past the Wild, who just couldnt score, but what will they do against a team that could dominate them in possession and creatively find ways to score?
Edge: Nashville Predators
Defensemen
Perennial Norris Trophy-worthy defenseman Alex Pietrangelo leads a solid St. Louis defensive group that helped limit Minnesota to eight goals in five games. Along with the talents of the heavy-shooting Colton Parayko and ironman Jay Bouwmeester, the Blues can stifle other teams defensively.
Whats concerning for St. Louis is the amount of shots allowed to generate towards Allen in its series against the Wild. Minnesota averaged 56.6 shot attempts a game against the Blues in Round 1. FIFTY-SIX-POINT-SIX! St. Louis didnt crack 50 in any of those five games.
And just for comparison, Nashville averaged 52.75 shot attempts in four games against a much better Chicago Blackhawks team.
If St. Louis cant find a better way of clearing out offensive chances and flurries, it'll be in for a bad time.
Edge: Nashville Predators
Goaltending
And this is where things get a bit interesting. Allen was the star of the show for St. Louis in the first round, stopping 174 of 182 shots -- providing him with a 0.956 save percentage and a 1.47 goals-against average.
The only goaltender better in the first round was Rinne.
Rinnes 0.70 goals-against average, 0.976 save percentage, two shutouts and 4-0-0 record were tops across the league.
So, who will break first? Rinne allowed only three goals on 126 shot attempts all series long against a Blackhawks team that has some of the deadliest weapons in the NHL. Not all of that can be credited to Rinne, though, as Nashvilles skaters did a fantastic job of allowing him to see the bulk of the shots sent his way. Yet, Rinne made key saves when he needed to.
Allen did the same. It could easily be a low scoring, goaltenders duel in this series, featuring one-goal victories and possibly multiple overtimes.
But no ones wanting that now, are they?
Edge: PUSH
Special Teams
As the Predators had trouble generating any type of power-play goals in the first round against Chicago, the Blues had difficulties of their own. St. Louis only scored once on 15 separate power play attempts against the Wild. To a degree, that seems more lifeless than Nashvilles one power-play goal on eight attempts.
Regardless of how you look at it, both leave much to be desired.
In terms of successful penalty kills, Nashville had a bit less success than the Blues, allowing two power-play goals on nine attempts for the Blackhawks while St. Louis killed off 15 of 18 attempts for Minnesota -- two of the three power-play goals for the Wild coming in the series-deciding Game Five.
Special teams may not decide this series, but if one team can be a bit more advantageous than the other when a man-up, its not going to hurt their chances.
Edge: PUSH
Jeff Curry-USA TODAY Sports
Coaching
With St. Louis muddling around midway through the season, Hitchcock was given his pink slip in favor of Yeo who helped itfinish with a 22-8-2 through the regular season and tacked on another four wins in the first five games of the postseason.
Yeos done a masterful job guiding the Blues down the home stretch and outcoached veteran Bruce Boudreau in eliminating his former team, but getting past the second round is something that Yeo has yet to do in his coaching career.
Three straight times Yeo took Minnesota to the playoffs and three straight times they were bounced by the Blackhawks -- twice coming in the second round.
Predators head coach Peter Laviolette has done this a time or two. Hes seen a couple of Stanley Cup Finals, winning one with the Carolina Hurricanes in 2006, and hes been coaching for nearly three times the length of Yeo.
Sometimes that doesnt matter. Sometimes its all about the luck of the draw and the team thats in front of your perch behind the bench. Its going to be a fantastic matchup between Yeo and Laviolette, however after what Laviolette did out-maneuvering Joel Quenneville in the first round Im not sure if Yeo can match up the same way.
Edge: Nashville Predators
X-Factor (Nashville)
As it was in the first round against the Blackhawks, its Pekka Rinne.
Nashville has found the ability to force a team like Chicago into submission and score timely goals, giving Rinne the cushion he needs, but the Finnish netminder is going to have to be just as good as he was in the first round to send the Predators into the unknown territory that is the Western Conference Finals.
If Rinne can maintain somewhere near the same level of play that he showed against Chicago -- as winning four straight with two shutouts and only three goals allowed probably isnt going to continue as the teams go deeper into the playoffs -- then hes going to have a good amount of success going forward.
If Rinne falters, St. Louis will find ways to capitalize and it could be another disappointing second-round exit in back-to-back seasons for Nashville.
X-Factor (St. Louis)
Picking Jake Allen to continue his stifling ways would be a bit of a cop-out here, so Im going one step further and selecting the Blues entire defense.
St. Louis found ways to score against a shaky Devan Dubnyk, but they couldnt stop Minnesota from chucking the kitchen sink at them every single game. Pekka Rinne is just a shade better than Dubnyk and Nashvilles offense will find a way past Allen.
The Blues must find a way to shutdown Nashvilles ability to push through the neutral zone and drive into the crease. Its all going to start with the blue line for St. Louis.
Nashville will have a field day in the second round if they have the same opportunities that they had against Chicago. Its imperative that St. Louis gives Allen the same type of time and vision that the Preds have allowed Rinne. Thats the only way this series doesnt become one-sided very quickly
Prediction
Even with both teams moving on into the second round rather quickly, Nashville seemingly offers more in terms of offensive punch and defensive prowess than the Blues showcased against Minnesota.
While St. Louis offers more size to their lineup than the Blackhawks did, meaning the Predators probably arent going to push the Blues around like they did Chicago, they dont instill enough confidence to stop the Predators War Machine in the second round.
Maybe theyll surprise everyone with more than they offered Minnesota. Maybe they wont.
After what they did to the Blackhawks in the first round, St. Louis should be terrified by what it seesin Nashville: a stronger, faster, more mobile, better protected version of the Wild.
In a fun comparison, its like fighting and beating a 700-pound grizzly bear in the wilderness only to see that same bear come right back to life wearing a suit of armor and now running full speed at you while carrying two chainsaws.
Thats not a pleasant sight.
Predators in six.