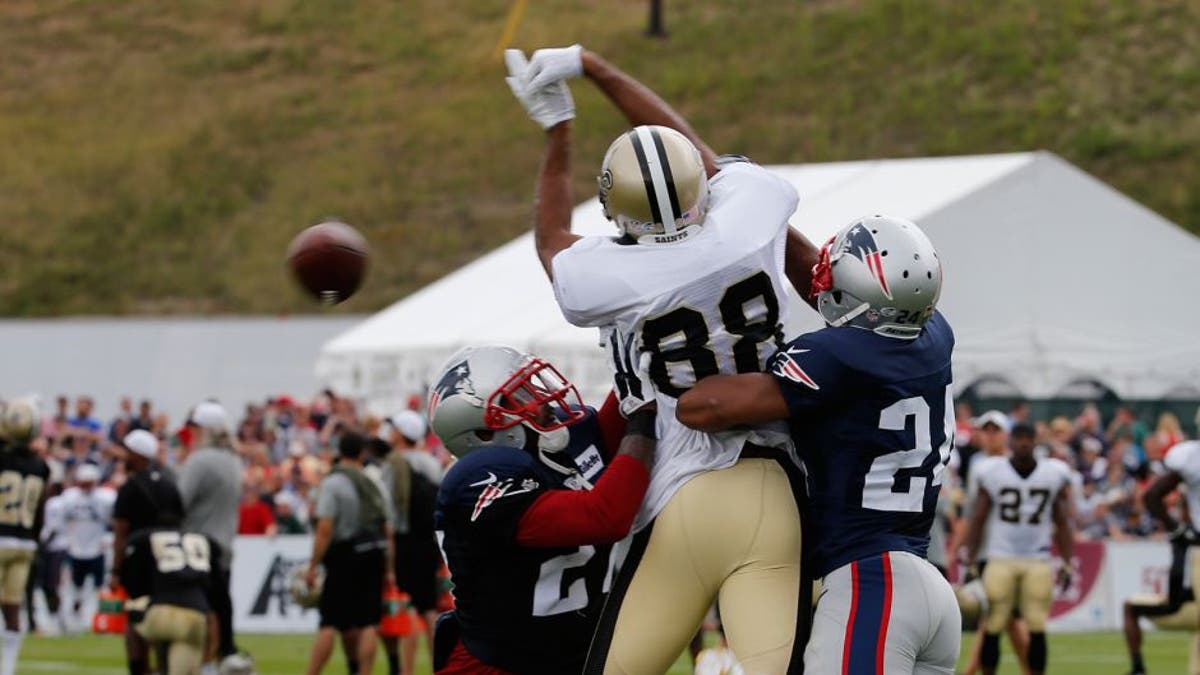 WHITE SULPHUR SPRINGS, W.Va. (AP) -- Patriots cornerback Malcolm Butler appreciated the chance to spend a couple days being tested at practice by record-setting quarterback Drew Brees and the New Orleans Saints' offense, even if there were moments when last season's Super Bowl hero got the worst of his matchup.
"Great work. We got some different looks from a different team," Butler said. "I got better as a player over these couple days, so it was a pretty good deal."
Both clubs packed up from the Greenbrier Resort on Friday, which was their travel day to New Orleans for Saturday night's preseason game in the Superdome.
The previous two days of joint practices were particularly important for Patriots defensive backs and Saints receivers because both position groups will have new players in more prominent roles this season.
The defending champion Patriots lost their starting cornerbacks to free agency, with Darrelle Revis going back to the New York Jets and Brandon Browner signing with New Orleans.
Butler has been moved up to first-team cornerback. The other starting cornerback, based on practice snaps, could wind up being three-year pro Logan Ryan or perhaps rookie seventh-round draft pick Darryl Roberts, who started the Patriots' preseason opener.
Ryan could also end up at nickel back, where five-year veteran Robert McClain also appears to be in the mix.
The Saints, meanwhile, traded Brees' top two 2014 receiving targets, with tight end Jimmy Graham going to Seattle and receiver Kenny Stills heading to Miami.
New Orleans' receiving corps still has veteran Marques Colston and second-year pro Brandin Cooks, who is coming off a promising rookie campaign. There are a number of largely unproven players competing for regular roles, including second-year pro Brandon Coleman, whose highlights this week included beating Butler on a crossing route.
Then there is Joe Morgan, who has been brilliant in spurts but often injured and never consistent during his first four pro seasons. In practice this week, he beat Butler deep down the right sideline. And it sounded like Brees wanted to throw at Butler, if only to give his receivers a chance to see what they could do against him.
"He seems like a guy that plays with a lot of confidence and has a lot of ability," Brees said of Butler. "It is a tough matchup for us but I feel like we have guys that are going to get better going up against a guy like that."
Meanwhile, Brees said Morgan's tough catch against Butler was indicative of the receiver's recent form.
"I really loved his mindset coming into this camp," Brees said of Morgan, adding that he is "coming every day with a level of consistency that he has been missing in the past."
The Saints' quarterback also noted he's been impressed by newly acquired veteran Josh Morgan, whom Brees found for a touchdown -- again with Butler in coverage -- on Wednesday.
Butler came back stronger on Thursday, though. His best highlight was breaking up a fade intended for Colston in the end zone. Butler also appeared to cause a coverage sack when Brees looked for Cooks, but held the ball because Butler was right with the speedy receiver.
After his rough first practice against New Orleans, Butler said he was determined to redeem himself the following day.
"Even the great ones have bad days," Butler said. "So it's all about learning, moving forward, getting better, competing."
Notes: The Saints have now completed this year's training camp stay at the Greenbrier, where they have a three-year contract that ends after next year's stay. Coach Sean Payton said he expects the Saints to extend their training camp contract with the luxury resort "sooner than later." Patriots coach Bill Belichick sounded envious of the setup in the scenic Allegheny Mountains. "I can't say enough about the Greenbrier facility. We haven't had a chance to enjoy the many amenities that they have here. Personally, I'm looking forward to coming back at a different time when I can do that. This place is beautiful. It's awesome and they've been very accommodating."
------