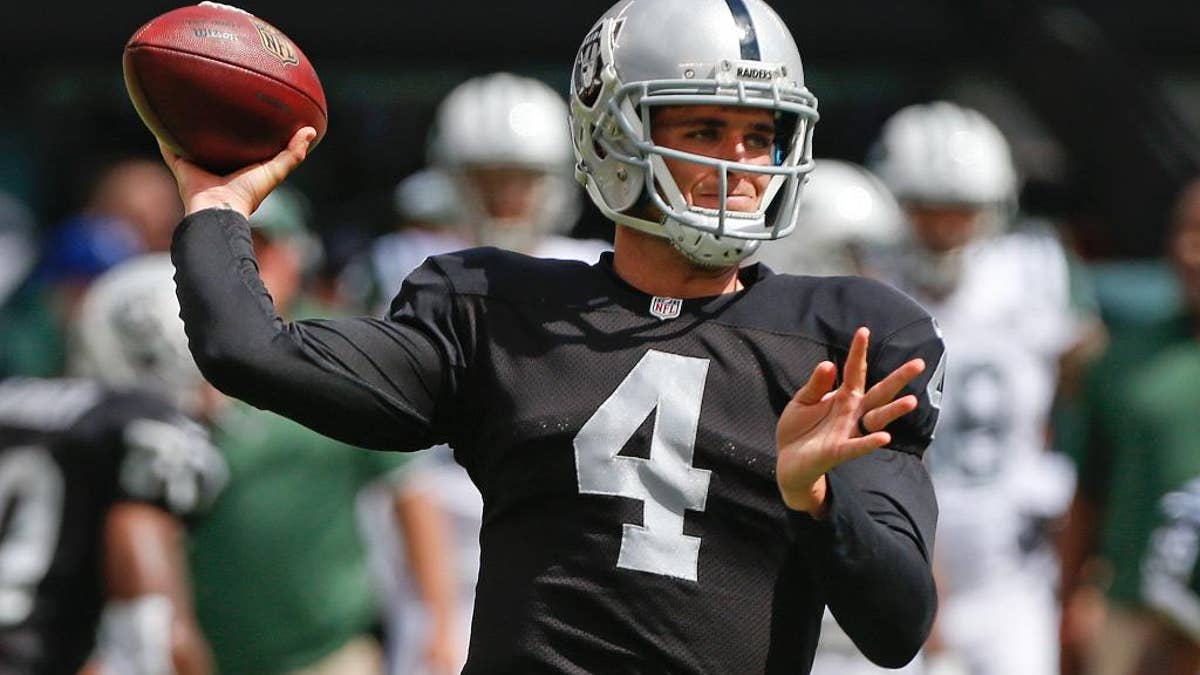 ALAMEDA, Calif. – Rookie Derek Carr's first NFL start as Oakland Raiders quarterback was a learning experience.
He saw new defenses, exotic blitzes and got to see firsthand what playing in the NFL is like after years of watching big brother David do it.
Perhaps the most important thing Carr learned was that he belonged on that big stage already at the start of his rookie season even if the end result against the New York Jets wasn't quite what he hoped with a 19-14 loss last Sunday.
"I can do this," Carr said Wednesday. "I was able to go out there and play against a great defense. ... To play against them for your first game, I was fired up because you want to see as much as you can, as early as you can in your career."
Carr had an up-and-down performance that would be expected from a rookie making his first career start going up against a Rex Ryan defense.
He threw an early touchdown pass to Rod Streater and avoided any turnovers or egregious mistakes. But he also struggled to get the ball downfield, relying mostly on screens and quick passes.
Carr completed 20 of 32 passes for 151 yards. Only three of those completions traveled at least 10 yards downfield, including a 30-yard touchdown pass to James Jones in the closing minutes.
Carr said the lack of downfield throws was more about situations and the defense than a cautious game plan looking to protect a rookie.
"They were called, there's no doubt they were called," Carr said of the deep passes. "It we went down there and out of the 30-something throws, we threw it down the field 28 times, it would probably have been even worse than it looked. It doesn't always work out the way you want to. But they were called and they'll continue to be called."
Carr's first start at MetLife Stadium came in the same building that his brother threw his final NFL pass as a backup for the New York Giants in 2012.
Derek Carr's first home start with the Raiders comes against the Houston Texans, the team that drafted David first overall in 2002 to be the face of the expansion franchise.
That did not work out as planned as David Carr struggled at the start on an overmatched team, getting sacked an NFL-record 76 times as a rookie. Those beatings took a toll on David Carr that he was never able to overcome and left an impression on young Derek.
"All I knew is I grew up a Cowboys and Raiders fan and I never saw those quarterbacks get hit that much," he said. "Just being honest. That's what my thought was as a kid. Being older and going back and watching those games, I understand what was going on."
While Derek Carr joined a team that hadn't posted a winning record for 11 straight seasons, it is not anything like an expansion team. But even with a veteran offensive line, Carr was pressured on 47.1 percent of his drop backs, according to Pro Football Focus, third most in the league last week.
Making matters worse is the team that generated the most pressure is the Texans with star end J.J. Watt leading the charge. But coach Dennis Allen said he expects to see a step forward this week from Carr and the line.
"I thought he handled himself well in the game last week," Allen said. "I think we'll see improvement. Just like you see from season one to season two, you always see improvement, the most improvement you see during the season is from Week 1 to Week 2. I'm excited about watching him play."
NOTES: RB Maurice Jones-Drew missed practice with a hand injury and his status is day to day. ... LB Nick Roach practiced after missing the opener because of a concussion sustained in the third exhibition game but has still not been cleared to play. ... CB Chimdi Chekwa was back at practice on a limited basis after being sidelined during the preseason with a knee injury.
___
Online:
AP NFL website: www.pro32.ap.org and www.twitter.com/AP_NFL