Pressure mounts on van Gaal as Stoke humble Man United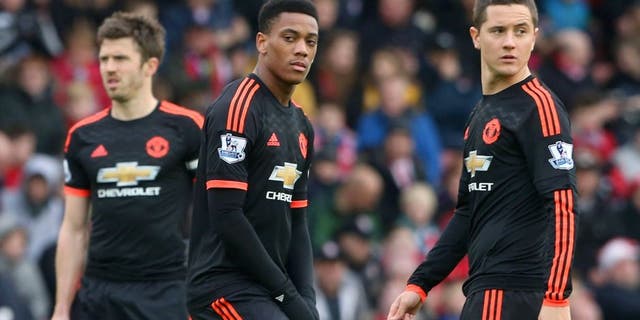 NEWYou can now listen to Fox News articles!
Bojan and Marko Arnautovic scored first half goals to send Stoke City on their way to a 2-0 Boxing Day victory over Manchester United early Saturday, but the immediate and larger question was whether the result would signal the end of Louis van Gaal's tenure as United's manager.
After a week that had seen the media vultures circling at Old Trafford while reports of an impending managerial change circulated through the football world, van Gaal sent his side out at the Britannia knowing that a positive performance was needed. Instead, it was more of the same from United, which continues to reach unwanted milestones.
"My thoughts are that we don't dare to play football in first half," van Gaal told Sky Sports 1 after the defeat. "We gave a very bad goal away and then they score out of a free-kick indirect. At halftime we have spoken with each other and I have to say the second half was much better but still we have created one or two chances and then you have to score and then maybe the belief is coming back. In the second half we played better but the problem is we don't dare to play and that's my analysis."
United had not lost four successive matches in all competitions since 1961, a statistic that may well be the breaking point for van Gaal's administration. They have now gone seven matches in all competitions without a win. Their last Premier League victory came more than a month ago, back on Nov. 21 at Watford. It's hard to recall that they actually topped the league after the final whistle that match.
The embattled manager, who walked out of his required weekly press conference appearance after taking few questions, could only look on as his defense played a major role in both of the first half Stoke goals and his attack seemed devoid of ideas and rhythm. With Chelsea next on the fixture list, Monday at Old Trafford, there seems no more wiggle room for a club that isn't used to poor results and performances.
Arnautovic, Bojan and Xherdan Shaqiri, occupying the primary roles in Mark Hughes side's attack, looked far more dangerous than anyone United had up front. Even the introduction of Wayne Rooney at the interval did not radically change the look of the visitors although there was much more commitment from United.
Stoke never looked in real danger after gaining the advantage but the post-game stories won't be about their solid performance or achievement. Instead the questions will be all about United and van Gaal's future.
Bojan's goal was a case of self-inflicted misery for United. Memphis Depay's weak back-header stranding goalkeeper David de Gea and allowing Glen Johnson to race in on the right before his cross left Bojan with the simplest of finishes.
There did not appear to be any real danger before a simple chip over Memphis produced the woeful back pass. Stoke had carried the early action but had not put de Gea under any real pressure until the breakdown. Johnson easily swept up Memphis' attempted pass and Bojan was six yards away from the open left corner when the ball reached him.
There was nothing de Gea could do to keep Arnautovic's searing drive out seven minutes later, the Austrian international collecting the rebound off a Bojan free kick that hit the United wall. He made a bit of space at the top of the box, then let fly from 22 meters, bending the ball into the left corner of the goal.
The chance had been set up by Ashley Young, who used a hand to block Arnautovic's attempted cross from the left, gifting Stoke with the free kick that punished the second United mistake at the back.
It likely should have been three for Stoke 10 minutes before the break when Bojan found Arnautovic behind the defense and onside, but this time the Austrian striker pulled his shot wide of the left post with de Gea only able to hope for the best. Stoke was replicating the same attacking game which had shredded Manchester City just weeks ago, countering with speed and precision.
Marouane Fellaini had an opportunity to pull one back for United in the 64th minute, but he could only look to the sky after Stoke goalkeeper Jack Butland pulled off a remarkable one-hand save, a reaction symbolic of an afternoon that Stoke was making its own.
When asked if he was the man to help United rediscover their form, van Gaal said: "It's more difficult because I'm also a part of the four matches that we have lost. People are looking at me and I have to deal with that, but much more important is that the players have to deal with that because they have to perform."
And on his future he added: "It's another situation. We have lost the fourth game so you have to wait and see."
Information from FOXSoccer.com's newswire services contributed to this report.