Pirates searching for cleanup hitter behind Andrew McCutchen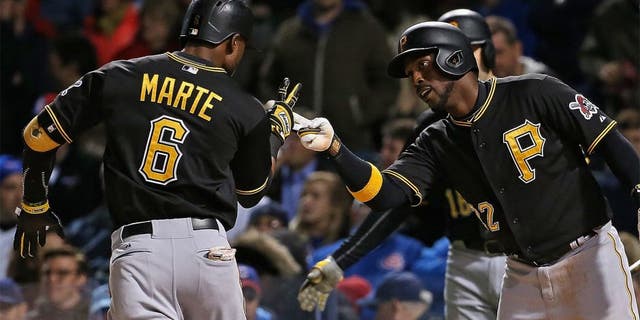 Offloads in the offseason have created a void in the Pittsburgh Pirates' batting order -- an important spot to protect perennial All-Star Andrew McCutchen.
After parting ways with sluggers Pedro Alvarez, Neil Walker, and Aramis Ramirez, the Pirates have a major conundrum at the cleanup spot in their batting order that they'll need to address before Opening Day 2016.
Although Pittsburgh doesn't currently have a true power-hitting cleanup man, general manager Neal Huntington notes that it might not need one.
"I don't know that we've ever bought into the conventional definition of a cleanup hitter," Huntington said, via MLB.com. "We need someone that's going to continue to drive in guys when they get in front of them, that's going to make the pitcher think twice about pitching completely around Andrew McCutchen -- although there's not many hitters in the game that make them think three times about it."
Last season, manager Clint Hurdle penciled in a variety of hitters in the cleanup spot, including Starling Marte (196 AB), Ramirez (190), Walker (135), and rookie Jung Ho Kang (99).
Only half of those options are still available -- and neither are true cleanup hitters -- which has McCutchen wondering who will serve as protection behind him so opposing teams won't pitch around him every at-bat.
"It definitely comes to mind, with a bat like Pedro -- and Walker, at times, he hit behind me as well," McCutchen recently said. "I ask that question: Who's going to be the guy behind me? I don't know, really."
Of the two still on the Pirates roster who hit cleanup last year, Marte performed best in the slot, hitting .327/.373/.464 with four home runs and 27 RBI.
Whether it's Marte, a combination of various batters, or a new addition to the roster who hits cleanup next year, Pittsburgh hopes to keep the line moving and sustain the successful offense it's had over the past few seasons.
"We need someone to continue to get on base. We need someone to continue to drive the ball into the gaps and hit a few balls into the seats, and if we do that one to eight, we're going to score runs," Huntington said. "When we strike out too much, and we don't get on base enough, it's hard to score runs, unless you do it solely by the home runs. We'd much rather be a more balanced offense."