Photographer accuses MLB star Miguel Sano of sexual misconduct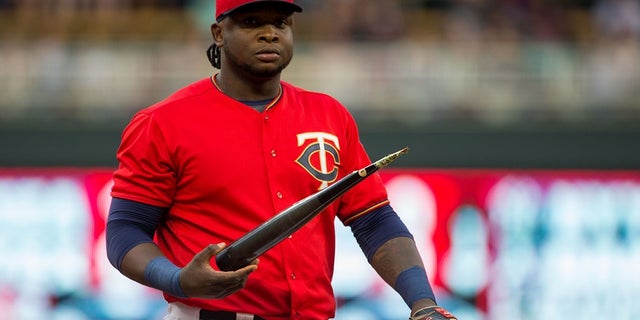 NEWYou can now listen to Fox News articles!
A photographer joined the "#metoo" movement on Thursday after detailing what she described as an inappropriate encounter with Minnesota Twins third baseman Miguel Sano.
Betsy Bissen, a sports photographer who snaps pictures for Twins Daily, tweeted a lengthy post detailing the alleged episode between her and the 24-year-old baseball star. In doing so, she joined the ranks of women who have come come forward to tell of their own experiences with powerful men and misconduct under the hashtag term #metoo. Bissen did not name Sano until the end of her essay.
The photographer said she was working at an autograph signing in 2015 when the Dominican Republic native attempted to flirt with her; she said she did not reciprocate. Bissen wrote that Sano grabbed her wrist and took her to the Apple store following the signing. The woman said she did not want to make a scene so she followed along for about a half-hour until the athlete and his agent declared it was time to leave. Bissen wrote that when Sano announced he needed to use the bathroom, the situation escalated.
NEW YORK GIANTS' ELI APPLE SUSPENDED AFTER TEAMMATE CALLS HIM 'A CANCER'
"Apparently I was too close, and the athlete took that as a signal that I wanted him to grab me and try to take me back thru that door," Bissen wrote.
"I pulled back as he held onto my wrist. It hurt, how badly he was grasping at my wrist, but he wouldn't let go. I wasn't going to give up my fight though," she continued. "He then leaned down and tried to kiss me, more than once. Every time he did, I said 'no' and kept pulling back. I was in a squatted position with my wrist throbbing. I screamed, no one came to help me. He finally gave up after a solid ten minutes of fighting to pull me thru that door."
Bissen said the athlete "didn't rape" her "but he sure did assault me."
Bissen concluded her essay by identifying the athlete as Sano.
"Every time I have to hear about how great people think Miguel Sano is, I'm reminded of how awful he actually is and how he hurt me," she concluded.
Former Twins player and current Tampa Bay Rays third baseman Trevor Plouffe tweeted to Bissen saying he wished she would have told him.
MLB LEGEND DARRYL STRAWBERRY REVEALS HE HAD SEX DURING METS GAMES
"I'm so sorry about this. I understand why you didn't, but I wish you would have come to me," he tweeted.
MLB Trade Rumors reported tit contacted Bissen and asked if she would cooperate with MLB if the organization attempted to contact her and she said yes.
"If they do, I will cooperate. I honestly don't want anything from this other than to feel free from what happened to me," Bissen responded.
The Twins released a statement regarding the alleged encounter: "Today the Minnesota Twins were made aware of allegations involving Miguel Sano at an offsite appearance during the 2015 season. The Twins, along with Major League Baseball, take these allegations very seriously. Until more information is gathered, the Twins will have no further comment."