Pelicans' league-worst defense highlighted in latest loss to Knicks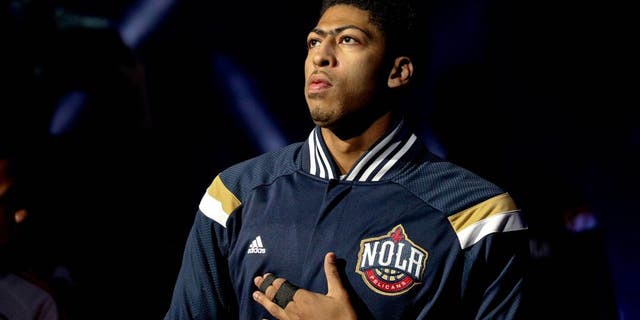 NEWYou can now listen to Fox News articles!
Anthony Davis is doing all he can, but the Pelicans are 1-9 on the season. Derick E. Hingle USA Today Sports
NEW YORK -- Anthony Davis sat sulking in the visitors locker room at Madison Square Garden on Sunday, wrapped head to toe in blue towels with his knees covered in ice. He had just returned from an injury-forced two-game absence to score 36 points, grab 11 rebounds and block four shots, but it wasn't enough to prevent the Pelicans from losing for the ninth time in 10 tries this season.

The losses are getting to Davis, and with good reason. A realization seems to be setting in that he can't do much more personally to help turn things around, and the thousand-yard stare he displayed for a good 15 minutes while his two cell phones sat unchecked beside him was evidence of the fact that he was in a deep state of contemplation.

The Pelicans coaching staff was left searching for answers after the 95-87 afternoon loss, with two primary areas of concern being the most significant: third quarter malaise, and defensive incompetence.

"We've got to stop getting out to these bad starts in the third quarter where we start doing things individually," head coach Alvin Gentry said afterward. "We've got to stay within what we're doing, and we've got to pass the basketball and we've got to move the basketball. When we do we're pretty good, when we decide that we're going to do it on our own, then we struggle, and we're going to have turnovers, because when we shoot bad shots it's basically a turnover and it's going to lead to them in the open court, and that's exactly what happened."

The problem is, this isn't a pattern of behavior that can be easily fixed.

"I wish I knew," Gentry said, when asked what the cause of it was. "If I did, I would correct it right away. But it's something that has to be stopped."

That, however, is the least of the Pelicans' problems.

New Orleans ranks dead last in the league in offensive efficiency, and dead last in rebound rate. The two are connected, though while Gentry sees problems in all aspects of his team's defense, Davis believes if they can fix the rebounding, the rest will take care of itself.

"I just think it's everything," Gentry said, when asked whether it was individuals or the team scheme that's responsible for the issues. "We're getting beat on the dribble penetration, we're having lapses where we're getting back cut, we're giving up second shots, we're not closing out like we're supposed to -- so all of that is on us."

"I think we're actually great on defense," Davis said, which honestly didn't make much sense. "We've just got to come up with a way to rebound the ball. A lot of teams are doing things to get around us to get offensive rebounds. We've got to come up with defensive rebounds that put us into our offense. We're effective on offense, we're effective with our half-court defense. We've just got to find a way to come back and get rebounds and not give up those second chance points."

When a team is 1-9 on the season, the questions on where the problems are and how they can be fixed will seemingly never end. When one came to Gentry about the pace of the team's play -- an area where he was specifically expected to affect -- he keenly pointed out that the offense doesn't matter if a team is consistently unable to get some stops.

"My concern is that we've got to guard somebody," Gentry said. "The offense will come. Eight games into the season we were leading the league in pace. That doesn't mean anything if you can't stop someone. I've seen that show before. I've coached that show before. It doesn't work out.

"We've got to take care of the defensive part of it first. The offense is going to be fine. We've got enough talent that we'll find a way to score, but we have to be able to stop people down the stretch and that's what we have not been able to do."