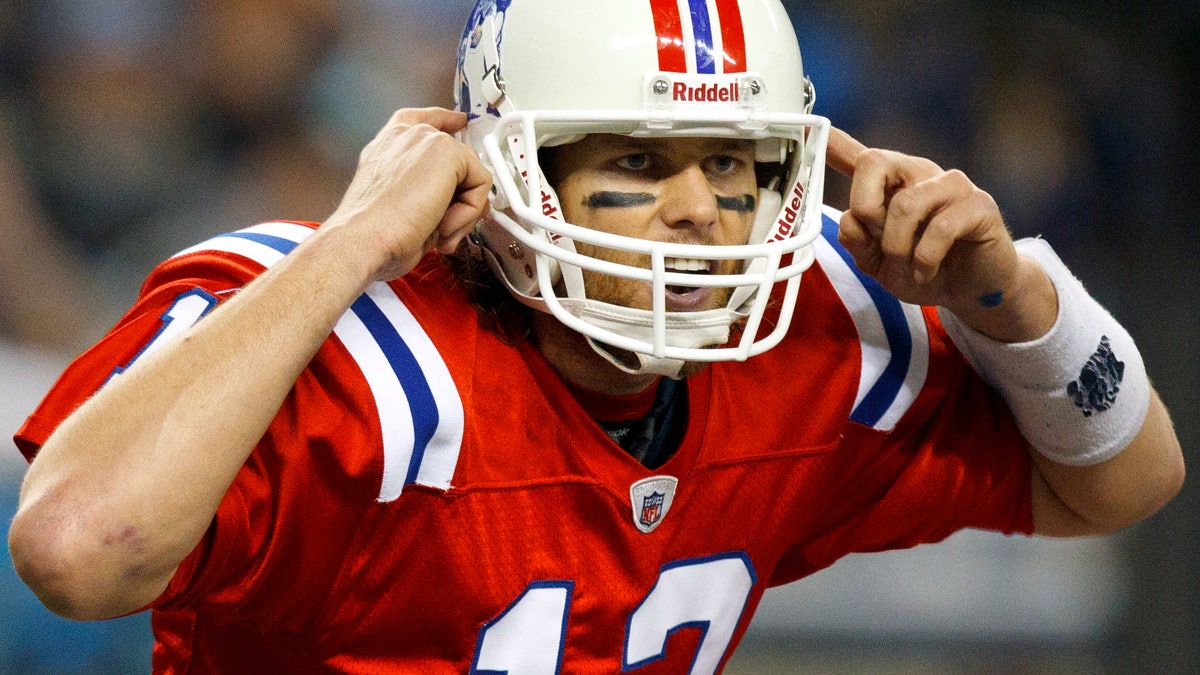 DETROIT -- Tom Brady was perfect on the field and his exit was first class.
Brady threw a season-high four touchdown passes, all in the second half, and the New England Patriots routed the Detroit Lions 45-24 on Thursday after trailing by 11 late in the second quarter.
"We showed some resiliency, coming out in the second half and playing the way we did when the crowd was into it," Brady said.
Following Brady's brief news conference, the former Michigan star jogged out of Ford Field -- limping slightly up a steep ramp -- hugged Robert Kraft and got into an idling limo with the team owner behind a police escort.
New England (9-2) moved a half-game ahead of the AFC East rival New York Jets -- who played Cincinnati on Thursday night -- for the NFL's best record, setting up a showdown at home Dec. 6.
"I don't think we're at where we need to be at," Brady said. "But this is a tough group."
No one in the red, white and blue is tougher than Brady.
After taking a ton of shots early in the game, the three-time Super Bowl winner and two-time MVP bounced back to complete 21 of 27 passes for 341 yards with no interceptions, giving him a perfect quarterback rating of 158.3 for the second time in his career.
"He's like a surgeon," Detroit center Dominic Raiola said.
Brady threw a go-ahead touchdown pass to Deion Branch early in the fourth quarter after connecting with him on a 79-yarder to tie it at 24. Wes Welker's second TD reception sealed the victory with 6:42 left, putting the Patriots ahead by two TDs and making their double-digit deficit a distant memory.
"When you outscore a team 35-7 in the second half, a lot of things have to go right," New England coach Bill Belichick said.
The Lions (2-9) are used to things going wrong, especially on Thanksgiving.
Detroit has lost a franchise-record seven straight games -- by an average of nearly 23 points -- in its annual showcase.
"This one is really tough because we gave everybody so much hope," Raiola said. "We were up 14-3, Ford Field was going crazy and then boom, boom, boom."
Brady became the first to have a perfect passer rating this season with a minimum of five attempts, according to STATS LLC. His first perfect game was Oct. 21, 2007, when he threw a career-high six TD passes in a victory over Miami.
"If we give him time, there's nothing he can't do," guard Logan Mankins said. "He's going to find the guy that's open, and he's going to get them the ball. The rest is up to us."
Brady had plenty of help with Welker and Branch through the air and BenJarvus Green-Ellis on the ground.
Green-Ellis ran for two TDs, matching a career high. His second one capped the scoring with 3:14 left and led to several pushing and shoving matches with the frustrated Lions.
Shaun Hill was 27 of 46 for 285 yards with one TD -- to Calvin Johnson at the end of the first quarter that put the Lions up 7-3 -- and two interceptions to rookie cornerback Devin McCourty.
Maurice Morris ran for two TDs, matching his total in two seasons in Detroit. Morris' first score put Detroit ahead 14-3 with 5:58 left in the first half.
Green-Ellis' 15-yard TD pulled the Patriots within four with 45 seconds left in the second quarter, then they allowed Detroit to drive for a lead-padding field goal to end the first half.
The Lions looked as if they finally might put together a good showing on Thanksgiving, forcing New England to punt on its first drive of the second half.
But Detroit began to fall apart when Hill underthrew Johnson on the ensuing possession and McCourty picked off the pass and returned it 23 yards to set up Brady's tying pass to Welker.
"That was a big play by Devin that really swung the game," Belichick said.
Detroit recovered, going ahead midway through the third quarter, but the lead didn't last long.
Brady found Branch, who was wide open, and he ran circles around Alphonso Smith on the 79-yard scoring play 22 seconds later.
Branch beat Smith on his next TD with 13:45 left in the first half, sending the cornerback to the bench in a move that was made much too late to help the Lions.
"I just want to apologize to my teammates because they played so hard," Smith said. "I feel as if I was the catalyst for this loss. I also want to apologize to this organization and the fans."
NOTES: Patriots RB Danny Woodhead has reportedly signed a contract extension, but he refused to confirm it. "I'm very happy to be here," Woodhead said three times when asked about the deal. ... Lions DT Ndamukong Suh had a sack, giving him eight to break the team rookie record set by Tracy Scroggins in 1992. ... Belichick has 172 victories, moving past Joe Gibbs for 11th place on the NFL list. Belichick also joined Tom Landry as the only ones with at least 10 straight winning seasons with the same team since the 1970 merger. ... The Lions were the last team in the league to give up a TD pass to Brady, who made his NFL debut against them in 2000 and won a start against them in 2006. ... Brady has a career record of 120-36, including the playoffs, as a starter since 2001. The Lions are 35-120 since that season.