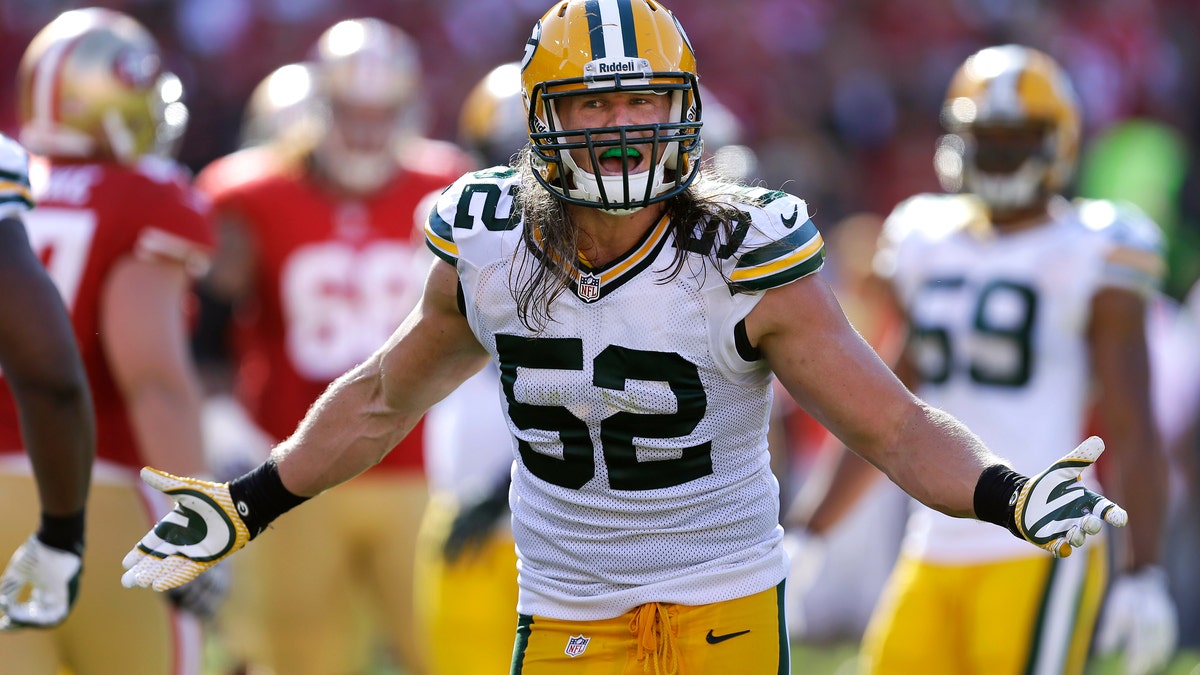 GREEN BAY, Wis. – The Green Bay Packers have ruled out injured quarterback Aaron Rodgers from playing Sunday against Philadelphia.
Coach Mike McCarthy is expecting other players to rise to the occasion.
"Everybody knows what a great player he is," McCarthy said Friday. "But at the end of the day, this is a long journey, we're only halfway through the season, (and) this is a great opportunity for everybody on our football team to step up and be successful."
That includes the guys on defense, which is expected to have some reinforcement for the game at Lambeau Field.
The Packers should have linebacker Clay Matthews back on the field, wearing a big club-like cast on his right hand. Matthews, who missed the past four games because of a broken thumb, is probable to play after practicing on a limited basis this week. Also probable are defensive end/linebacker Mike Neal (knee) and defensive lineman Ryan Pickett (knee). Outside linebacker Nick Perry, who has been out three games with a foot injury, is questionable.
Green Bay (5-3) will start Seneca Wallace in place of Rodgers (broken collarbone) and its defense has the challenge on a short week of rest to try to slow down the Eagles' fast-break attack in hopes of staying in the crowded mix atop the NFC North.
"They're a big-play outfit," Packers defensive coordinator Dom Capers said. "Very fast tempo, up-tempo, they try to keep the pressure on you defensively. You've got to really stay tuned in (because) they're going to spread you out and try to use their skill."
Add Capers' name to the growing list of admirers of Eagles quarterback Nick Foles, who was pulled from the game against the Raiders early in the fourth quarter after he threw for a career-high 406 yards, an NFL record-tying seven touchdowns and had a perfect passer rating of 158.3. Foles has yet to throw an interception this season.
"He's a very accurate thrower," Capers said. "If you look at the game from Sunday, he threw the deep ball as well as anybody I've seen. He was right on the money on all those deep balls."
Running rookie coach Chip Kelly's unconventional offense with remarkable precision, Foles joined elite company in the Eagles' 49-20 rout of the Raiders. His seven TD throws all came before the fourth quarter.
"We saw what these guys did to Oakland with it, and we don't want that to happen," Packers cornerback Tramon Williams said. "We want to be on our Ps and Qs and come out and execute. We know it's not going to be easy, but we feel if we're on the same page that we can get through it."
Green Bay is coming off a Monday night loss to Chicago that cost them Rodgers for an unknown amount of time. The Packers allowed 442 total yards to a Chicago offense guided by journeyman quarterback Josh McCown, who played mistake-free.
"When you're in a game like that and you have opportunities to make plays, you've got to make plays," Capers said. "Now, you can't miss tackles. We missed a couple critical tackles, which we would have been off the field and you just have to execute. We didn't execute well enough to win the game, it's that simple."
Chicago dominated the time of possession, holding the football for more than 33 minutes. Kelly's Eagles try to run plays in rapid fashion.
Capers isn't concerned fatigue could become an issue with the defense Sunday. Williams agreed and credited the Packers' scout team for mimicking the Eagles offense in practice this week.
"The young guys, the practice-squad guys, just giving us a great look of what to expect — fast tempo, getting back to the line of scrimmage, trying to put stress on us out there and us focusing on getting our calls in and getting communicated fast and getting lined up and ready to play," Williams said. "It's been a different week, but it's been productive."