Pacers Send Heat Into a Meltdown, Spurs Fan Recognized by Bonner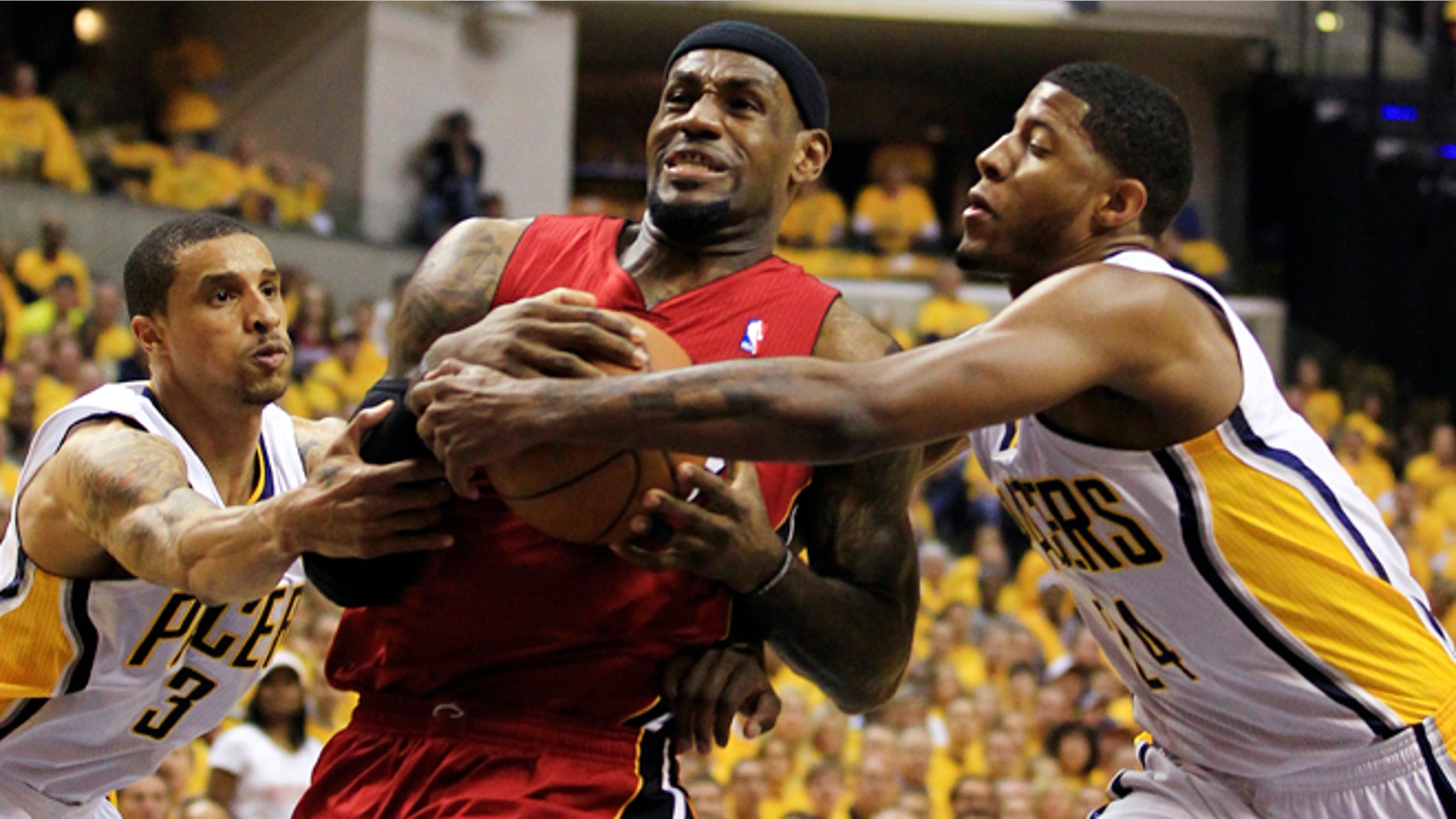 Things don't look good for the Miami Heat.
Roy Hibbert had 19 points and 18 rebounds, George Hill scored 20 and Danny Granger 17 as the Indiana Pacers, showing more balance, toughness and togetherness than Miami, throttled the Heat 94-75 on Thursday night in Game 3 of the Eastern Conference semifinals.
Overlooked during the regular season and given little chance to upset the reigning East champions, the Pacers took a 2-1 lead in the best-of-seven series.
Game 4 is Sunday at raucous Bankers Life Fieldhouse.
LeBron James scored 22 — 16 in the first half before wearing down — and Mario Chalmers added 25 for Miami. However, Dwyane Wade scored only 5 on 2-of-13 shooting for the Heat, already missing forward Chris Bosh because of a strained abdominal muscle and not expected to return for this series.
Indiana outscored Miami 51-32 in the second half, when the Pacers could do no wrong.
Dwyane Wade lashed out in frustration during the worst playoff game of his career.
His target wasn't wearing an Indiana uniform. Wade confronted his coach as the Miami Heat melted.
The star had an animated exchange with Erik Spoelstra on the sideline in the third quarter, a disturbing low point on a night when nothing went Miami's way, and the Heat were throttled 94-75 by the Pacers in Game 3 of the Eastern Conference semifinals.
Indiana center Roy Hibbert had 19 points and 18 rebounds, George Hill scored 20 and Danny Granger 17 as Indiana, pushed by a crowd that stood and chanted "Beat The Heat" at every opportunity, took a 2-1 lead in the best-of-seven series.
Before then, the Heat need to locate their missing shooting touch and figure out how to attack Indiana's superior defense. More than anything, Wade needs to shake off a startling 5-point, 2-of-13 shooting performance he made worse by challenging Spoelstra.
During a timeout, Spoelstra was talking to Wade, who didn't like what he heard and angrily snapped at his coach. Several Miami players stepped in before the confrontation escalated.
Afterward, Wade didn't want to discuss the dispute.
"I don't even remember what you all are talking about," he said.
Spoelstra dismissed his clash with Wade as a heat-of-battle moment.
"That happens," Spoelstra said. "Anybody that has been part of a team or has been a coach or been a player, you have no idea how often things like that happen. That was during a very emotional part of the game. We were getting our butt kicked. Those exchanges happen all the time during the course of an NBA season.
"There's going to be a lot of times where guys say something, you don't like it. You get over it and you move on. We're all connected. Dwyane and I have been together for a long time, a long time. We've been through basically everything. A lot of different roles, a lot of different teams. That really is nothing. That is the least of our concern. That type of fire, shoot, that's good. That's the least of our concerns. Our concern is getting ready for Sunday."
SPURS 105, CLIPPERS 88
Tony Parker scored 22 points on his 30th birthday, Tim Duncan had 18 and San Antonio beat fading Los Angeles, pushing its winning streak to 16 and taking a 2-0 lead in the Western Conference semifinal.
Chris Paul responded to his awful Game 1 with only a slightly better encore, scoring 10 points as the Clippers now head home desperate to steer out of what's starting to get the feel of a sweep.
Blake Griffin led the Clippers with 20 points. His plan to manage his ailing knee so the All-Star would have enough steam for the fourth quarter proved moot, as both teams emptied their benches with another Spurs blowout assured.
Game 3 is Saturday in Los Angeles.
Boris Diaw added 16 points and Danny Green had 13 for the Spurs. Manu Ginobili scored 10 and was held scoreless in the second half.
On his 30th birthday, Tony Parker first kept the San Antonio Spurs on pace for what might be another lopsided playoff sweep. Then the All-Star who's always quick to needle Tim Duncan about his age finally acknowledged his own.
"I'm old. Used," said Parker, laughing.
Chris Paul, meanwhile, isn't acknowledging anything: Not his aching body that everyone but him is talking about, or the Los Angeles Clippers' season careening toward the end this weekend unless things change fast.
Based on reporting by the Associated Press.
Spurs fan scores playoff tickets after Matt Bonner haircut
A young Spurs fan who had Matt Bonner's face shaved onto the back of his head was gifted a trip to see the Clippers after being forced to face the clippers.
Bonner and the Spurs reached out to Patrick Gonzalez and his family with playoff tickets Thursday night after learning that the 12-year-old was forced by his school to cut off his tribute to the forward.
Patrick met his fellow-red-headed hero ahead of Game 2 against Los Angeles at the AT&T Center, FOX station KABB reported.
Bonner, who was armed with a bundle of autographed gifts, defended his young superfan, who was threatened with suspension by Woodlake Hills Middle School unless he got a second cut.
"We are in San Antonio. We are in the middle of the playoffs, a fellow redhead, he's just supporting his team," Bonner said. "That's by far the nicest thing any fan has ever done for me, and I'm just really excited to have him here."
Patrick replied, "Thanks for saying all those nice things. I was pretty mad they had to shave it off, but now I'm here, so it's all good."
Thursday's game was only the second time Patrick had seen his beloved team play live.
He was treated to a 105-88 win as the Spurs took a 2-0 lead in their Western Conference semi-finals, plus the chance to cheer a single Bonner basket during the substitute's 13 minutes on court.
For more on story click here.
Credit NewsCore.
Follow us on twitter.com/foxnewslatino
Like us at facebook.com/foxnewslatino