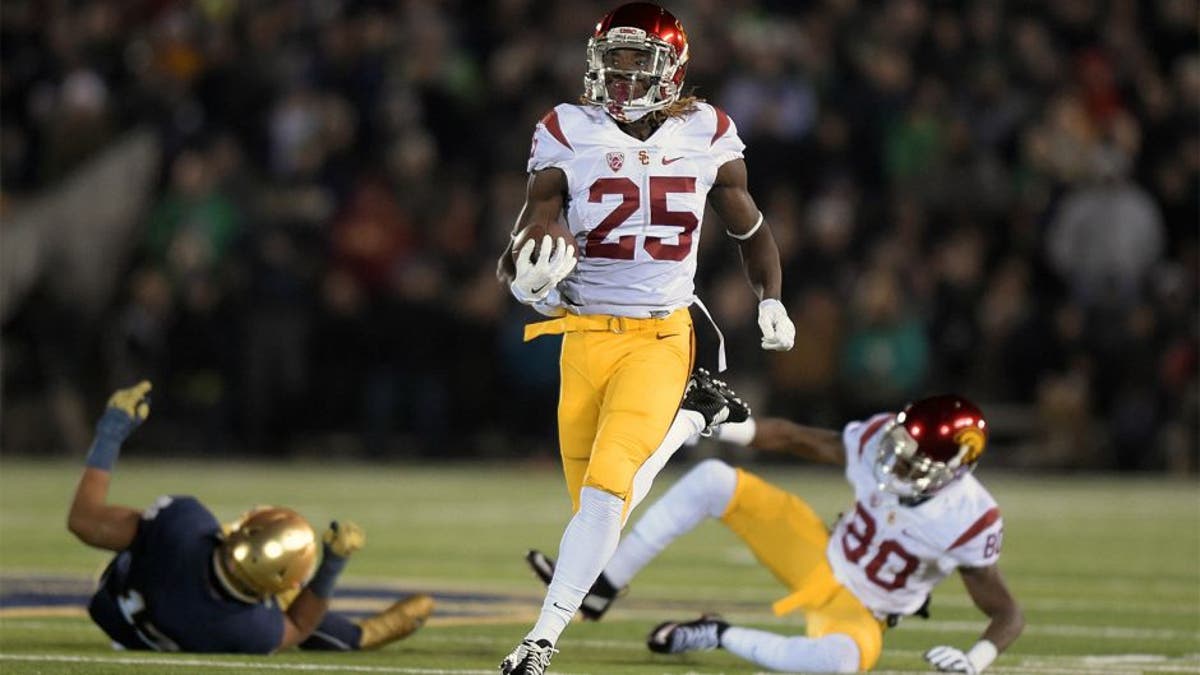 Ronald Jones II looks like a budding star for USC. Kirby Lee USA TODAY Sports
If you watched USC's 42-24 victory over then-No. 3 Utah Saturday, you probably noticed freshman running back Ronald Jones II.
USC senior running back Tre Madden dressed, but didn't play. OC Register reports that Madden didn't practice during the week due to a knee injury. After the first half, Jones had 56 yards on seven carries (8.0 yards per carry) with a highlight-reel touchdown. Jones had a career-high 15 touches vs. Utah, totaling 73 yards.
Jones averages 7.7 yards per carry, which ranks 11th-best in college football. In fact, he's tied with LSU running back and Heisman Trophy frontrunner Leonard Fournette -- who boasts the exact same mark on significantly more attempts. Yet with only 59 attempts, Jones ranks 203rd overall in FBS for carries.
For comparison, he has one more rushing attempt than Utah quarterback Travis Wilson and Arizona quarterback Jerrard Randall -- who has completed more than four passes in just two games this year.
"I'm actually playing more than I thought I would," said Jones, according to LA Times. "So I'm really happy with where I'm at."
With four rushing touchdowns, Jones has shown some signs of greatness. For example, check his career-long 65-yard rush vs. Notre Dame.
Jones leads USC with 453 yards, though he's split carries with Madden (63 carries and 4 TDs) and Justin Davis (54 carries and 3 TDs) through seven games.
With Madden in his final year of eligibility, Jones will likely emerge as next year's lead back for USC. But when will Jones Peakout to show his potential on a full-time basis?
USC has Cal, Arizona, Colorado Oregon and UCLA left. The Golden Bears, who play the Trojans this weekend, have the second-best rush defense (behind Oregon) of the remaining teams.
No team left on USC's schedule ranks in the Top 50 of all FBS teams for rush defense, however, which means Jones may gain some extra incentive to run against poor defenses.
Utah's Devontae Booker looks to rebound vs. Oregon State
Utah running back Devontae Booker was in the middle of a Heisman campaign before losing to USC. He needs a stellar game vs. Oregon State to get back on track.
Booker had just 14 carries (seven fewer than his previous low, 21 vs. Arizona State) for a season-worst 62 yards vs. USC. He was slightly more effective as a receiver, grabbing six catches for 49 yards. Before the USC game, ESPN's Ted Miller noted Booker averaged an FBS-best 30.7 touches per game. He had recorded 67.9 percent of Utah's rushing yards.
During his game vs. Arizona State, Booker recorded 118 yards on 21 attempts. But 62 came on one play, which was a remarkably impressive run.
Take away that run away, however, and Booker had 56 yards. That was a significant drop from his numbers vs. Cal, when he recorded 222 yards on the ground for 2 TDs and 6.5 yards per carry.
Oregon State has one of the worst rush defenses in college football, however, averaging 197.0 rushing yards allowed per game. With 5.01 rushing yards per carry allowed, it looks totally possible that Booker will run right over OSU.
Will Arizona bench quarterback Anu Solomon for Jerrard Randall?
The only "or" listed on Arizona's depth chart for any position vs. Washington is at quarterback: Anu Solomon OR Randall.
According to Pac-12 Networks, Arizona head coach Rich Rodriguez said pregame vs. Washington State that both Solomon and Randall could see the field. In the third quarter, after an unimpressive three-and-out drive for Solomon, Rodriguez called on Randall for a comeback effort vs. the Cougars. It was the second-consecutive week that Solomon was benched for Randall while trailing.
Rodriguez isn't giving anyone a hint as to who will start, arguing instead that the team is more dynamic with both quarterbacks available.
"We're a better team when we have both of them in there," said Rodriguez, according to Rivals.com.
Solomon hasn't thrown a pick in seven games with 202 attempts; Randall leads the nation with 11 yards per attempt (639 yards on 58 attempts) adding five rushing touchdowns to the mix as well.
Randall was 11-for-16 for 137 yards with two passing TD's vs. Washington State. Solomon averaged 7.25 yards per passing attempt; Randall averaged 8.56. As a scrambler, Randall carried the ball 59 yards on his first attempt at quarterback -- adding 105 yards on the ground on 10 attempts.
"(Anu) didn't play poorly," said Rodriguez, via the Tucson Star. "When we made a change it was more to try and get a spark offensively."
News and Notes
Former UCLA tight end Chris Clark decided to transfer to Syracuse, then changed his mind ... UCLA freshman quarterback Josh Rosen was forced to remove the hot tub from his dorm room.
Follow @BryanKalbrosky !function(d,s,id){var js,fjs=d.getElementsByTagName(s)[0],p=/^http:/.test(d.location)?'http':'https';if(!d.getElementById(id)){js=d.createElement(s);js.id=id;js.src=p+'://platform.twitter.com/widgets.js';fjs.parentNode.insertBefore(js,fjs);}}(document, 'script', 'twitter-wjs');