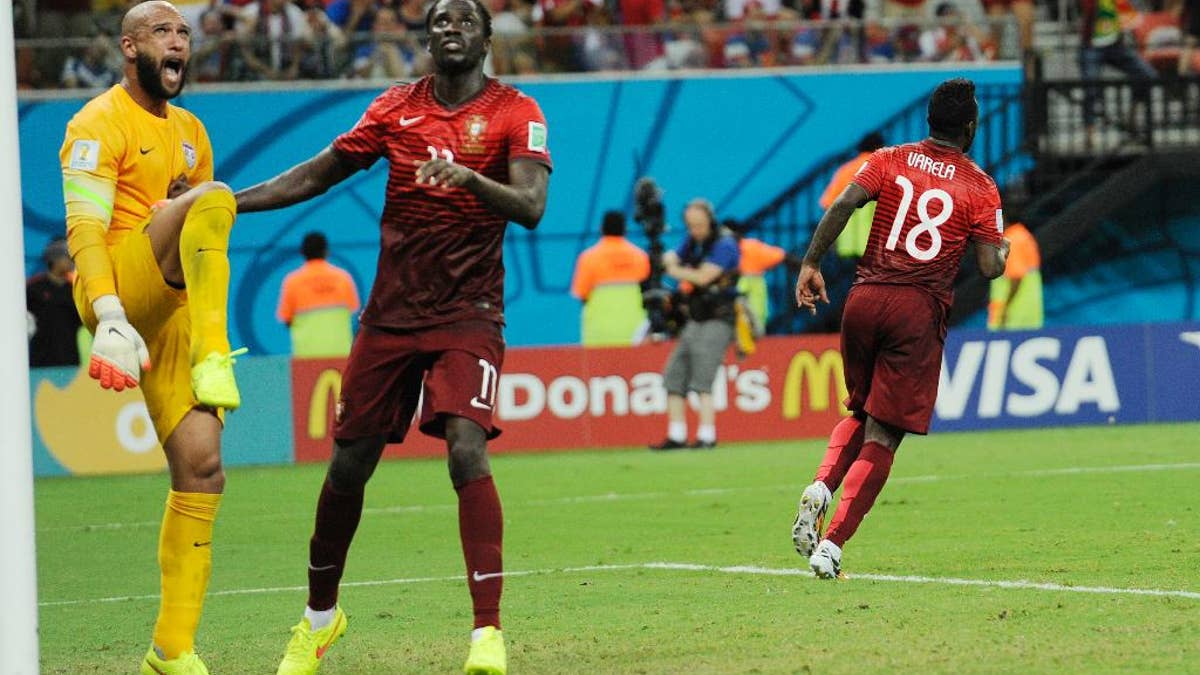 MANAUS, Brazil – They were less than 30 seconds away.
The Americans were about to romp into the round of 16 at the World Cup, about to walk off with their first come-from-behind win at soccer's showcase. About to advance with a game to spare. About to win consecutive World Cup games for the first time since 1930.
But they wilted in the Amazon heat and humidity.
Varela's goal on a diving header off Cristiano Ronaldo's cross 4 1/2 minutes into five minutes of stoppage time gave Portugal a 2-2 tie Sunday on an exhausting night in the rainforest capital.
"It's tough, but it's just the way it goes," U.S. captain Clint Dempsey said. "We're Americans. I think we like to do things the hard way."
Now the U.S. may need at least a point Thursday against three-time champion Germany to advance to the knockout stage. The Americans could clinch with a loss, depending on the result of the Portugal-Ghana game that will be played simultaneously.
"Somebody sent me a text: It feels awesome and awful at the same time," U.S. Soccer Federation President Sunil Gulati said.
Germany and the U.S. have four points each, but the Germans have a better goal difference. Portugal and Ghana have one point. All four nations remain alive.
Both the Americans and Germans would advance with a tie. U.S. coach Jurgen Klinsmann, a star for West Germany's team that won the 1990 title, dismissed the notion that he would entertain trying to play a draw if asked by current Germany coach Joachim Loew, his assistant on his homeland's 2006 World Cup squad.
"There's no such call," Klinsmann said. "There's no time right now to have friendship calls. It's about business now."
The U.S. fell behind early for the fifth time in its last 12 World Cup matches when Geoff Cameron's wayward clearance gifted Nani a fifth-minute goal.
Tim Howard made several tough saves to keep the U.S. close, and Bradley nearly scored in the 55th, but his 6-yard shot toward an open goal clanked off the knee of defender Ricardo Costa.
Jermaine Jones finally tied it in the 64th with an exquisite 28-yard shot tucked inside the far post. And Dempsey put the Americans ahead 2-1 in the 81st when Bradley's initial shot was blocked and squirmed to Graham Zusi. He crossed for Dempsey, who let the ball bounce off his stomach and in for his second goal of the tournament and fourth of his World Cup career.
A screaming, pro-American majority in the crowd of 40,123 was ready to party late into the steamy night.
"We could all taste it. We could taste the second round. We were right there," defender Matt Besler said,
Not quite.
Eder stole the ball from Bradley at midfield and made a short pass to Nani, who sent it up the field and wide to Ronaldo. The two-time world player of the year lashed a 25-yard cross into the box, and Varela beat Cameron to the ball, deflating the red, white and blue-clad fans.
Klinsmann called it "a little bit of a bummer."
According to Jones, the American players took it harder.
Now it's onto Recife. Nothing is decided.
They could move on. Or after all this, they could be sent home.
"We have one foot in the door," the always-optimistic Klinsmann said. "Now we're going to walk the second foot in there and get it done."